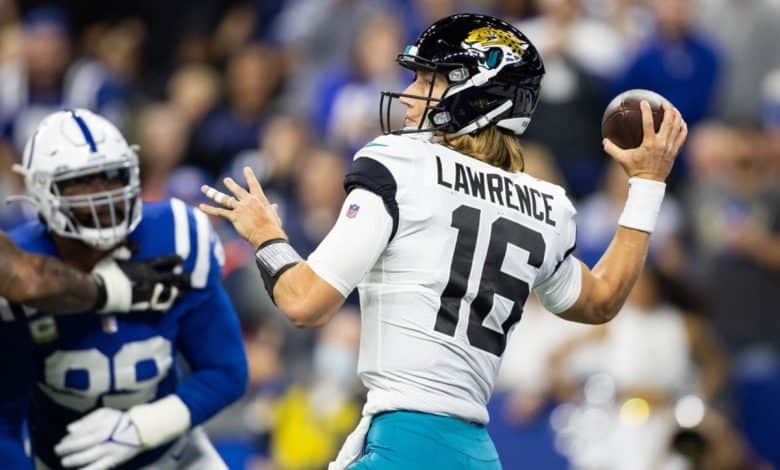 There are some hurdles that are just hard to get over for whatever reason, and Indianapolis will try to get right mentally in Sunday's Jaguars at Colts betting matchup. Jacksonville has 14 wins the last four seasons, five of which have come against Indianapolis.
Granted, the Colts' woes have come when playing in Duval County where they haven't won since 2014. The Jaguars haven't won in Indianapolis since 2017, so the home team has been pretty dominant in this series. That bodes well for the Colts on Sunday, and they do have some extra rest after an eyesore of a 12-9 OT victory over the Broncos last Thursday. Indianapolis is just a -1.5 favorite in week 6, and 57% of the betting public like Jacksonville.
Jaguars Need Their Medicine
For whatever reason the Colts have been good for what ails the Jaguars recently. Their lone win in 2020 came against Indianapolis, they knocked the Colts out of the playoffs with a 26-11 win in last year's season finale, and Jacksonville's three shutouts since 2017 have all come against Indy including a 24-0 win in week two.
Trevor Lawrence was 25/30 for 235 yards and 2 TDs in the week 2 win against the Colts, and he needs a big bounce back game on Sunday. Lawrence showed how good he can be completing 71.8% of his passes with 3 TDs in a win over the Chargers, but he's completed less than 55% of his passes the last two games while committing 7 turnovers.
the Jaguars are on a two game losing streak, but a 29-21 defeat in Philadelphia isn't a horrible showing against an undefeated team especially considering Lawrence had 4 fumbles and an INT. The Jacksonville defense played good enough to win last week in holding Houston to 248 total yards in a 13-6 home loss as -7 point favorites.
Ryan May Have to Win a Game
Never has a win felt more like a loss than in the Colts' 12-9 victory over the Broncos last Thursday night. The game was the laughing stock of the league for the weekend but that's still a tough win in Denver even though Indianapolis couldn't account for more than just four Chase McLaughlin field goals.
The good takeaway from the win over Denver is that Indianapolis' defense basically single-handedly got them the win. The Broncos did have 250 yards passing and another 125 on the ground but were 0-4 in the red zone. Indianapolis now ranks 8th in total yards allowed per game (312.6) and their 18.8 ppg allowed is in the top 10.
Of course the obvious concern with Indianapolis is their offense, mainly Matt Ryan who has 5 TDs to 7 INTs on the year. The unfortunate thing for Indianapolis is that Ryan may have to win them the Jaguars at Colts betting matchup considering both of their top RBs Jonathan Taylor (ankle) and Nyheim Hines (concussion) are out.
Free Jaguars at Colts Betting Pick
Usually you can just take the home team in this series and call it a day, but the Colts giving just -1.5 here is a weird spot. Indianapolis does have a couple extra days rest and would seem to be the play, but this is a game that at the very least seems like it will fly well under the 41 point total with two decent defenses and struggling offenses.
Free Pick: Under 41