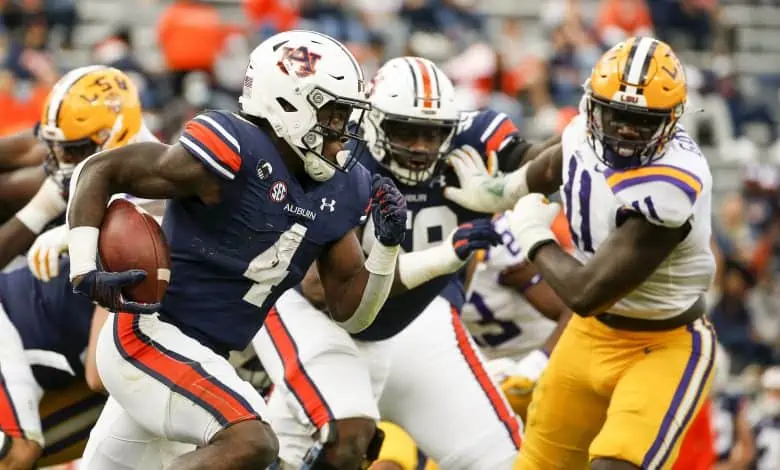 Auburn survived a scare last week, recovering a fumble in the end zone in overtime to preserve a 17-14 win over Missouri as -7.5 home favorites. That was a nice bounce back from the 41-12 loss to Penn State in week three, and now Bryan Harsin's team plays their fifth straight home game to start the year in LSU at Auburn betting in week 5.
LSU had a much easier time last week, rolling through New Mexico 38-0 which even covered the -31 point spread. Brian Kelly has been christened into the SEC with a 31-16 victory over Mississippi State, but Saturday night's meeting (7:00 PM ET, ESPN) is the first true road game of the year for Louisiana State.
Daniels Reportedly In Good Health
LSU cruised to a 38-0 win last week, but it was almost a loss in the big picture when QB Jayden Daniels leaving the game with a lower back strain. Daniels was cleared to return and he did practice in full this week so there is reportedly "no residual effects" from the injury.
Daniels did hit 24/29 passes vs. the Lobos as he continues to get more comfortable in Kelly's system. The Arizona State transfer has 6TDS to 0 INTs on the season and has also added two more scores on the ground. Auburn has not been playing their trademark stingy defense lately so Daniels could put some points on the board in the LSU at Auburn betting matchup.
LSU has put together a top 30 offense so far this season, and they're getting some solid production from the running back duo of Armoni Goodwin and Noah Cain who have combined for 366 yards and 9 TDS on the season and that's with Cain missing a game.
Did Auburn Get Caught Looking Ahead?
The Tigers really should be coming into this game 2-2 and on a two game losing streak because Missouri not only fumbled away the winning TD on the 1-yard line in OT, Mizzu also missed a chip shot 26-yard field goal at the end of regulation which could have also given them the win.
Either way Auburn did pick up the win last week, but things don't get any easier this week against a stout LSU defense that is 9th in the country in pass yards allowed (145.5) and 12th in total yards (257.8). Louisiana State held the Mississippi State Air Raid offense to just 214 yards through the air when they average 351 per game.
What makes the task against the LSU defense tougher is the fact that Auburn is once again going with backup QB Robby Ashford as T.J. Finley continues to recover from a sprained AC joint in his shoulder. Ashford was 12/18 for 127 yards in what was the sophomore's first career start.
Free LSU at Auburn Betting Pick
LSU is a -8.5 favorite on Saturday night which might seem like a lot on the road. This LSU defense might just be high end though – they only allowed 88 total yards to New Mexico last week – and Auburn has to again go with a backup that has 47 career pass attempts.
There's a chance Daniels struggles in his first true road game with LSU, but the Tigers have the advantage of falling back on a deep running game. This game might be close for awhile but Louisiana State is just the much better team and Kelly wants to make a statement here.
Free Pick: LSU -8.5