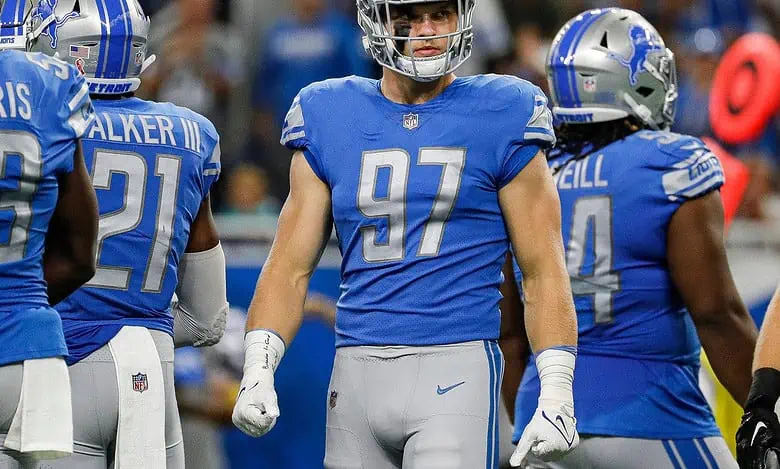 Usually by NFL week 7 fans are amazed by the Lions – but by how bad they are. That narrative has been flipped heading into the Lions vs Ravens betting matchup on Sunday though as people want to see if Dan Campbell's 5-1 squad is really a legitimate threat to represent the NFC in Super Bowl LVIIII this February.
While Detroit has gotten a lot of buzz thanks to their superb start, Baltimore is still pretty good themselves at 4-2 and atop the AFC North. In fact, it's the Ravens who are the -3 point favorite on Sunday with public betting being about as 50/50 as you can get with a slight 51% taking the Lions and the points.
Why the Lions Have Value a +3
Nobody would have been surprised if the Lions were giving 3 points this week, so to get a field goal seems like a gift from the gambling Gods. First off Detroit has won four games in a row, they are also 3-0 on the road this season, and Baltimore is on a long travel week after beating the Titans 24-16 last week in London.
Does Baltimore's offense scare Detroit? You wouldn't think so considering the Ravens needed five Justin Tucker field goals last week to beat Tennessee and were held to 10 points the game before in a loss to the Steelers. The Ravens are at home for the first time in nearly a month, but their last game at M&T Bank Stadium was a 22-19 loss to the Colts.
It wouldn't be a shocker if the Ravens struggled in the Lions at Ravens betting matchup, especially considering Detroit has the best run defense in the NFL (64.7 ypg). The real advantage the Lions seem to have though is with their offense which is a top 5 unit in total yards, passing yards, and points. QB Jared Goff has 5 TD passes to 0 INTs the last two games and the Lions should be getting rookie RB Jahmyr Gibbs back after he missed the previous two contest with a bum hamstring.
Why the Ravens Have Value at -3
Experienced bettors know how to read a line, and the fact that Baltimore is a -3 point favorite seems a bit off. the Ravens are coming off the trip to London, are facing a red hot team, and are due for a loss according to the win/loss alternating trend the last five games – yet are still giving a field goal?
We know the Detroit offense has been solid this year, but don't sleep on the Ravens defensive unit which somewhat under-the-radar ranks #2 in the NFL in total yards (260.8), passing yards (163.2), and is 4th in points allowed (15.2).
If the two defenses are on essentially equal ground in this matchup, it looks like the real X-factor is going to be Lamar Jackson and the Baltimore offense. Jackson hit on 21/30 last week in London which was the fifth time in six games he's completed over 70% of his passes.
Free Lions at Ravens Betting Pick
It's somewhat of a surprise that public betting is split almost 50/50 for this game because Detroit looks like a fairly easy play. It may take some team for people to ignore the Lions name and realize that this is a really, really, good football team and we get one step closer to that on Sunday.
Free Pick: Lions +3