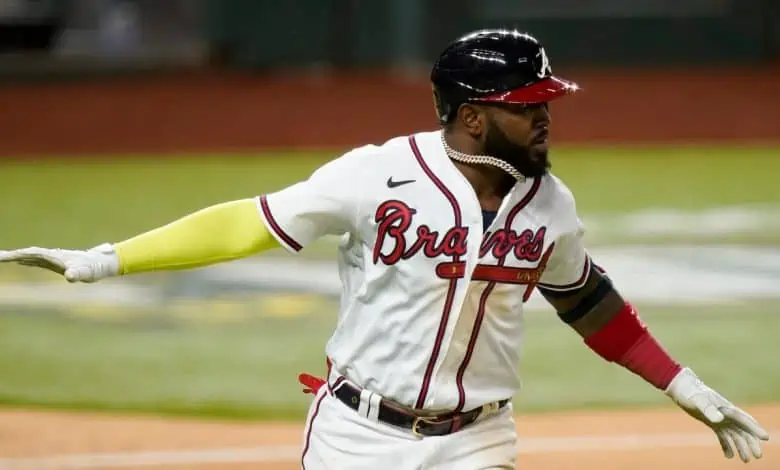 Atlanta has completed their comeback, winners of four straight to pull them into a tie for 1st place with the Mets in the NL East. Brian Snitker's squad aims for the sweep in the Wednesday Braves at Nationals matchup, but they also have to avoid looking ahead to a home series with the Mets coming up this weekend.
The Braves have been dominant this series, picking up an 8-0 win on Monday at -232 and winning 8-2 on Tuesday at -199. Atlanta is -215 for Wednesday's series and season head to head finale and they hold a 14-4 edge over the Nationals in 2022.
Braves Offense Dialed In
Atlanta is averaging 7.5 runs/game during their four game win streak, and they've belted out three home runs in each of the first two wins over the Nationals. The -215 price tag is a lot to pay on the Braves in the series finale, but they've outscored Washington 16-2 this series and thus have some value at -120 on the -1.5 run line.
Ronald Acuna, Jr. was the heavy hitter in Tuesday's game, belting out two HRs from the top of the order while Orlando Arcia had a HR for the second straight night from the bottom of the lineup. Matt Olson and Marcell Ozuna also added long balls in Monday's victory so the Braves are getting production all around right now.
Jake Odorizzi (5-6, 4.61 ERA) makes his first start of the year against Washington in the Wednesday Braves at Nationals matchup. Atlanta is just 3-5 in games Odorizzi has started since being acquired from the Astros and he hasn't pitched out of the 5th inning this month. Odorizzi gave up 10 hits and 8 ER over 4.0 IP last Friday in a 9-1 loss to the Phillies.
Nationals Try to Get Season Over With
It's been a rough year for Washington who is moving on with a rebuild after the Juan Soto trade at the deadline. The Nationals' 53-101 record is the worst in MLB, and they are just 30-72 in their last 102 home games dating back to last season.
The Nationals haven't put up much offense this series, managing just 6 hits in each of the first two games. Victor Robles did have a HR on Tuesday and Luke Voit had a 2-hit game, but the Nationals have now been held to 3 runs or less in 7 of their last 8.
Josiah Gray (7-10, 5.17 ERA) makes his penultimate start of the season closing out an incredibly tough month. Gray has allowed at least 4 runs in all 4 starts this month, and has an 8.38 ERA in September. Gray allowed 1-hit over 5.0 IP in his only outing against Atlanta this season.
Free Wednesday Braves at Nationals Betting Pick
It doesn't take an expert to see that the Braves are the better team here. 78% of the betting public is on Atlanta, but they've done that all series and the Braves have still gotten two easy wins.
It's possible Atlanta gets caught looking ahead to this weekend's Mets series, but New York has what looks like an easy matchup with Miami on Wednesday and the Braves want to make sure to head back home still tied atop the NL East.
Free Pick: Atlanta -1.5 (-120)