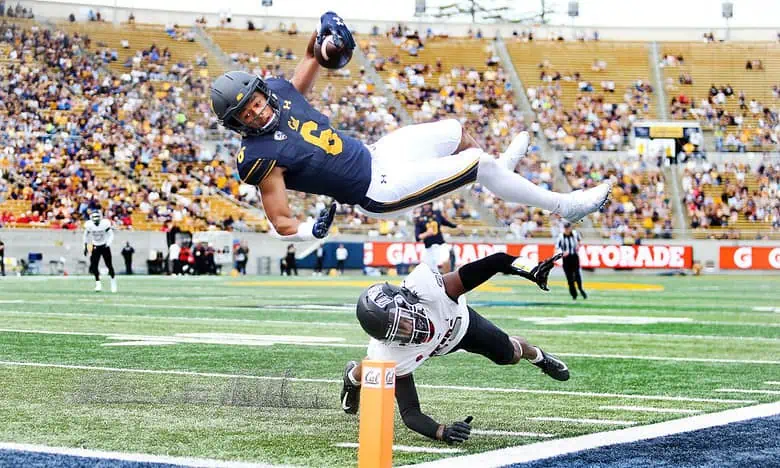 We will get an idea which team is more legit after the week 2 Auburn at Cal betting matchup. Both clubs were very impressive in their season openers, with the Tigers throttling UMass 59-14 to even cover a -35.5 point spread while the Golden Bears beat up on North Texas 58-21 even with a line of just Cal -5.
We don't have a ton to take from the respective blowout wins for both Auburn and Cal in week one, but oddsmakers have tagged the Tigers as -4.5 point favorites for Saturday night's late start on the West Coast (10:30 PM ET, ESPN). With a lot of unknowns this game seems like it could go either way, but 65% of the betting public like the home team and the points.
Why Auburn Has Value at -4.5
At the very least the number on Auburn has the best value that is has seen all week after a -7 point open. Oddsmakers thought the Tigers victory in week one was impressive even though they were over 5 TD favorites.
Auburn didn't show a ton of weaknesses in coach Hugh Freeze's debut with the team. They have two capable QBs in Payton Thorne (10/17, 141 yards 1TD) and Robby Ashford (51 rush yards, 3 TDs) as well as an absolutely loaded backfield that saw Sean Jackson and Jeremiah Cobb both rip off 40+ yard TD runs and Damari Alston getting 43 yards and a TD – and that's with Jacquez Hunter (668 yards, 7 TDs) not playing due to a coaches decision.
As impressive as it was with the Tigers getting a lot of balance on offense last week, it's the defense that could be their best asset heading into the week 2 Auburn at Cal betting matchup. The Tigers had 4 sacks, a pick six, a fumble recovery and also as a team only committed 4 penalties for 40 yards showing a lot of discipline which will be crucial on the road Saturday night.
Why Cal Has Value at +4.5
Saturday night's game is obviously the first big test for either team, and with Auburn having to travel across the country for a late start it's not looking like a bad idea to take Cal at the -4.5. Nearly everything the Tigers did on the stat sheet last week against UMass, the Golden Bears were able to nearly match in their own right.
Cal was just a -5 point favorite in their season opener against UNT, but dominated the Mean Green 58-21. the Golden Bears amassed 357 yards rushing on the ground but found themselves in a 14-14 tie in the 2nd quarter when QB Sam Jackson V went down with a shoulder injury. Backup Ben Finley took over and Cal outscored UNT 34-7 the rest of the way. The Cal defense held North Texas to just 41 yards rushing on 27 carries.
Maybe the biggest reason to like Cal on Saturday night is because they don't seem intimidated by this meeting. Star RB Jaydn Ott (188 yards, 2 TDs last week) said on Wednesday that "a name doesn't mean anything" and it seems like the Golden Bears have a real chip on their shoulder heading into this meeting.
Free Week 2 Auburn at Cal Betting Pick
These early season games can be tough to handicap, and Auburn vs. Cal is no different. Cal has some talent in the likes of Ott, Jackson Sirmon, and Craig Woodson and when you count the Tigers having to travel to the West Coast this early in the season taking the points seems to be the way to go.
Free Pick: Cal +4.5