The Dodgers and Brewers have flip-flopped wins so far in the National League Championship which ordinarily would bode well for Milwaukee after their 1-2 loss last night. Unfortunately for the Brew Crew the 2018 NLCS Game 5 free pick happens to fall on a Clayton Kershaw start which is why LA is listed as huge -174 favorites this afternoon. That being said, the Brewers tagged the Dodgers starter for 4ER in game 1. Can they repeat that feat at Chavez Ravine this time?
Brewers Confident with Miley on the Mound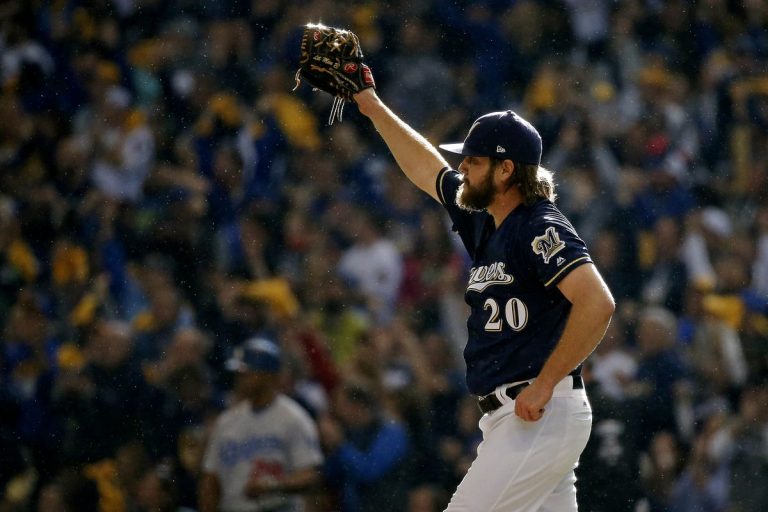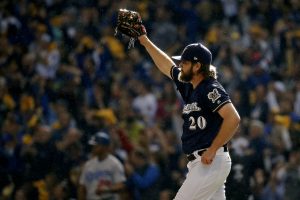 Milwaukee's strength all season has been their nearly invincible bullpen but that unit might be stretched thin heading into the 2018 NLCS Game 5 free pick. Last night's 1-2 Dodgers win came in 13 innings as Milwaukee used 7 pitchers. That was a day after Milwaukee's 4-0 win in which manager Craig Counsell still used 5 pitchers. Josh Hader and likely Corey Knebel are both out for tonight. That being said, Milwaukee can replace the injured Gio Gonzalez with a fresh arm. Also Jeremy Jeffress didn't pitch last night and vaunted post season HR hitter / reliever Brandon Woodruff hasn't thrown since day 1. The Brewers bullpen might not be in as bad a shape as they seem. Plus starter Wade Miley can do some huge favors if he repeats Game 2's 5.2 IP, 2 hit performance.
Of course a major question heading into this afternoon's game is if Milwaukee can get to Kershaw again? The Dodgers starter last only 3.0 IP in game 1 at Miller Park. Lorenzo Cain had a 3-5 night and Jesus Aguilar went deep in addition to Woodruff. The are in a 2-2 series deadlock despite the fact that Christian Yelich is hitting just .188 in the LCS. He's still 9-18 (.500) with 2 HR off Kershaw so could Game 5 be the day Yelich inexplicably gets going? Ryan Braun has K'd 10 times in 40AB vs. Kershaw, but he also has 11 hits (.275) including a HR.
Will the Regular Season Clayton Kershaw Please Stand Up?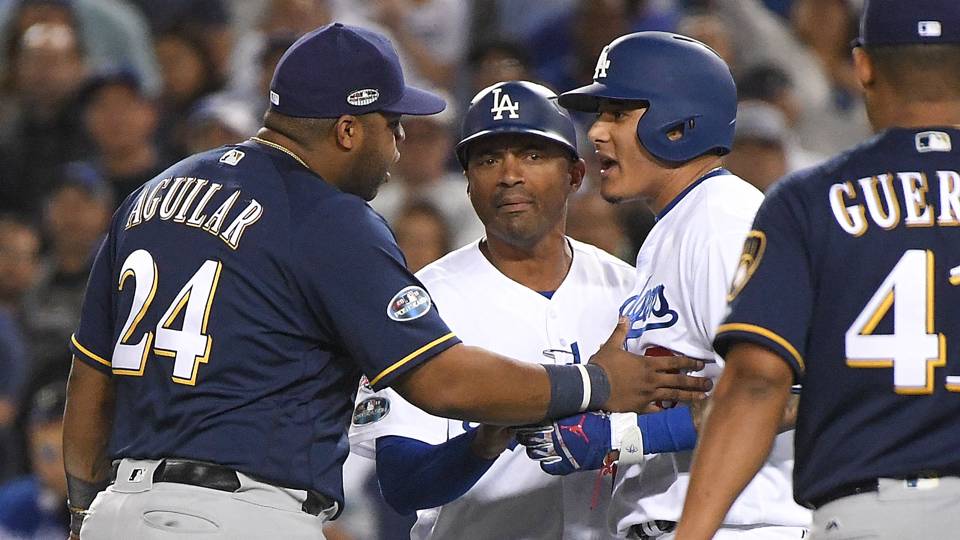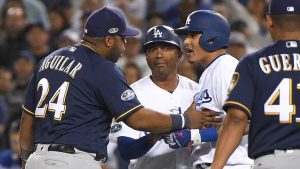 Few would argue that the regular season Clayton Kershaw, 3X Cy Young winner, is one of the best pitchers of our generation. He's been 'gettable' in the postseason however. In 4 of his last 5 postseasons, Kershaw has had at least one start of 5+ ER allowed. Granted there's 17 starts over that time but still it's something to consider. Maybe things will turn around in the 2018 NLCS Game 5 free pick with Kershaw getting the start at home. In his last 4 postseason appearances in LA dating back to 2017, the lefty has allowed 3 total ER (24 IP).
The Dodgers face Wade Miley this afternoon, the Brewers lefty of whom they have a .250 career average in 152 AB. LA was unable to get to Miley in Game 2 with just 2 hits and haven't scored a single ER against him this season (18.2 IP, 3 starts). This afternoon's O/U of 7 is looking like a solid 'under' as the Dodgers bats have produced just 2 runs since the series shifted back to LA. Chris Taylor and Manny Machado are the only LA players to be hitting above .250 this series and only 5 total batters are hitting above .200. David Freese has had the most success against MIley while going 7-20 (.350).
2018 NLCS Game 2 Free Pick Betting
Today's contest is going to be a bit unpredictable considering the teams are in a back-to-back situation while playing with the stress of the LCS. Combine last nights 13 inning affair with today's early 4:07 EST start time and we see a game that should favor the pitching. Kershaw will be great back home in what could be his last start with the Dodgers. Miley should also shut down a struggling Dodgers lineup and this game will be decided late by the bullpens.
NLCS Free Pick: Milwaukee Brewers / LA Dodgers *under* 7.