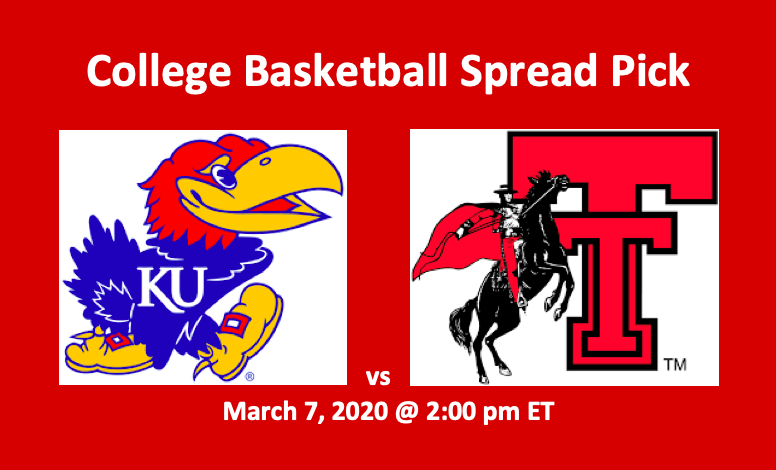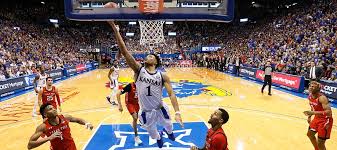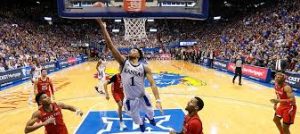 Our Kansas vs Texas Tech pick offers the Big 12's Jayhawks at -3.5. This Kansas vs Texas Tech prediction observes that the Kansas Jayhawks (27-3 Overall, 16-1 Big 12) are first in the conference with the #4 Baylor Bears second and one game behind. The Texas Tech Red Raiders (18-12 Overall, 9-8 Big 12) are tied with the Texas Longhorns for third in the Big 12. The game between KSU and TTU will be played Saturday, March 7, 2020 at 2:00 pm ET. It will be played at the United Supermarkets Arena in Lubbock, Texas.
Kansas vs Texas Tech Pick – Recent Performance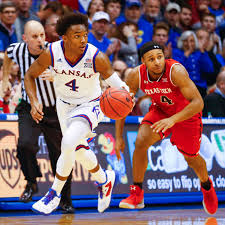 These two teams met in February 1. In that contest, the Jayhawks eked out a 78-75 win. The last time Kansas lost a game was on January 11 when the #4 Baylor Bears took them down 67-55. Since that loss, the Jayhawks have tallied 15 straight victories including a 64-61 win over #1 Baylor. KSU last played on March 4 beating TCU 75-66.
This season, the Red Raiders have posted two five-game winning streaks. They started the season with five wins and then, after three losses, started another streak. That second five-game victory run started on December 10 when TTU took down the #1 Louisville Cardinals 70-57. The streak ended on January 7 when the #4 Baylor Bears beat the Red Raiders 57-52. Texas Tech has lost their last three games. Their last game was played on March 2 when the Baylor Bears beat them 71-68 in OT.
Jayhawks at Red Raiders- Stats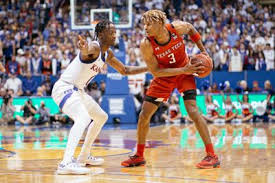 Our Kansas vs Texas Tech pick notes that the Jayhawks are persistent under the boards. KSU is averaging 38.3 RPG while TTU is taking down 33.2. They are also better in field goal percentage 48.7% to 45.5%. Kansas is scoring 74.9 PPG and Texas Tech 72.3 PPG. At the same time, the Jayhawks are permitting opponents 60.7 PPG while the Red Raiders are allowing 63.4 PPG. That gives Kansas a positive overall differential of 5.3. The teams are close on assists, steals, and blocks. Although Kansas and Texas Tech are both shooting about 35% from down town, the Raiders are better on free throws (75.7% to 66.9%).
Player and Roster Assessment
Kansas senior center Udoka Azubuike is a powerhouse. He's averaging 13.7 PPG and 10.4 RPG. Azubuike is a 75.1% shooter. Three guards offer a total of 37.3 PPG and 10.8 APG. Together, they post a 32.5% three-point success rate. Guard Devon Dotson tops the team with 18.2 PPG. He's also averaging 4.0 APG and completing 47.1% of his field goals. Also at guard, junior Marcus Garrett is good for 9.2 PPG, 4.4 RPG, and 4.7 APG. He's a solid playmaker.
The top four scorers are for the Red Raiders are guards. They're averaging a total of 48.8 PPG. Freshman Jahmi'us Ramsey is averaging 15.4 PPG and 4.1 APG. He's shooting 44.5% from the floor and a strong 42.3% from downtown. Also at guard, Davide Moretti and Kyler Edwards are both averaging 41% from the field and plus-32% from the arc. Moretti is good for 12.8 PPG and Edwards 11.7. In front, TJ Holyfield is hitting 54.6% of his shots while averaging 8.8 PPG and 4.6 RPG.
Our Kansas vs Texas Tech Pick
Our Kansas vs Texas Tech pick likes the Jayhawks in the paint. However, the Red Raiders look solid in the backcourt. The TTU guards could be problematic. Plus, the Red Raiders are solid from the foul line. Still, we're going with the Jayhawks at -3.5. Overall, they've been slaying opponents lately.
#1 Kansas Jayhawks vs Texas Tech Red Raiders Prediction – Summary
#1 Kansas Jayhawks at -3.5