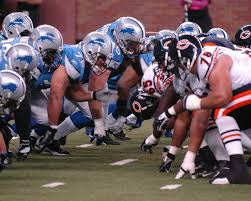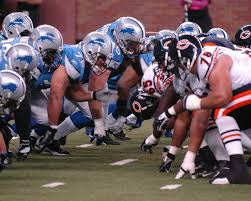 In our Chicago Bears play Detroit Lions NFL free pick, we have the NFC North's last place team against the division's top club. The Bears (3-9) posted an early season win against the Lions. The score was 17-14. Since that loss Detroit is 7-1, while Chicago went 2-6. Hence, that's the tale of two teams. The Lions are favored by 7.5.
The Bears are 2-3 for their last five. They beat San Francisco last week 26-6. That snapped a three-game losing streak. Those losses were to Tampa Bay 36-10 (Nov 13), NY Giants 22-16 (Nov. 20), and Tennessee 27-21 (Nov 27). Their last win was against the Vikings 20-10 on Oct. 31.
Detroit's last loss was to the Houston Texans on Oct. 30. That score was 20-13. Since then they have beaten Minnesota 26-16 (OT), Jacksonville 26-19, Minnesota 16-13, and New Orleans 28-13.
Chicago Offense vs. Lions Defense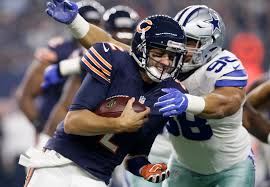 Despite Chicago's record, the fact is they are not that bad a team. At least in some aspects, that is. You might expect their red zone offense to be near last in the league. But they are ranked 22nd at 52.78%. And for the last three games, they're at 66.67%. Detroit's comes in at 55.88% overall and 33.33% for the last three.
But the Bears are scoring a mere 17.0 PPG. They are generating 359.8 YPG of offense with 257.8 via the pass. Their latest QB is Matt Barkley (51.7 COMP%, 3 TDs, 4 INTs, 2 Sacks). He engineered the win against the 49ers last week. If he does not get the call, then expect to see Brian Hoyer (67 COMP%, 6 TDs, 0 INTs, 4 Sacks).
WR Alshon Jeffrey (40 REC, 630 YDs, 15.8 AVG, 1 TD) and TE Zach Miller (47 REC, 486 YDs, 10.3 AVG, 4 TDs) are go-to pass catchers. The top rusher, Jordan Howard (181 YDs, 883 YDs, 4.9 AVG, 5 TDs) needs to have a decent game for the Bears to have a shot at beating the Lions.
The Lions' red zone defense for the past three games has been one of the best in the league, as teams are scoring 44.44% of the time. They are allowing teams 364.9 YPG with 266.8 passing and less than 100 on the ground. Their pass defense is decent, although they don't mount much of a rush. The secondary has 10 interceptions and 49 passes defended. Four different players have snagged two INTs each. CB Darius Slay has two of those picks as well as 11 PD. DT Kerry Hyder has one-third of the team's 21 sacks. Look for him to toss some pressure on Chicago's QB.
Detroit Offense vs. Bears Defense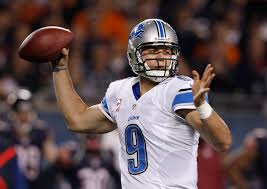 The Lions are averaging 22.9 PPG. Of their 349.8 yards of offense, 268.7 is in the air. Their rush attack is weak. Overall, expect Detroit to rely on the pass, while trying to break a run or two. QB Matthew Stafford (67.2 COMP%, 21 TDs, 5 INTs, 27 Sacks) is playing well and has managed to manufacture numerous successful last-minute drives to give the Lions the wins.
Stafford like to spread his passes amongst five receivers, three of whom are questionable for this game, but will most likely play. The two healthy ones, WRs. Anquan Boldin (52 REC, 432 YDs, 8.3 AVG, 6 TDs) and Golden Tate (65 REC, 762 YDs, 11.7 AVG, 3 TDs), are capable of making big plays. It says something that Stafford has the best average gain, 5.9 YPA, when it comes to rushing. RB Theo Reddick, who is a dual threat as a receiver, is injured but will most likely play. He has 92 rushes for 357 yards and 53 catches for 357 yards. Reddick has scored three TDs.
The Chicago defense is allowing 22.5 PPG. They've held teams to 236.1 passing yards per game and 106.5 rushing yards. The D has 30 sacks, 13 FF, and 50 PD. But they have only recovered three of those fumbles and they've made only five picks and 28 TFL. They have a hard time containing teams and can see the big play ruin what is often a decent defensive effort.
Top performers include Willie Young (7.5 Sacks, 3 TFL, 2 PD, 1 FF), Leonard Floyd (7.0 Sacks, 1 TFL, 1 FF), and Akiem Hicks (6 Sacks, 4 TFL, 2 FF). Tracy Porter is tops in the Chicago secondary with two picks and eight passes defended.
Chicago Bears Play Detroit Lions NFL Free Pick
In creating our Chicago Bears play Detroit Lions NFL free pick, we've noted that the Lions started at -9.5. We may have taken Chicago with that line. It's not at -7.5. We like the Lions now. Still, we think that's close. Stafford tends to pull wins out at the last minute, which means a three to four point spread is preferred. However, we think Detroit is playing at a level these days that will allow them to win by 10.
Kickoff is 1 p.m. ET at Ford Field in Detroit.
Chicago Bears Play Detroit Lions NFL Free Pick: Detroit Lions at -7.5