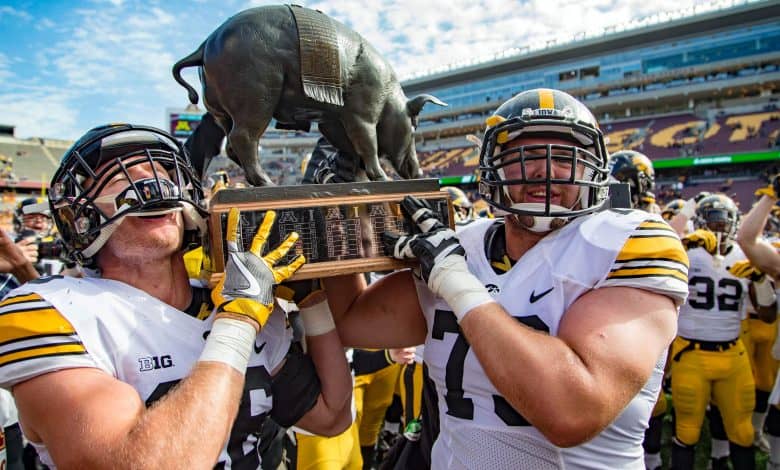 A couple of teams on the ropes meet up in the week 11 Minnesota at Iowa matchup. The Golden Gophers had climbed to #20 in the rankings but suffered a vomit-inducing 14-6 loss at home to Illinois last weekend. The Hawkeyes had reached #2 in the top 25, but since have gotten throttled 24-7 at home to Purdue, 27-7 in Wisconsin, and barely escaped with a 17-12 victory over Northwestern last Saturday.
Common sense would say the Hawkeyes still have the advantage here, as the losses to Purdue and Wisconsin came against a couple of red hot teams and Northwestern always gives Iowa fits. Oddsmakers have the Hawkeyes as -4 point favorites, but that's down from a -6.5 open. 57% of the public bettors still like the visitors even though Iowa has never even trailed against Minnesota since 2016.
Minnesota Needs QB Consistency
It's not a problem if your QB is playing bad if you have 1,000 yard rusher Mo Ibrahim in the back field but he was injured in the season opener against Ohio State. The Golden Gophers have struggled finding consistency in the running game since then even behind a massive offensive line, which has put a lot of the onus on Senior QB Tanner Morgan.
Make no mistake, the Golden Gophers did rattle off wins in six of seven games and got into the top 20, but it was almost in spite of Morgan instead of because of him. The Senior has 3 INTs and 0 TD the last three games and is completing less than 60% of his passes on the season. Besides Ibrahim, Minnesota has also lost leading rusher Trey Potts for the season to an undisclosed injury, so they're getting pretty thin in the backfield. 
Iowa Set to Get Back on Track
Minnesota had a nice run there but there wins in six of seven games also came against MAC team Miami of Ohio, Colorado (3-6), Purdue, Nebraska (3-7), Maryland (5-4), and Northwestern (3-6). Iowa meanwhile has suffered losses to Purdue (who also beat #3 Michigan State last weekend) and Wisconsin, who is on a five game win streak.
One thing the Hawkeyes will have to work through in the week 11 Minnesota at Iowa matchup is an injury to Spencer Petras, who exited against Northwestern after hurting his throwing shoulder. That being said Alex Padilla stepped in vs. the Wildcats and went 18/28. Padilla was helped immensely by his running game, as Tyler Goodson toted the ball 21 times for 141 yards, just his 2nd time going over the century mark this season.
Week 11 Minnesota at Iowa Pick
The Hawkeyes have dominated this matchup, winning six straight in the series and going 4-0-1 ATS in the last five meetings. Minnesota looked horrible last week against Illinois but this game is huge as the Golden Gophers, Hawkeyes, Purdue, and Wisconsin are all tied atop the Big Ten West at 4-2.
It's just hard to see Iowa lose this game at home, or even be in a close contest for that matter. The Golden Gophers are one dimensional on offense and Iowa has the #2 scoring and #4 total defense in the Big Ten. Iowa won 35-7 last season, and hasn't even trailed against Minnesota in the last 250 minutes of play (6 games).
Iowa 38 – Minnesota 13
Free Pick: Iowa -4