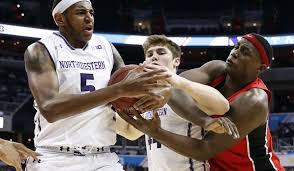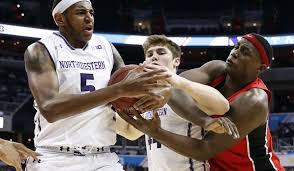 The second round of March Madness 2017, which features 16 games over two days, starts today with the first contest being played in the West Region between #5 Notre Dame and #4 West Virginia. Tipoff is at 12:10 p.m.. The second game in the West has the Cinderella team of the tournament, the #8 Northwestern Huskies, at the #1 Gonzaga Bulldogs. That game starts at 5:15 p.m. ET. We've got these two 2017 March Madness second round West free picks right now.
The other two games in the West Region will be played today as #11 Xavier play #3 Florida State at 6:40 p.m. ET. The final game in the West will feature #7 St. Mary's at #1 Arizona at 7:45 p.m. We'll pick the second two in a blog that will be published by noon today.
#5 Notre Dame at #4 West Virginia
12:10 PM CBS
KeyBank Center, Buffalo, New York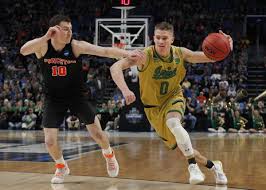 The first thing to note about this game is that the Notre Dame Fighting Irish are a very good underdog against the spread. They are 8-1-0 when they are not the favored team. West Virginia is 16-14-0 when favored. The game was first posted with the Mountaineers at -3.0. They are now at -2.5. The totals range from 145.5 to 147.5.
Notre Dame
In round one, Notre Dame defeated 12-seed Princeton 60-58. That game was a lot tighter than anyone thought it would be, as the Irish held on at the end to outlast a very pesky Tiger team. Notre Dame's record is 9-2 over its past 11. The Irish will need a lot more in this game than they got from V.J. Beachem in the last. The senior forward, who averages 14.7 PPG, was 1-9 from the field, scoring just two points.
Bonzie Colson and Matt Farrell both has good games on Thursday against the Tigers. Colson is averaging 17.5 PPG and 10.1 RPG, while Farrell is scoring 15.4 PPG and averaging 5.4 APG. Notre Dame would like to see guard Steve Vasturia get to the foul line. He's a 91% free throw shooter. He's also averaging 13.2 PPG.
West Virginia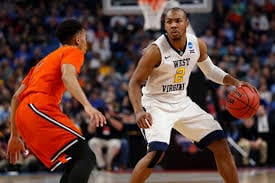 West Virginia beat Bucknell in the first round 86-80. They went into the locker room ahead 42-33 at the half and came out an played well down the stretch to win. WVU's Nathan Adrian out in 12 points and grabbed 10 rebounds, while Tarik Phillip came off the bench and in 16 minutes scored 16 points. That point total included hitting making good on four free throws tossed in the last minute to cement the win.
In this game, along with Adrian and Phillip, look for junior guard Jevon Carter, who's averaging 13.0 PPG, 3.9 APG, and 5.0 RPG, to be a major factor. Also, the Mountaineers will want forward Esa Ahmad, who's hitting for 11.3 PPG, to be productive.
Notre Dame tends to play a more disciplined game and they have a better group of three-point and foul shooters. The difference between the two teams at the charity stripe is significant at the Irish at +12 percentage points over the Mountaineers. Overall, WVU is averaging 82 PPG while the Irish are good for 77.
We're going with over 145.5 and Notre Dame at +2.5.
2017 March Madness Second Round West Free Pick: Notre Dame at +2.5 and over 145.5
#8 Northwestern at #1 Gonzaga
5:15 PM CBS
Vivint Smart Home Arena, Salt Lake City, Utah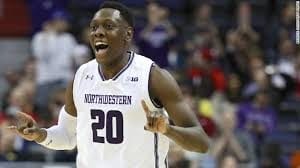 Northwestern may simply be one of those teams that in some way is graced. They survived the first round by barely beating Vanderbilt 68-66, and they were given the opportunity to win due to a Commodores' mistake. The Huskies notched their first-ever March Madness win when Bryant McIntosh sank two free throws with 14.6 second to go in the game. He went to the foul line because Vandy's Matthew Fisher-Davis committed the foul on purpose thinking his team was down by one. It was a gift for the Huskies and they went with it.
Northwestern
Northwestern will want to work their inside game using Vic Law and Dereck Pardon. Pardon is averaging 8.1 RPG and 8.7 PPG. Law is good for 12.1 PPG and 5.8 RPG. Bryant McIntosh is the top scorer on the team averaging 14.7 PPG while Scottie Lindsey is right behind him with 14.2. Sanjay Lumpkin offers additional rebounds and some decent shooting chops.
Gonzaga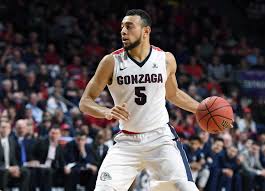 Gonzaga did what they were supposed to do against South Dakota State. They beat them by 20 points. The final was 66-46. The Bulldogs came out for the second half ahead 26-22 and then poured in 40 points in the second half. Still, the Zags finished well below their average points per game, which stands at 84.
The Bulldogs come to the court with an amazing array of weapons. Nigel Williams-Goss is their top guy, averaging 16.6 PPG, 5.8 RPG, and 4.8 APG. He's a 51% shooter. Przemek Karnowski, a 60% shooter from the floor, is averaging 12.5 PPG and 5.9 RPG. Zach Collins and Jonathan Williams are both solid in the paint while Jordan Matthews is averaging better than 10 PPG.
The Bulldogs will come out gunning and hitting in this game. Take Gonzaga at -11.0 and over 137.0.
2017 March Madness Second Round West Free Pick: Gonzaga at -11.0 and over 137.0
2017 March Madness Second Round West Free Picks: Final Word
That's out first two 2017 March Madness second round West free picks. We've got plenty more picks coming this weekend as we offer point spread and totals free picks on every 2017 March Madness game. There are two games in the East Region, one in the South, and one in the Midwest today. Plus, there are two more in the West. We have them all!