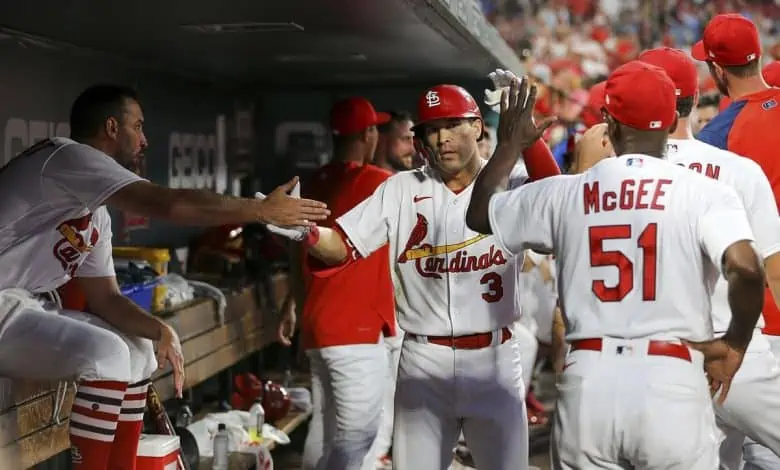 St. Louis returned from the All-Star break with an 8-game road trip, one that they split 4-4. The Redbirds were back at Busch Stadium on Tuesday night and prevailed with a 6-0 victory over the rival Cubs as -158 favorites. The home team looks for another W in the August 3rd Cubs at Cardinals betting matchup as -178 favorites in game two.
Tuesday's series opener was supposed to be a time to relax for the Cubs, as they've been distracted the last couple weeks by constant trade talks surrounding All-Stars Willson Contreras and Ian Happ – who both ended up staying with the team. Chicago had still managed a six game win streak not too long ago, so do they have value at +150 in this spot?
Cubs Offense Sputtering
Chicago had an off day on Monday so you can't blame their coming out flat on Tuesday due to jet lag after dropping three of four in San Francisco. The Cubs managed just 7 hits in the series opener, this after being shut out 4-0 on Sunday night baseball while managing just 2 hits over 7.0 IP against Carlos Rodon.
Chicago couldn't manage a run over 7.0 IP against Adam Wainwright on Tuesday, so they hope for a little more success against Miles Mikolas in the August 3rd Cubs at Cardinals betting matchup. Contreras has gone 5-16 in his career vs. the Cardinals starter and Happ 7 for 20 so the players Chicago chose not to trade have a chance for some success on Wednesday.
Justin Steele (4-7, 3.66 ERA) has been solid in two starts since the All-Star break, allowing just 1 ER over 8.2 IP even though Chicago ended up with a 1-1 split. Steele has allowed an ER or less in four of his last five overall, had a 2.11 ERA in July, and allowed just 1 ER over 7.0 IP in his lone start against St. Louis this season.
Cardinals Coming for Brewers
St. Louis has won four of their last five, a streak that started with a 6-1 victory in Toronto when the team did not have Nolan Arenado or Paul Goldschmidt due to Canada's vaccine mandates. That duo is definitely back now, with both hitting HRs in Tuesday's 6-0 win over the Cubs. Goldschmidt is 3-7 with a HR in his career vs. Steele while Arenado is 2-6.
The Cardinals are now within two games of the Brewers, who inexplicably lost to the Pirates on Tuesday night in a Corbin Burnes start and also just traded MLB save leader Josh Hader to San Diego.
Mikolas (8-8, 2.86 ERA) makes his third start of the season against Chicago, giving up just 1 ER over 6.0 IP in his outing at Busch Stadium on June 25th. He was hit for 4 ER over 5.0 IP on June 3rd at Wrigley, but that was also a low pressure game with the Cardinals taking a 14-5 win.
Free August 3rd Cubs at Cardinals Betting Pick
89% of the betting public is on St. Louis in this matchup which is never a good thing. The Cubs are 4-5 vs. St. Louis this season and are 4-2 in their last 6 trips to Busch Stadium. Steele has pitched well for Chicago, the only concern you have is their offense.
Free Pick: Cubs +150