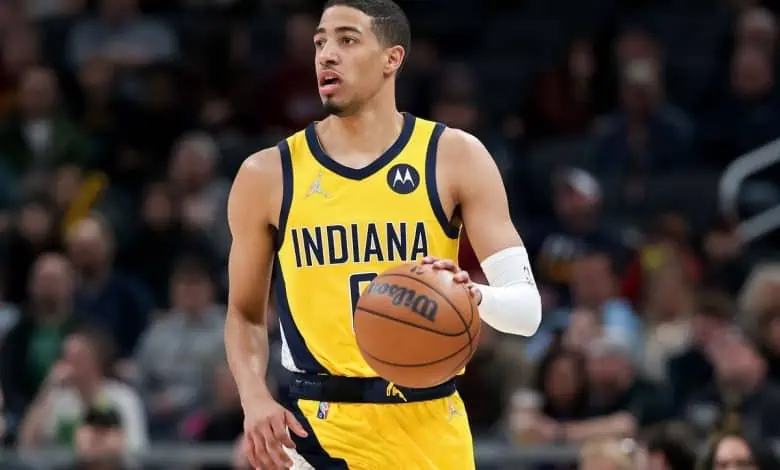 The Chicago Bulls (2-2, 1-1 home) host the Indiana Pacers (1-3, 0-1 away) in an Eastern Conference early season showdown in the Windy City. This will be the first of four meetings between the two conference foes.
Wednesday's midweek tipoff is at 8 p.m. EST inside the United Center in Chicago, Illinois. The Bulls are an eight-point favorite, and the over/under total is at 232.5 points.
What to Know – Indiana Pacers
Indiana went 1-2 to begin the 2022-23 season on its home floor. The Pacers began a five-game road swing on Monday with a loss to Philadelphia. Head coach Rick Carlisle is in his 20th season as a head coach and second with the Pacers.
Guards Tyrese Haliburton and Bennedict Mathurin have paced the Indiana offense so far. Haliburton leads the team averaging 24.0 points per game, shooting 52.4% from the field. Mathurin's 22.3 ppg average is backed by a 42/9% shooting from the three-point line.
Jalen Smith and Buddy Hield have averaged in the double-digits through the first four games. Smith is averaging near a double-double, scoring 13.5 points and grabbing 8.8 rebounds per contest. Hield is adding 13.3 ppg and 6.8 rebounds.
The Pacers have had no troubles offensively earlier this season, averaging the seventh-best total in basketball, pouring in 117.8 points per game. Indiana's defense has struggled, sitting 27th in the NBA, surrendering 121.5 points to opponents.
What to Know – Chicago Bulls
Chicago opened the regular season with a pair of road contests, splitting the games against Miami and Washington. The Bulls returned to Chicago to open the home portion of their season, dropping its home opener before knocking off Boston on Monday. Billy Donovan is in his third season with the Bulls and eighth season overall in the NBA.
Offensively for the Bulls, the ball has to go through leading scorer DeMar DeRozen's hands every time on offense. The forward is scoring 26.8 points per game while also dishing 5.3 assists per game. Sharp shooting Zach Lavine is knocking down 45.5% of his 3-point field goal attempts, averaging 21.0 ppg.
Big man Nikola Vucevic is a walking double-double tallying 18.3 points per game and hauling in 13.8 rebounds per contest. Rookie guard Ayo Dosunmu has been impressive, sitting fourth on the team in scoring averaging 12.8 ppg thanks to 52.5% shooting from the floor.
Through four contests, the Bulls are scoring 108.0 points per game, 18th in the NBA. Defensively, Chicago is 12th in the league allowing 110.0 points per game to opponents.
The Pick is In
Chicago and Indiana will see each other three more times this season and will become very familiar with each other. If the Pacers' defense can create some stops, Indiana's offense has the capability to keep this one close against a Bulls' team that hasn't lit up the scoreboard yet.
The Pick: Indiana Pacers +8