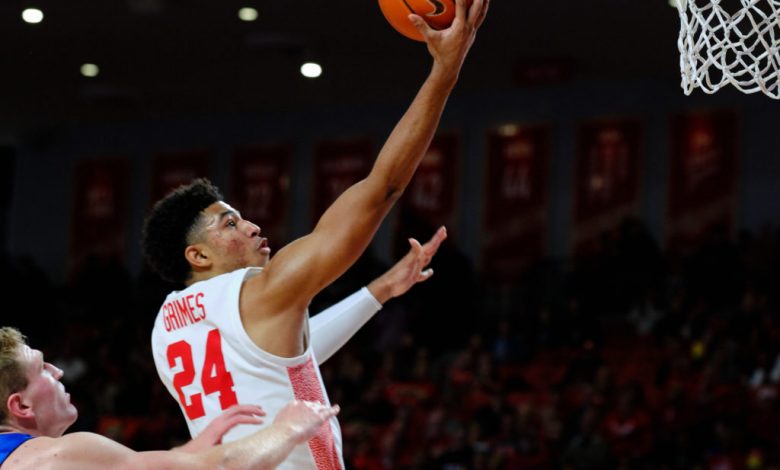 There's some adversity to deal with for the #2 seed in the NCAA tournament Rutgers vs Houston matchup. The Cougars won their round of 64 matchup with ease, 87-56 over Cleveland State, but lost their team leader Dejon Jarreau after just 1:00 to a hip pointer. Jarreau is doubtful for round two.
Rutgers is a very defensive minded team, ranking 5th in the Big Ten allowing just 67.8 points/game. The Cougars know a thing or two about stopping opponents though, as their 37% field goal shooting allowed is tops in the country, and their 57.6 points/game given up is 2nd in the nation.
Rutgers No Stranger to Defensive Battles
Sure a matchup with Houston's #2 scoring defense looks intimidating, but it's 'been there done that' for Rutgers after their 60-56 win over Clemson in the round of 64. The Tigers had the 2nd best defense in the ACC this year, and 12th best in the country allowing just 61.8 ppg.
The NCAA tournament Rutgers vs Houston matchup could be a very similar one to their tournament opener for the Scarlet Knights. The betting total is just 132, the second smallest on Sunday's slate. Rutgers isn't going to run away with this one, but their methodical pace and history against quality competition while playing in the Big Ten does tend to give them a chance to keep this one close.
The Scarlet Knights have five wins against tournament teams this season, including their signature victory a 91-88 contest at home against Illinois. Rutgers winning on Friday was also bigger than one would think, as it was their first tournament win in 38 years – not a long time considering they haven't even been to the Big Dance since 1991. That's a lot of pressure relieved, now Rutgers can just go out and play.
Houston Used to the Jarreau Loss?
Jarreau suffering a hip pointer vs. Cleveland State is unfortunate, as it doesn't give the #2 seed Houston their best team moving forward. Jarreau only averaged 10.9 ppg, but also chipped in 5.3 rebounds and 4.1 assists. More importantly the Junior was the Cougars top ball handlers.
The Cougars did look lost without their team leader in round one – for awhile. The Cougars were only up 8 points at the half, but everyone settled into their roles as UH outscored 50-27 in the second half. That was Cleveland State though, a team ranked 163rd in KenPom. Big Ten teams occupied the 8 toughest strength of schedules in the nation, with Rutgers being 7th. That makes the Scarlet Knights
Houston isn't exactly desolated without Jarreau either. Quentin Grimes put up 17.9 ppg during the regular season and Marcus Sasser 13.5. Jarreau is the AAC defensive player of the year which hurts, but the Rutgers offense was just 77th this season in adjusted efficiency. The Scarlet Knights' top scorer in their opening round win had 13 points.
Free NCAA Tournament Rutgers vs Houston Pick
One would assume Rutgers would keep this one close. They play a slow tempo game and have a defense that has faced many challenges rolling through the Big 10. The line opened at HOU -9, but has only dropped to -7.5. That means the Cougars have plenty of talent still available to win – and big.
Houston 74 – Rutgers 66
Pick: Houston -7.5