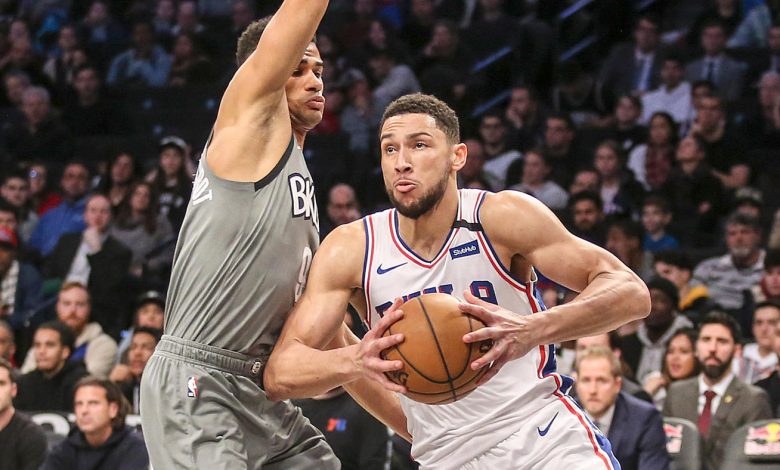 Wednesday night will feature some marquee matchups in the NBA, with one of them being a battle between Eastern Conference contenders. The Philadelphia 76ers (29-16) head across the border to face the Toronto Raptors (29-14) in a rematch of last year's Eastern Conference semifinal series.
Here is a preview for Wednesday night's game between the 76ers and Raptors, along with odds and a free pick.
By The Numbers
The 76ers have started to find their groove without their big man Joel Embiid. Entering Wednesday night, Philadelphia has won four in a row, with two of those wins coming against the division rival Nets. A win Wednesday night would make it five in a row, matching the 76ers' longest win streak of the season, which they've done twice, most recently from Dec. 7-13.
The Sixers have been inconsistent in terms of scoring the basketball, ranking just 22nd in the NBA with 108.7 points per game. They have been efficient, however, hitting the eighth-best rate of 46.8 percent of their shots.
They also rank close to the bottom of the league in three-pointers made and attempted. But Philadelphia is third in the league in assists with 26.4 per game and 11th in turnovers.
The 76ers have been stellar defensively all season, ranking second only to the Magic in points allowed, giving up 105.0 per game. They are still the only team in the NBA allowing fewer than 10 threes per game (9.9) on a league-low 27.8 attempts from beyond the arc. The Sixers are also seventh in the NBA with both 8.3 steals and 5.8 blocks per game.
Not to be outdone, the defending champion Raptors also enter Wednesday night on a four-game winning streak. During their recent hot streak, they have averaged 128.5 points per game, scoring 130, 140, and back-to-back outings of 122 points. A win Wednesday night would inch Toronto closer to its season-best seven-game winning streak, which was from Nov. 18 to Dec. 1.
The Raptors' recent offensive outburst has helped them climb to 12th in the league with 112.0 points per game. However, they're shooting a fairly pedestrian 45.3 percent from the field, 19th in the NBA.
But Toronto has been successful from deep, where its .373 three-point percentage ranks third, and its 13.6 threes made rank fifth. Toronto is also ninth with 25.5 assists and just outside of the top 10 in turnovers.
The champs are a very balanced group, evident by their sixth-best 106.2 points allowed per game. In fact, only the Bucks have held opponents to a lower field-goal percentage than the Raptors, who let opponents hit 42.7 percent of their shots.
They've also been very good against threes, with teams shooting the third-worst clip of 33.4 percent. Toronto is also second in steals with 8.7 and 13th with 5.1 blocks.
Who To Watch
For Philadelphia, point guard Ben Simmons will need to have another big game. Fortunately, the Aussie is coming off one of his best games of the season, where he matched his career best with 34 points to go along with 12 rebounds, 12 assists, five steals and two blocks. His fourth triple-double of the year gives Simmons averages of 16 points, 7.8 rebounds, and 8.5 assists.
Additionally, look for Tobias Harris and Al Horford to play big roles Wednesday night. Harris is averaging just under 20 points per game, scoring 19.3 to go along with 6.7 rebounds. Additionally, Horford will play the Embiid role as the primary center, as the veteran is averaging 12.6 points and 6.5 rebounds this season.
With Kawhi Leonard leaving in free agency, Toronto isn't missing a beat this year thanks in large part to the emergence of Pascal Siakam. The fourth-year forward is averaging a career-high 23.7 points, 15th in the NBA, to go along with 7.4 rebounds and a block and steal per game.
Siakam will play his sixth game since returning from an injury that kept him sidelined for a little over three weeks, so Toronto is certainly glad he's back in the fold.
Toronto will also be aided by Fred VanVleet and Norman Powell. VanVleet, in his third year, has moved into the starting lineup and delivered excellent results. He is averaging 18.4 points per game with 20 or more in the last three contests.
Powell has been red hot since returning from a shoulder injury, scoring at least 20 points in five straight games while coming off the bench, bringing his season average to 15.8.
Odds And Pick
Oddsmakers are siding with the home team on this one, as the Raptors are favorites at -7 Wednesday night. This is the third meeting between the clubs this year, with Toronto winning at home 101-96 and Philadelphia prevailing 110-104 on its home court a couple of weeks later.
Each of those games was close, but I like the Raptors Wednesday night. They have surged ever since they got Siakam and Powell back from injury and have played well at home (15-7). Meanwhile, the 76ers will be short-handed, especially down low, with Horford and no Embiid going against Siakam, Serge Ibaka, and Marc Gasol. Give me the Raptors -7 to prevail in this one at home Wednesday night.