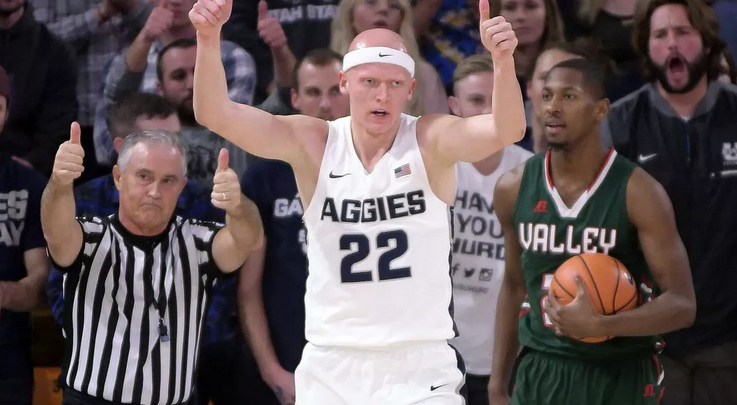 The 8-9 matchup in the Midwest Region should shape up as one of the best games of the first round of the NCAA Tournament. The Utah State Aggies feature an explosive and relentless offense, while Washington can defend any team in the country. Whichever team establishes their own identity will prove to be the winner in this game.
Washington went 15-3 in Pac-12 play this season, and bring an impressive 26-8 record into this tournament. The Huskies have looked vulnerable of late, going 2-2 in their last four games. Utah State won the Mountain West Tournament this season, and they have plenty of moment. The Aggies have won 10 straight games, including a big win over Nevada. Utah State is a -3.0 point favorite over Washington in this game.
Washington Must Find Offense
If the Washington Huskies are going to pull off this first round victory, they are going to have to find a way to score points. The Huskies managed just 48 points in the Pac-12 Championship Game, and they have had some low-scoring games this season. Washington does hold opponents to just 64.4 points per game this season, but that will be tough against a high-scoring Utah State team.
If Washington is going to score points, look no further than guard Jaylen Nowell. Nowell leads the team with 16.2 points per game this season, and is making 44 percent of his three-point attempts. Forward Noah Dickerson is capable of a double-double every night out, and will need to be a monster on Friday. The Huskies will have to score points to keep up with the Aggies.
Utah State Can Score in a Hurry
Utah State has flown under the radar all season long, but they have a ton of talent. The Aggies score close to 80 points per game this season, and they have athletes to keep up with a Pac-12 opponent. Utah State shares the ball extremely well, averaging 17.2 assists per game, and they have plenty of depth. The Aggies will look to push the ball and attack Washington before their defense is set.
The Aggies have just two players averaging double-figures this season, but they have plenty of offensive weapons. Guard Sam Merrill can flat out fill it up, averaging a team-high 21.2 points per game this season. Center Neemias Queta is an absolute monster to deal with down low, averaging 11.9 points, 8.9 rebounds, and 2.5 blocks per game this season. If these two players get going early, Utah State is going to be tough to stop for Washington.
Aggies Knock Off Huskies
Washington looked like a Sweet 16 contender for much of the season, but they lost the ability to score points along the way. The Huskies' defense will keep them in this game for awhile, but they just don't have the talent to hang with Utah State. The Aggies are one of the most underrated teams in the country, and they will prove their worth in this game. Bet the Utah State Aggies -3.0 over the Washington Huskies.