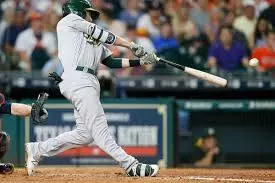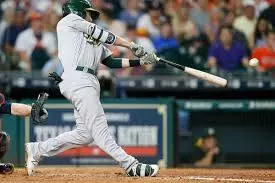 Tonight, the NL East-leading Washington Nationals (33-19 Overall, 17-10) visit the AL West's last place Oakland Athletics (23-30 Overall, 15-10) for a three-game series. The Nationals are not only tops in their division, but they have the best record in NL and a run differential of +65. The Oakland A's, who have the second-worst record in the league, bring a run differential of -57. On the moneyline, the Nationals are -133 and the over/under of -8.5 is at -116 over and -105 under. Here's our Nationals play Athletics 2017 MLB free pick.
Pitching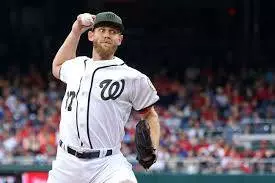 Stephen Strasburg (6-1, 2.94 ERA), one of Washington's aces and a top strikeout artist, gets the start tonight. He pitching against a team that strikes out a lot. How much? In their last series, which was versus Cleveland, they averaged 14.8 strikeouts per game. In Strasburg's last start, he notched 15 Ks. He's never pitched against Oakland, but he's got one of the best career interleague records amongst active starters and has gone 2-0 in five interleague starts since the beginning of the 2016 season. In those games, he's had 44 strikeouts in 33 1/3 innings.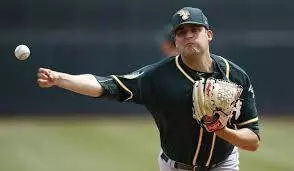 Righty Andrew Triggs (5-4, 2.64) is having a decent season. The second-year MLB player held teams to no runs over his first two consecutive home starts. However, he's had a rough go of it as of late, allowing 15 runs over his last four starts. In his last start, which was on May 21, he allowed the Red Sox five runs and lost that game 12-3. By the way, Triggs is not only dealing with the fact that the A's strikeout a lot, but also that he's on a team that leads the majors in giving up unearned runs (40).
Hitting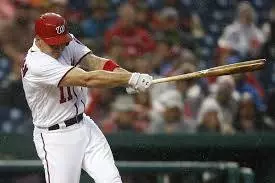 This is of National hitters who can get the job done is long. Take the top three, Ryan Zimmerman, Daniel Murphy, and Bryce Harper. Each is in double digits in doubles and homers and each has 35 of more RBI. Collectively, they are hitting .342. With a team batting average of .279, a homerun total of 82, and 109 doubles, this is a powerhouse team.
The A's are batting just .233 as a team and their top hitter, Yonder Alonso is at .291 with 15 homers and 32 RBI. Next in line in batting average are Jed Lowrie .287 at and Ryan Healy at .265. Lowrie leads the team in doubles with 16.
Nationals Play Athletics 2017 MLB Free Pick
Our Nationals play Athletics 2107 MLB free pick is Washington at -133 and the over at 8.5 runs for -116. We think Strasburg will have a good night against the Oakland batters. We see the Nats hitters also have a solid night.
Nationals Play Athletics 2017 MLB Free Pick: Nationals at -133 and over 8.5 for -116