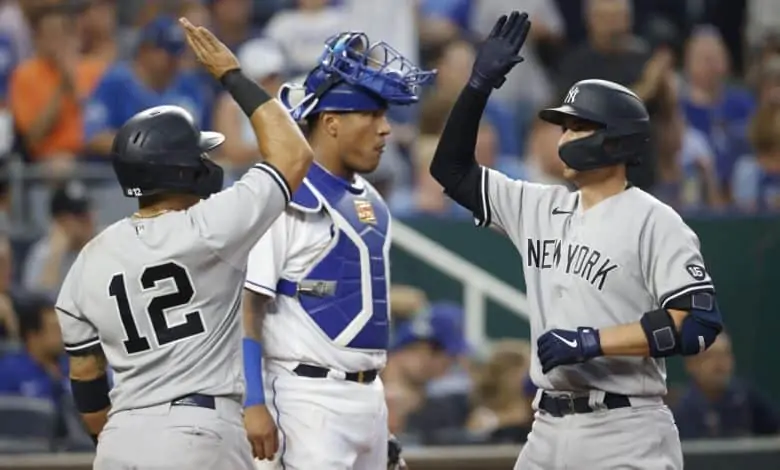 Kansas City is just a +120 underdog coming into the August 11th Yankees at Royals matchup. The teams have split the early week series so far, but New York has a lot of concerns coming into the finale – first and foremost their pitching staff.
The Yankees are also in 'look ahead' mode, heading to play in the highly publicized Field of Dreams game against the White Sox in Dyersville, Iowa on Thursday night. The Royals offense is clicking with 20 runs scored over their last three games, and can very much exploit a very thin NYY pitching staff in Wednesday afternoon's tilt.
Yankees Pitching Vulnerable
New York seemingly starts the vaunted pitcher "TBD" every day, which is the situation they find themselves again on Wednesday. By most accounts Lucas Luetge (4-2, 2.75 ERA) will get the nod in the series wrap-up vs. KC as the Yankees try to make up a 2 game deficit for the second AL wild card spot.
It's a bullpen day for New York in the August 11th Yankees at Royals matchup, and Luetge makes the first "start" of his career. He hasn't allowed an ER in his last 9 outings, but also is going to be capped out at right around 30 pitches. New York has six pitchers on the injured list, so desperate times call for desperate measures.
Injuries / COVID issues are also effecting the New York lineup and not just the pitching staff. Anthony Rizzo and Gary Sanchez are on the shelf due to COVID protocols while Gleyber Torres is out until the end of the month with a thumb injury. Make no mistake the Yankees still have loads of talent on paper, but Joey Gallo has struck out in 12 of his last 22 ABS, Aaron Judge has just 1 HR over the past week, and Giancarlo Stanton hasn't gone yard since August 3rd.
Prime Spot for the Royals?
Kansas City might be in a good spot to secure the upset as +120 underdogs on Wednesday. The Yankees are using a bullpen day and also looking forward to the hype surrounding the Field of Dreams game on Thursday.
The Royals also have some momentum after an 8-4 win on Tuesday night as +137 underdogs. Salvador Perez homered twice to power that victory, and KC's offense really didn't look that bad in banging out 10 hits in Monday's 8-6 loss as +153 'dogs. The Royals are getting by despite just a .160 average from Whit Merrifield over the past week (4 for 25).
While the Yankees have some pitching uncertainty on Wednesday, KC goes with Brady Singer (3-7, 5.13 ERA) for his 20th start of the season. The right-hander needs to find his confidence after allowing 7 ER over just 2.0 IP to the lowly Orioles in his last start. Prior to that Singer had been solid though, allowing 2 ER or less in five straight starts.
August 11th Yankees at Royals Pick
The Yankees are banged up but arguably still more talented on paper than the Royals. New York is in the hunt for the postseason and it's not a bad price at -141. That being said, KC bats are clicking over the past three games and New York could be in trouble in a bullpen game. Everybody gets amped up playing the Yankees, especially when NYY is vulnerable looking ahead to the Ray Kinsella Game.
Royals 7 – Yankees 4
Free Pick: Royals +120