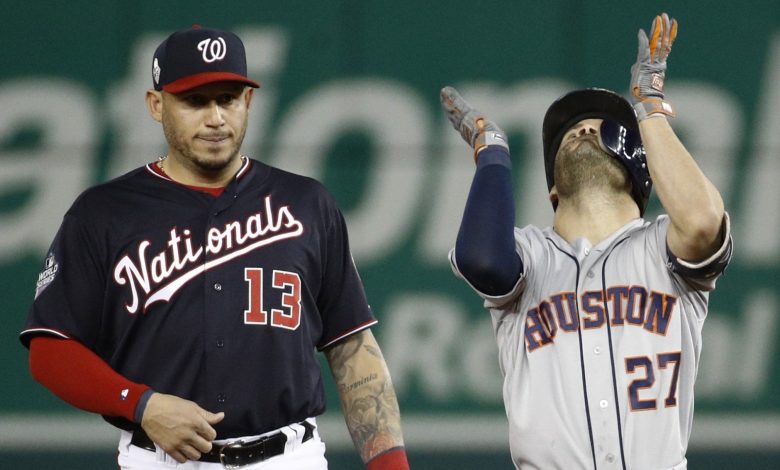 Things were looking pretty bleak for the Astros but Houston seems to have new life ahead of the 2019 World Series game 4 free pick. A.J. Hinch's team was down 0-2 after a couple of losses at Minute Maid Park but the Nationals let Houston back into the series on Friday night. Washington fell 1-4 at home in game 3, and suddenly faces some pressure in what oddsmakers are calling a toss up on Saturday night.
Houston Not Dead Yet
Oddsmakers have set the line for the 2019 World Series game 4 free pick at Astros -110, Nationals -104. That's pretty much how unknown it is how each team will show up on Saturday night. Houston looked relaxed on Friday, but a dominating performance from Zack Greinke sure helped. On the other side of the field, does Washington start to fret a bit knowing a loss blows the home field advantage they stole at Minute Maid Park?
As for Houston's pitching, they start hard throwing Jose Urquidy but he's hard to back in this one for a number of reasons. First off, Urquidy is a rookie and this is a huge moment on the road in D.C. Not only that, he's been used in relief and just twice during this postseason. Make no mistake they were two great relief appearances (1 ER in 4.1 IP) but it's been a day short of a month since the right-hander last started on September 27th.
The Houston offense can do their young hurler a huge solid by getting an early lead and taking the Washington crowd out of the equation. Houston had 11 hits on Friday and the top 3 batters in the order each had a multi-hit game. Jose Altuve stayed red hot as he has a hit in all but one postseason game this year.
Washington Looks to Take a Commanding Lead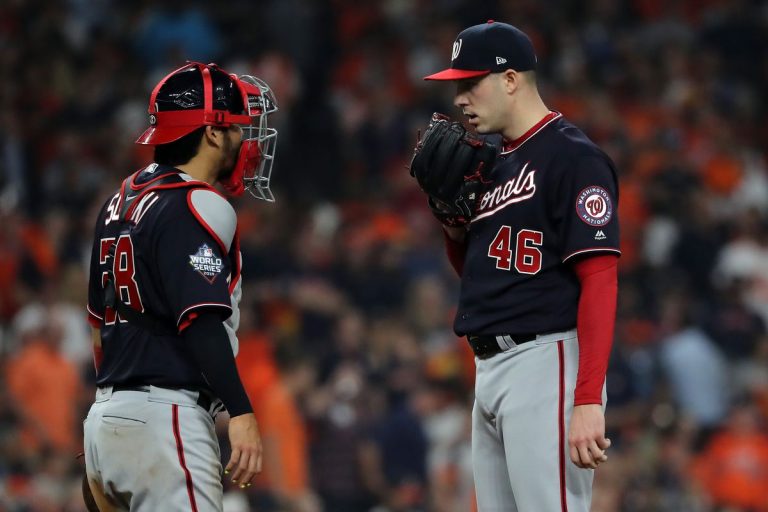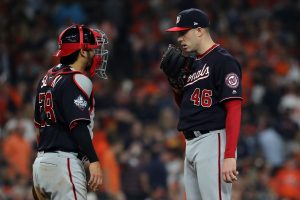 There are no giveaway games in the World Series, but Washington especially knows how important Saturday night's tilt is. With Gerritt Cole, Justin Verlander, and Greinke waiting in the wings the last 3 games (2 of which are in Houston), the Nationals are in a must-win spot.
The good thing is, there are reasons to really like Washington in this one. First off, they scored only 1 run on Friday but still belted out 9 hits. Without watching the game you probably though Greinke was spectacular. The truth is he lasted just 4.2 innings after throwing 95 pitches and Hinch had to use 5 relievers to get the victory in the must-win game. Urquidy has thrown 45 and 47 pitches in his two Houston relief appearances this postseason and will probably be capped somewhere near 80 on Saturday. That's a lot of time for a Washington offense against somewhat tired relievers.
Of course Washington only gets an edge in the pitching category if Patrick Corbin can step up as the starter in game 4. Anibal Sanchez at least pitched into the 6th on Friday even though he gave up 4 runs. Corbin will be asked to do at least the same – but with minimal damage as he has a 6.91 ERA this postseason. The Astros have also hit .364 vs. the lefty in 33 combined ABs but at least Altuve is only 2-9 during that span.
2019 World Series Game 4 Free Pick
Washington will likely get down early in this one, the big question is whether they can battle back once the Astros turn to the bullpen in the 5th inning or so? The 5 inning line does favor the Nationals by 1/2 a run though with the total at 4.5 runs. What the Nationals simply need to do is pitch around Altuve – it's apparent now. Corbin also needs to step up like the high priced starter that he is. Houston looked good on offense on Friday night, it's their pitching that has them in a hole in this series. It looks like that might continue.
Pick: Washington Nationals -104