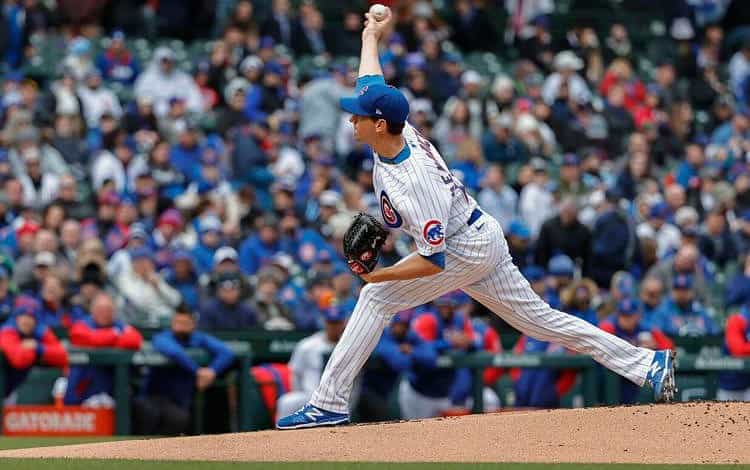 Chicago has looked picking up two straight wins in their return to Wrigley Field after a lengthy road trip, and now the North Siders have the brooms out heading into the May 25th Mets at Cubs betting matchup. Speaking of returning to the Windy City, Kyle Hendricks is set to pitch for the first time in over 10 months after battling back from a myriad of shoulder issues.
New York has lost 7-2 and 4-2 so far this series, killing some momentum they had built up from a 5-game win streak prior. The Mets' win streak came at home – somewhat obviously – because this is a team that has been abysmal on the road recently. Chicago is a -115 favorite for this series finale.
Why the Mets Have Value Thursday
If we're talking about 2016-20 Hendricks pitching at Wrigley Field, the Mets might be in trouble here but if New York can't get their offense going against a 33-year old that hasn't pitched since July 5th then they have some problems.
Hendricks is not going to return to form right away, and even if he does that form was a 4.77 ERA in 2021 and a 4.80 ERA in half a season in 2023. This means the Mets should get to square off against a shaky Cubs bullpen that has the 9th worst ERA in MLB (4.37) for most of the game on Thursday.
New York does have some pitching concerns of their own in the May 25th Mets at Cubs betting matchup as Carlos Carrasco (0-2, 8.68 ERA) is up in the rotation. Carrasco may have had his struggles, but he threw 5.0 IP returning from injury last Friday, which is likely more than Chicago will get out of their starter Hendricks on Thursday.
Why the Cubs Have Value Thursday
Sure Hendricks is probably going to be on a pitch count on Thursday, but his return is still going to give a boost in energy to the Wrigley Field crowd. Hendricks also may have had some performance issues the last two years, but when we saw him last in 2023 the Cubs were winning three straight of his starts and he had held opponents to 2 ER or less in four of five so there were signs of a rebound.
The Cubs showed great resiliency on Wednesday, getting down 0-2 in the top of the 3rd before rallying for 3 in the bottom of the frame and eventually getting a 4-2 win behind 8.0 IP from Marcus Stroman. The most recent quality start from Stroman (the league leader with 9) leaves David Ross with plenty of bullpen options for when Hendricks does reach his pitch count.
It's interesting that Christopher Morel made news for not hitting a home run on Wednesday night after he had bombed 9 in his first 12 games since being called up at the beginning of the month. Morel and all of the Cubs offense get a solid matchup against Carrasco, who has allowed 5+ ER in three of his four starts this season.
Free May 25th Mets at Cubs Betting Pick
The side is a tough one to call in this game because both teams have pitching questions / concerns / unknowns. With a lot of stars on both offenses and pitching issues the only way to approach this game is on the 'over' which has been as low as 7 early in the day but anything under 9 seems to have value.
Free Pick: Over