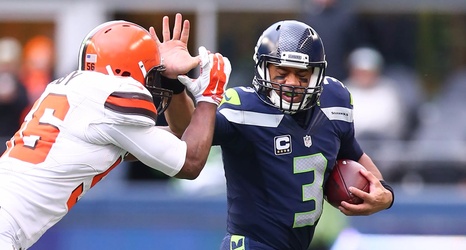 The NFL week 6 Seahawks at Browns free pick has a lot of people liking Cleveland in their supposed 'must win' game. It's true Seattle is making the trip from the West Coast for the 12:00 PM ET start – but the Browns just played in San Francisco, and on Monday night meaning they are on the short week.
The line has actually moved from CLE -2.5 to a PK. Is this one of those pro football anomalies where a team looks like a dumpster fire one week and contenders the next…or are the Seahawks the easy play here?
Seahawks Looking Real Good Right Now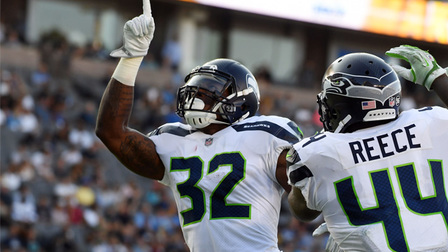 It hasn't always been pretty and convincing, but Seattle comes into the NFL week 6 Seahawks at Browns free pick with a 4-1 record. That includes a 1 point win over the Bengals, beating Pittsburgh by 2, and beating the Rams by a point last week. Pete Carroll's team has also gone 2-0 on the road this season and has a great chance to make that 3-0 as the Browns are 0-2 at home.
Cleveland's defense looked horrible on Monday night, losing 31-3 to the 49ers. San Francisco ran the ball 40 times for 275 yards in that game which bodes well for Chris Carson and the Seahawks ground game. Carson has 104 and 118 yards rushing the last two weeks. Of course getting the running game going is only going to open things up even more for Russell Wilson and the passing attack. Wilson was 17/23 vs. the Rams last week and threw another 4 TDs. He now has 12 TDs and 0 INT on the year.
For as bad as the Browns defense looked on Monday, their offense was even worse. The Seahawks defense should be able to bear down in this one on Sunday. Like San Francisco, Seattle has a top 10 defense in turnovers forced. Pete Carroll's squad is also 4th in the league vs. the rush and running the ball was the big reason the Browns were able to beat Baltimore two weeks ago.
Can Cleveland "Get Right" on Sunday?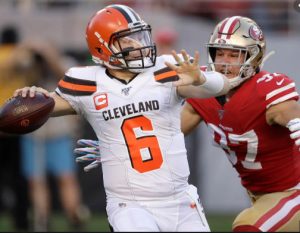 On paper this game shows Seahawks in a blowout. The NFL is such a weird animal though. What can the Browns do to actually win this game? Cleveland did look good in a 40-25 win over Baltimore in week 4 that was powered by Nick Chubb's 165 yard rushing, 3 TD day. Chubb had a respectable 87 yards on Monday too despite the Browns offense doing next to nothing.
Baker Mayfield also looked good vs. Baltimore going 20/30 for 342. His performance in the national spotlight on Monday was atrocious however with an 8/22, 100 yard and 2 INT night. The Seahawks are 26th in the league vs. the pass so there could be some chances through the air for Mayfield.
Mayfield may have to be great on Sunday as the NFL week 6 Seahawks at Browns free pick could turn into a shootout. The O/U is 46 and it seems like Seattle should be able to do what they want vs. this Browns defense. Cleveland did hold the Rams to 20 points at FirstEnergy Stadium in week 3, but they gave up 43 to the Titans in the opener.
NFL Week 6 Seahawks at Browns Free Pick
One good thing for Cleveland is that Seattle has just 10 sacks on the year because their O-line was abused on Monday. Speaking of Monday, how does Browns coach Freddie Kitchens get hsi team adjusted with not only a short week, but a game out on the West Coast? Pete Carroll may be the X-factor in this one as the veteran coach will take advantage of the young play caller. Even though this feels very much like a trap game, the Seahawks simply don't make mistakes.
Pick: Seahawks PK