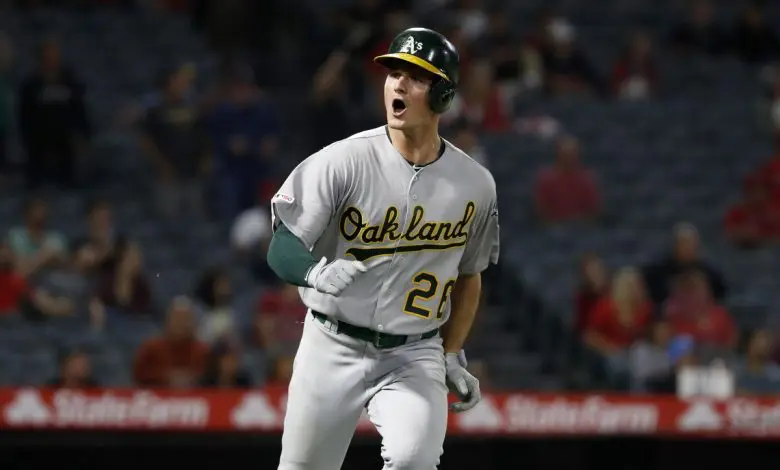 Is life on the road starting to get to Oakland coming into the August 16th A's at White Sox matchup? The Athletics started off the stretch with a three game sweep over Cleveland while scoring 27 runs, but come into Monday's matchup having dropped 2 of 3 at last place Texas.
The White Sox meanwhile dropped their last two at home to the Yankees after last Thursday's thrilling 9-8 win in the "Field of Dreams" game. Chicago is running away with the Central with a 10-game lead over the Indians, but have been playing complacent lately with a 5-6 record over their last 11. Oakland needs this one, and are -115 favorites at Guaranteed Rate Field (CWS -105).
Oakland Pitching Struggled Over the Weekend
The A's averaged 6 runs/game over the weekend but still only came away from Arlington with a 1-2 record. Oakland gave up 15 runs in their two losses to Texas, but were able to capture an 8-3 win on Saturday but as -227 favorites. Sunday's 7-4 loss also came with the Athletics a -227 favorite.
Obviously Oakland needs to shore up their pitching heading into the August 16th A's at White Sox contest. Frankie Montas (9-8) is gunning for his seventh quality start in a row. The right-hander has allowed 10 ER total over his last six games, and has a 3.49 ERA in 10 road outings this season (4.40 at home).
The A's bats have been hot so far on this road trip which includes a 17-0 win over Cleveland last week. Matt Chapman is hitting at a .471 clip over the past week and has combined with Mitch Moreland to belt out 6 HRs over that span. Chapman has 2 HR in 15 career ABs vs. Chicago starter Dallas Keuchel.
Chicago Has No Urgency
The White Sox are a dangerous team to wager on at this point in the season simply because they are just revving in neutral waiting for the postseason to begin. Chicago has the biggest division lead of any team in baseball, and lost as a -174 favorite on Sunday.
Oakland has won 8 of their last 10, and have climbed to within 2.5 games of Houston in the AL West. The A's are tied for the wild card spot, but the Yankees are within 2.5 of knocking one of those teams out. The White Sox will likely need to score some runs on Monday to keep up with the red hot A's offense, which means another big night from Jose Abreu and Eloy Jimenez will be expected. The duo is a combined 17 for their last 38 (.447) with 4 HR.
Keuchel (7-6, 4.51 ERA) takes the ball on Monday looking for his first win since July 9th. Chicago has lost four straight that the left hander has started, and he's allowed 4+ in three of those defeats. Keuchel is 4-2 at home this season, but his ERA is still 4+ on the South Side.
August 16th A's at White Sox Pick
This feels like a game that Chicago could steal even though the line is basically calling this game a toss up. The A's pitching struggled over the weekend in Arlington, but Montas could be a good stopper in this spot. The White Sox have lost two straight to a very depleted Yankees staff, which gives Montas the chance to shine in this one.
A's 6 – White Sox 3
Free Pick: A's -115