On Jan. 24, when these two teams last met, the Mountaineers, who were then ranked 18th, beat the Jayhawks, who were ranked second in the nation, 85-69. Kansas will be looking to turn the tables on West Virginia tonight. The #9 West Virginia Mountaineers (20-5 Overall, 8-4 Big 12) are third in the conference, while Kansas (22-3 Overall, 10-2 Big 12) sit in first place. Baylor, which is fourth in the nation, is between the two teams in second. Our West Virginia plays Kansas college basketball free pick has the Jayhawks at -6.0 and the total at 155.5.
The Mountaineers are seven and three for their last 10 games. They've won two straight being Oklahoma 61-50 on Feb. 8 and Kansas State 85-66 on Feb. 11. The team last lost on Feb. 5 to Oklahoma State 82-75.
The Jayhawks last lost on Feb. 4. That was a 92-89 defeat by Iowa State in overtime. Like the Mountaineers, Kansas comes to this game having won two in a row. They took down Kansas State 74-71 on Feb. 6. They then beat Texas Tech 80-79 on Saturday.
West Virginia Mountaineers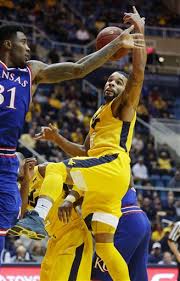 The Mountaineers are scoring on average 86.0 PPG, which is 2.5 more than the Jayhawks. They're holding teams to 65.8 PPG, which is 6.3 points lower than their opponent. In essence, West Virginia features two forwards, Esa Ahmad (11.6 PPG, 4.1 RPG, 51 FG%) and Nathan Adrian (10.8 PPG, 6.4 RPG, 46 FG%). Ahmad is hitting three-pointer at the rate of 38%, while Adrian plays a tough inside game.
The backcourt is rich and includes top guard Jevon Carter (11.8 PPG, 4.4 RPG, 4.3 APG), a 44 percent field goal shooter. Daxter Miles Jr. (9.5 PPG, 47 FG%, 35 3PT%) and Tarik Phillip (9.3 PPG, 44 FG%< 39 3PT%) offer solid performance in the backcourt. This is a team that's deep on guards.
Kansas Jayhawks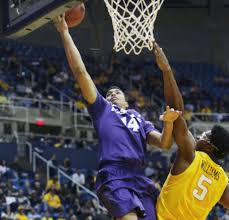 The Jayhawks had a tough time against Texas Tech the other day mainly because guard Frank Mason III (20.1 PPG, 4.3 RPG, 4.6 APG) was playing while ill. Mason, one of the top players in the nation, had just 12 points and eventually fouled out. He's had a day to recover, and the guard contributions are needed. He's shooting 50% from the field and 52% from downtown.
Also in the backcourt, Devonte' Graham (13.0 PPG, 4.5 APG, 45 FG%) is a major contributor. Guards Sviatoslav Mykhailiuk (10.7 PPG, 45 FG%, 43 3PT%) and Lagerald Vick (7.0 PPG, 45 FG%< 37 3PT%) are an essential part of the team's offense.
In the frontcourt, Josh Jackson (16.6 PPG, 7.0 RPG, 52 FG%) is a good point producer and solid on defense. Also upfront, Landen Lucas (7.6 PPG, 8.3 RPG, 63 FG%) is tough in the paint.
West Virginia Plays Kansas College Basketball Free Pick
The Mountaineer defense is tough and can keep teams off-guard. Even is Mason is feeling better we think this will be a fairly close game. In our West Virginia plays Kansas college basketball free pick, we like the Mountaineers at +6.0.
West Virginia Plays Kansas College Basketball Free Pick: West Virginia at +6.0