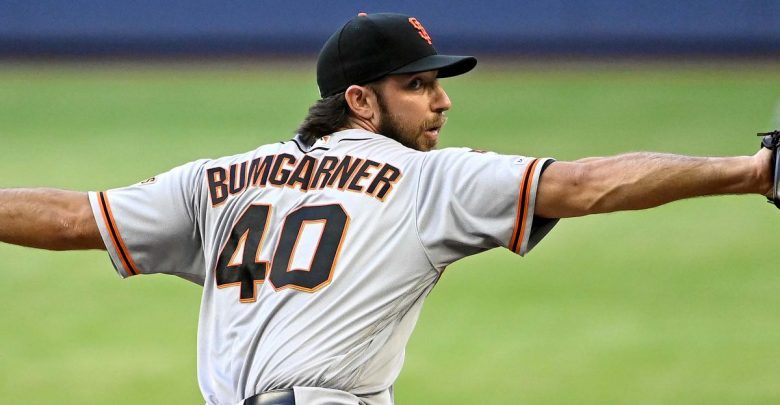 The Milwaukee Brewers and San Francisco Giants continue their weekend series on Saturday with a matinee by the Bay. San Francisco took the opener between the two teams Friday night with a 5-3 victory and will look to clinch a series win with this one.
In an effort for a second straight win, the Giants will turn to veteran Madison Bumgarner, who hasn't been the star pitcher he's been in the past but he still has solid stretches. Milwaukee counters with Jimmy Nelson, who recently returned to the mound after sitting out 2018 with injury.
The moneyline for this contest is the Milwaukee Brewers -110 and the San Francisco Giants -100. The over/under for the game is set at 7.5.
Frustrating Season
For Bumgarner, it hasn't been the greatest season, and his frustration has started to show. In his last start, a 1-0 loss to the first-place Dodgers, Bumgarner gave up a solo homer to Los Angeles' Max Muncy, then took offense at Muncy watching the ball, yelling at him as he rounded the bases. It was a sterling performance otherwise for Bumgarner, who went seven innings and held the Dodgers to the single run on four hits, striking out five and walking one. On the season, the left-hander is 3-6 with a 3.83 ERA in 14 starts.
Bumgarner's outburst may have fired up the rest of the Giants, as the offense has been much better since that contest. San Francisco scored a total of seven runs over a five-game stretch ending with that game but have put at least four runs on the board in all three games since, all victories. The Giants haven't shown a lot of pop to their lineup, with Pablo Sandoval and Brandon Belt leading the team with just nine home runs apiece, but Sandoval had one of team's three home runs in the opening-game win Friday.
Rough Return
For Nelson, it's been a long road back from a shoulder injury late in 2017 that kept him out until he returned to the mound a week and a half ago. In that start, he lasted just three innings, giving up four hits and four earned runs in an 8-3 loss to Miami. Nelson had been 12-6 in 2017 when he suffered the injury, so the potential is there. He just comfortable being back on the mound, which could take some time.
Any discussion about the Milwaukee offense has to start with Christian Yelich, who is having a great follow-up to his MVP season of a year ago. Yelich is batting .344 with 25 home runs, 55 RBI and 53 runs scored. Mike Moustakas has also been putting together a great year, hitting 21 home runs while batting .280 and driving in 45 runs. There is run potential throughout the Brewers' lineup, as Friday night was the first time in over a week that they'd been held to under five runs in a contest.
Brewers Get Even
Bumgarner gives the Giants the pitching edge in this one, but he may have a difficult time holding Milwaukee's bats at bay. This could come down to the bullpens of each team. I'm going with the Brewers' offense to break out in this one. Take Milwaukee -110.