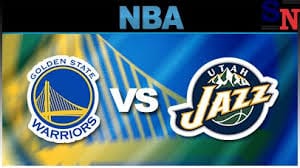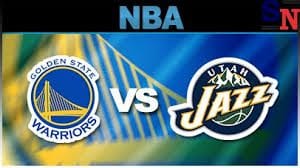 The Golden State Warriors (67-15) meet the Utah Jazz (51-31) in the second round of the NBA playoffs. The Warriors made it to the second round by beating the Portland Trail Blazers four games to none in a series where their average margin of victory was 18 points. The Jazz earned their way into the Western Conference semifinals by beating the LA Clippers over the course of seven games. The Clippers had home court in the series, but that didn't matter to either team, as the away team won five times in the series. Utah will be hoping that trend hold true in this series. Our Warriors play Jazz NBA West Semifinal free pick favors Golden State. Here's how this series should go.
Players to Watch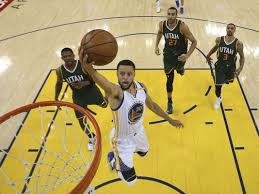 PG Stephen Curry is always dangerous. As usual, he's leading the team in points per game with 28.2 and has a solid assist average of 6.2 per game. Curry is making 1.82 SPG and hitting 41% of his three-point shots. The Warriors are a deep team, and feature Kevin Durant at small forward, Draymond Green at poer forward, and Klay Thompson at shooting guard. Each one is a major scoring threat. Green is especially dangerous, averaging 14.4 PPG, 9.2 RPG, and 7.2 APG. He's also blocking close to four shots per game and making 1,8 SPG.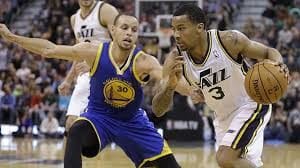 SF Gordon Hayward and PG George Hill are essential to Utah's success. Hayward leads in points per game averaging 22.3 and is second in rebounds with 6.9. Hill is second in points with 15.6 per game while averaging 3.6 APG and 4.1 RPG. Important players are center Rudy Gobert, who's averaging better than seven rebounds per game and 1.33 BPG, and PF Derrick Favors with 6.3 RPG. Despite having some fine talent, the Jazz lack the depth needed to take this series.
Keys to the Series
Golden State's outside shooting and upfront D
Hayward and Hill must step it up for the Jazz to succeed
Warrior foul shooting is superior
Bench players must contribute for Utah
State depth is a major factor
Series Schedule
Game 1 Tue. May 2 UTAH @ GS (10:30 p.m, TNY)
Game 2 Thu. May 4 UTAH @ GS (10:30 p.m, ESPN)
Game 3 Sat. May 6 GS @ UTAH (8:30 p.m., ABC)
Game 4 Mon. May 8 GS @ UTAH (TBD, TNT)
Game 5 Wed. May 10 UTAH @ GS (TBD, TNT)*
Game 6 Fri. May 12 GS @ UTAH (TBD, ESPN)*
Game 7 Sun. May 14 UTAH @ GS (TBD, TBD)*
* If necessary
Warriors Play Jazz NBA West Semifinals Free Pick
Utah is averaging eight points less per game and grabbing six fewer rebounds than the Warriors. Shooting percentages are equal except at the foul line where the Warriors excel. Our Warriors play Jazz NBA West Semifinals free pick is Golden State in four.
Warriors Play Jazz NBA West Semifinals Free Pick: Warrior win in a sweep