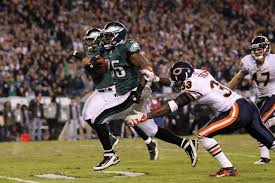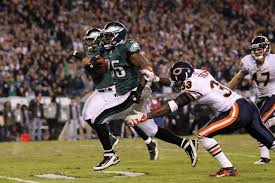 Our week two Monday Night Football free pick has the Philadelphia Eagles at the Chicago Bears. The Eagles are 1-0 after beating the Browns 29-10. The Bears are 0-1 after losing to the Texans 23-14. In essence, we have two teams meeting on Monday night that performed in their initial games at opposite ends of the spectrum. Philly did better than perhaps anyone expected, while Chicago did not do as well as they might have. There are expectations in this game, and those are that the Bears at home have an advantage. We're not so sure of that. But conventional wisdom is favoring Chicago.
Philadelphia Offense vs. Bears D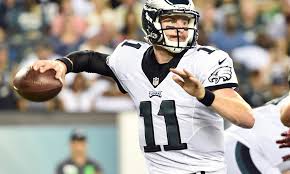 In his NFL debut last week, Philly QB Carson Wentz played well, tossing two touchdown passes and staying away from the interception bug. He completed a respectable 59.5% of his passes and only got sacked just twice. Both are pretty good for a rookie. His QB rating was 101.0. Some people wonder if he can repeat this performance against Chicago? He has good support along the line and some good receivers to whom he can throw. Third-year WR Jordan Matthews (7 REC, 114 YDs, 16.3 AVG, 1 TD) is one of his best targets. Plus, veteran RB Ryan Matthews (22 ATT, 77 YDs, 3.5 AVG, 1 TD) is a solid performer.
The Bear D includes some veteran linebackers, including Jerrell Freeman and Danny Tevathan. Together against Houston, they had a total of 16 solo tackles and 12 assists. Between them, they notched one sack and one TFL. In the secondary, Jacoby Glenn (2 PD, 0 INT) and Tracy Porter (1 PD, 1 INT) offer some decent chops. These are the primary players who will be charged with shutting down Wentz. But can they rattle the young quarterback and can they control the line of scrimmage?
Chicago O vs. Eagles Defense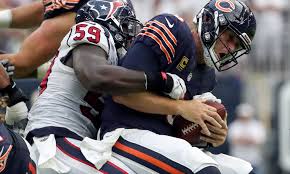 Two problems for the Bears regarding veteran QB Jay Cutler is that he is susceptible to the rush and he tends to make mistakes. He was sacked five times in his game against the Texans, tossed one interception, and earned a dismal rating of 76.9. He completed just 55.2% of his passes. WR Alshon Jeffrey (4 REC, 105 YDs, 26.3 AVG, 0 TDs) is a major asset when it comes to route running and pass catching. That is if Cutler has the time to find him. In the ground attack, RB Jeremy Langford (17 ATT, 55 YDs, 3.4 AVG, 1 TD) has been ineffective thus far, partly due to Chicago's poor O-line.
Fifth-year safety Rodney McLeod (4 TCKL, 1 TFL, 1 PD, 1 INT) is the team's defensive anchor. DE Brandon Graham (2 TCKL, 1 ASST, 1 Sack, 1 TFL) brought game last week and should do the same on Monday night. In their initial game, the Eagle defense accumulated 3 sacks, 3 TFL, 1 INT, and 1 FF. If the Philly defense can cause a bit of havoc for Cutler, the Eagles will have their second win.
Week Two Monday Night Football Free Pick
This week two Monday Night Football free pick is based on our expectations that Wentz is going to do well against a Chicago defense that tends to be inconsistent. We also feel that Philadelphia's defense will be able to get to Cutler. We're taking the Eagles at +3.5.
Week Two Monday Night Football Free Pick: Philadelphia at +3.5