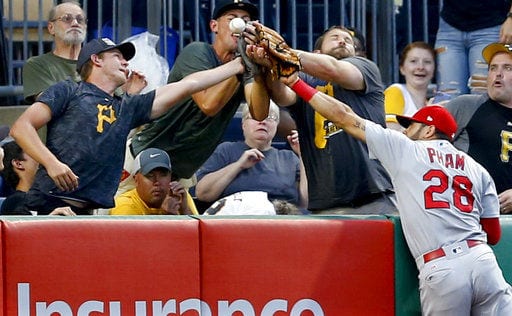 A two-out, ninth inning walk off grand slam and 3HR by Baltimore's Manny Machado cost us the 8/18 Free MLB Pick despite a solid read and 5 HR by the Angels. Time to move on however with the 8/19 Free MLB Pick that sees the St. Louis Cardinals taking on the Pirates in Pittsburgh in game three of their 4-game weekend series.
It will be interesting to see if either of the teams have any firepower left in the tank after combining for 21 runs in an 11-10 St. Louis win on Friday night. The loss for Pittsburgh, on what would have been legend Roberto Clemente's 83rd birthday marks the sixth straight loss for the Bucs. The Cardinals on the other hand have gone 7-3 in their last 10 to climb within 1.5 games of the Cubs for first place in the NL Central. This includes a 14-7 win over the Pirates on Thursday
Your browser does not support iframes.
8/19 Free MLB Pick Pitching Matchup
St. Louis sends Michael Wacha (9-5) to the mound in an attempt to continue their hot play down the stretch. Saturday afternoon's outing is a redemption tale for the right-hander as he suffered his first ever August loss the last time out against the Braves. Wacha didn't pitch horrible however, allowing 4ER on 8 hits.
It was a different story the last time Wacha faced Pittsburgh however. The pitcher hurled into the 7th inning way back on April 19th, allowing just 1ER on 4 hits in a 2-1 Cardinals home victory. In order for St. Louis to achieve similar results today they'll have to contend with Andrew McCutchen whose eyes get real big when Wacha takes the mound posting a .429 career average in 30 plate appearances.
Michael Wacha seeking his 10th win today! #stlcards

— Saint Louis Sports (@SaintLouisSport) August 19, 2017
The Pirates counter with Chad Kuhl (5-9) for the 8/19 Free MLB Pick in an attempt to end their six game skid. Kuhl doesn't exactly get a ringing endorsement from the fans, especially at PNC Park where his home cooking has gone to the tune of a 5.15 ERA in 12 starts. Kuhl struggled again last time out in Toronto walking 5 batters in 5 innings. Surprisingly enough however he tallied wins in his two previous starts in August, 7 innings of shutout ball against Cincinnati and 3ER allowed against Detroit.

8/18 Free MLB Pick Betting Aspect and Variables
There is surprisingly good value with the Redbirds today considering the circumstances. St. Louis is listed at -just -116 on the moneyline and +140 on the run line. The total is 9 and there's usually a good bet on the under play when two teams combine for as many runs as they did the previous two nights.
St. Louis rallies behind Wacha, who has been Mr. August in the past. They have won two straight over Pittsburgh, who is in the middle of a six game losing streak. The Pirates starting pitcher has struggled at home and Cardinals batters are hitting .429 against Kuhl lifetime.
It seems like an easy play for the 8/19 Free MLB Pick, a trap even. As it stands there's just too much value in St. Louis as a -116 play all overthinking aside.
Pick: St. Louis -116
Why have the cardinals been so good at making moves that don't help…..we need bullpen help so we call up Mags that makes since pic.twitter.com/FtktCU4lCk

— cardsforevernalways (@18neverforget) August 19, 2017