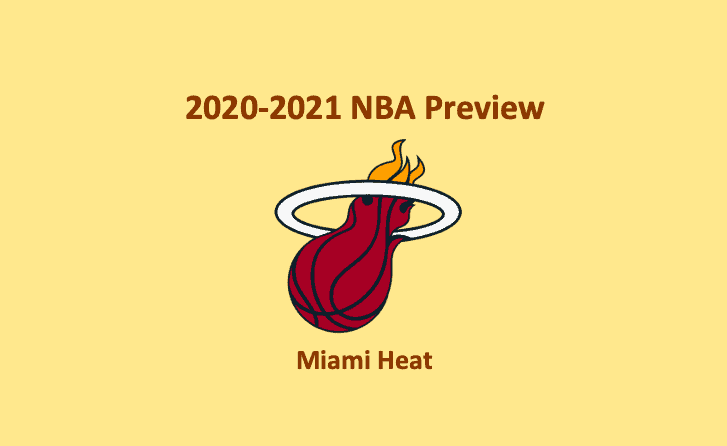 Our Miami Heat preview 2020 – 2021 observes that last year this team came to play in the postseason. The Heat (44-29) finished first in the Southeast Division by 11 games with the Orlando Magic second. Miami, which was one of two teams from the Southeast Division to make the playoffs, earned the fifth seed. The team took no prisoners in the first three rounds, beating the Indiana Pacers 4-0, the Milwaukee Bucks 4-1, and the Boston Celtics 4-2. After taking down the Celtics and winning the Eastern Conference title, the Heat met the Los Angeles Lakers in the NBA Finals. The Lakers beat the Heat four games to two.
Miami Heat Preview 2020 – 2021 – Stats
The Heat were 15th in points scoring 112.0 per game. They were good on 37.9% of their field goals. That was second in the NBA. Also, they were 13th in free throws at 78.3%. Miami dished off 25.9 APG, which was a strong fifth, while they brought down 44.4 RPG (17th). They were middle of the road in turnovers, averaging 14.0 per game. On blocks, Miami was 21st (4.5 PG) and in steals 18th (7.5 PG).
The Heat held opponents to 109.1 PPG (10th), giving them a +2.9 PF/PA differential. That was eighth-best in the NBA. Miami was +0.6 in field-goal percentage (6th), +3.1 in three-point percentage (2nd), and +1.8 in rebounds per game (8th). They were even on steals, ranking 15th, and in blocks, they came in at +0.4 (10th).
Miami Roster
The Heat possess a very fine starting-five roster. Plus, their bench is deep. At the point, Goran Dragic can still get it done. Plus, shooting guard Duncan Robinson can hit from just about anywhere. Small forward Jimmy Butler is reliable and accurate. Power forward Meyers Leonard can deliver and center Bam Adebayo is a dependable two-way player. Overall, the bench is deep.
Miami Heat Preview – Backcourt
Goran Dragic starts at point guard, while Duncan Robinson is the shooter. Dragic, who's been in the league for 12 years, returns for his sixth season with the Heat. Despite his age, Dragic is still productive. Last year, he averaged 16.2 PPG and 5.1 APG while putting in 28.2 MPG. He hit 44.1% of his field-goal attempts and 36.7% of his threes. Last season, his second in the NBA, Robinson became a bona fide starter, averaging 29.7 MPG. He was good for 13.5 PPG and 3.2 RPG. He hit 47.0% of his shots from the field and 44.6% of his threes. Robinson is a solid scorer.
Heat Preview – Frontcourt
Our Miami Heat preview 2020 – 2021 notes that Jimmy Butler starts at small forward and Meyers Leonard at the power spot. Bam Adebayo is the team's center. Nine-year vet Butler, who played with Miami last season, was exceptionally solid. He averaged 19.9 PPG, 6.7 RPG, and 6.0 APG. He also booked 1.8 SPG and shot 45.5% while averaging 33.8 MPG. After playing seven seasons in Portland, Leonard came to Miami last season. Playing 20.3 MPG, he hit 50.9% of his field goals and 41.4% of his three-pointers. Leonard was good for 6.1 PPG, 5.1 RPG, and 1.1 APG.
After being the 14th overall pick in the 2017 NBA Draft, Adebayo has grown into the starting role. Last season was a breakthrough one for Adebayo who averaged 15.9 PPG, 10.2 RPG, and 5.1 APG. Along with being a fine offensive player, the center is a solid defender, averaging 1.3 BPG and 1.1 SPG. He completed 55.7% of his field goals.
Heat Bench
Kendrick Nunn and Jimmy Butler back up at point while Tyler Herro and Avery Bradley come in at shooting guard. Last year, Nunn had a sound first year with the Heat as he averaged 15.5 PPG and 3.3 APG. Butler, a nine-year vet, arrived in Miami last season, averaging 19.9 PPG, 6.7 RPG, and 6.0 APG. He also recorded 1.8 SPG. Although he was a proficient shooter, hitting 45.5% of his field goals, his three-point success rate was just 24.4%. Last year, shooting guards Herro and Bradley averaged 13.5 and 8.6 PPG. Herro, who was playing for Miami, was in his first NBA season, while Bradley, who was with the Lakers, was in his 10th pro season.
The small forward backups are Andre Iguodala and Maurice Harkless. After 15 NBA seasons, Iguodala came to Miami last year. Over the past six seasons, his production has shrunk considerably. Last year, averaging 19.9 MPG, he recorded 4.6 PPG and 3.7 RPG. Harkless, an eight-year vet, played with the Knicks and Clippers last season. He averaged 6.6 PPG and 3.7 RPG. Harkless can also sub at power forward. Kelly Olynyk is the other power forward backup while also coming in at center. After four seasons with the Celtics, Olynyk came to the Heat for 2017-2018. Last year he averaged 8.2 PPG and 4.6 RPG. Meyers Leonard is the third-man in at center. A 50% field-goal shooter and 41% three-point man, he averaged 6.1 PPG and 5.1 RPG.
Miami Heat Preview 2020 – 2021 – Coaching
Our Miami Heat preview 2020 – 2021 notes that head coach Erik Spoelstra has been an NBA coach with just one team. From 1997-2008, he served the Heat as an assistant coach. From 2008-present, Spoelstra had been the head coach of the Heat. Under Spoelstra, Miami has never finish lower than third in the Southeast, and they have made the playoffs nine of 12 times. In 2012 and 2013, the Heat won the NBA Championship, and in 2011, 2014, and 2020, Miami lost in the Finals.
Spoelstra creates lineups utilizing analytics. In this way, he gives his players the chance to utilize and maximize their attributes, skills, and talents. He works hard to get as many players as possible involved in the offense, as well as minimizing turnovers and playing solid defense.
Miami – Pluses and Minuses
Fine field-goal percentage
Excellent ball movement
Very fine group of starters
Require improved rebounding
Must make threes and frees count
SF depth is questionable
Miami Heat Preview 2020 – 2021 – Final Word
Our Miami Heat preview 2020 – 2021 observes that this team possesses a very fine starting-five roster. Plus, their bench is overall deep. However, this group has to become more proficient when it comes to frees throws and three-pointers. Their field-goal production inside and out is stellar. They can pass, but Miami struggled around the rim. Rebounding was an issue. Improvements in these weak areas will really help this team in both the regular season and, if they make it to the finals, against the Western Conference winner.
Miami Heat Projection – 49-23 First-Place, Southeast Division