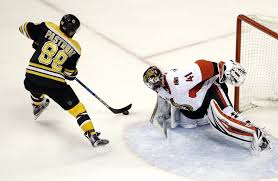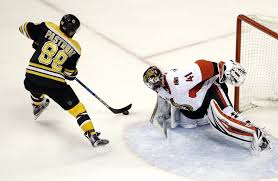 The first round of the 2017 Stanley Cup Playoffs starts with five games tonight. At 7:00 p.m., the Boston Bruins (44-31-7) play the Ottawa Senators (44-29-10). The Bruins finished third in the Atlantic Division with 95 points while the Senators were second with 98. The Senators were 4-0-0 versus Boston this season, but every game was close. This should be a hard-fought series. Our Boston plays Ottawa 2017 Stanley Cup free pick considers each team's chances of moving on to the next round.
Boston Bruins Keys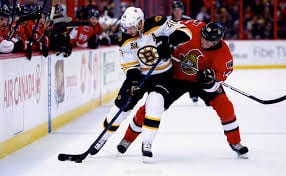 It looks like the Bruins will be without injured defensemen Torey Krug and Brandon Carlo, and they will be missing Noel Acciari, a fourth line player. Accepting that, the big question revolves around whether or not centers David Krejci and Dominic Moore will play. Neither practiced on Tuesday. However, Bruins coach Bruce Cassidy said that both centers are going to play.
The Bruins hold a major edge on the PK. That united was ranked number one in the NHL. Plus, their power play was rated seventh. Wingers Brad Marchand and David Pastrnak have 39 and 34 goals respectively. They're one and two on the team in that category. Marchand also brings 46 assists to the ice. He is also +18, tying him with D-man Zdeno Chara in that category. Centers Krejci and Patrice Bergeron, with 54 and 53 points respectively, are essential to the team's success.
Ottawa Senators Keys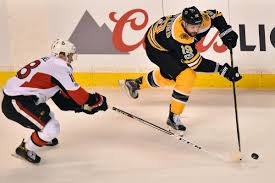 As far as the health of the Senators is concerned, the squad is in good shape. However, vet D-man Marc Methot has been our ever since Sidney Crosby slashed him and severed the tip of his finger a few weeks ago. He's close to coming back from that injury. But he may not yet be able to play.
The Senators play tight defense by employing a neutral zone trap. That helped them reduce their goals against from last year by 33. But they are weak on special teams, placing 22nd on the power play and 23rd on the PK. Winger Mike Hoffman, who has 13 PPG and 13 PPA, accumulated a team-best 61 points. This plus/minus is at +17. That's best on the team. Center Kyle Turris with 27 goals top the team and Hoffman by one. D-man Erik Karlsson offers a whopping 54 assists, putting him first on the Senators. He's also scored 17 goals for 71 points.
Goaltending Edge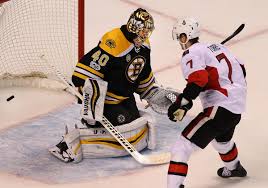 Tuukka Rask (37-20-5) comes to the game with a save percentage of .915 and a GAA of 2.23. Rask can be solid most of the time. When he's not solid, the fortunes of the Bruins often go south. Goalies Craig Anderson (25-11-4) bring a save percentage of .925 to this game. He's allowing 2.28 GPP. Rask has the edge here.
Boston Plays Ottawa 2017 Stanley Cup Free Pick
If special teams are going to be big in this series, then the Bruins hold a major advantage. At 13th, the Bruins are in the middle of the pack when it comes to goals and ninth overall in goals against. The Senators are close in goals against, ranking 10th, but they are 22nd in goals per game.
In our Boston plays Ottawa 2017 Stanley Cup free pick, we like the Bruins in this series. It will take six games.
Boston Plays Ottawa 2017 Stanley Cup Free Pick: Bruins in six