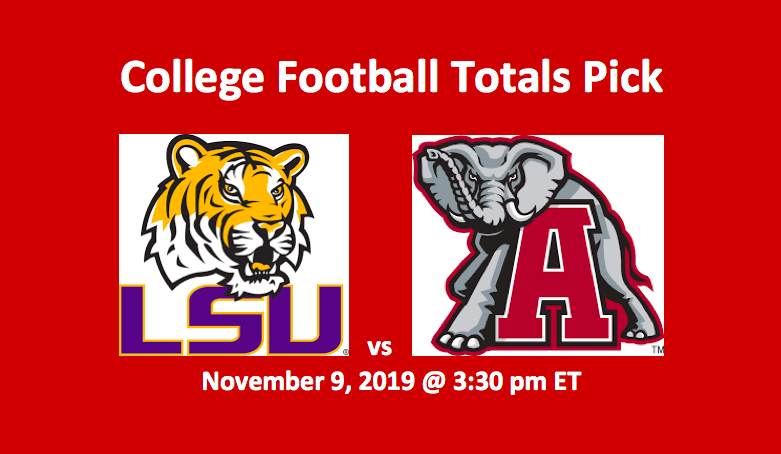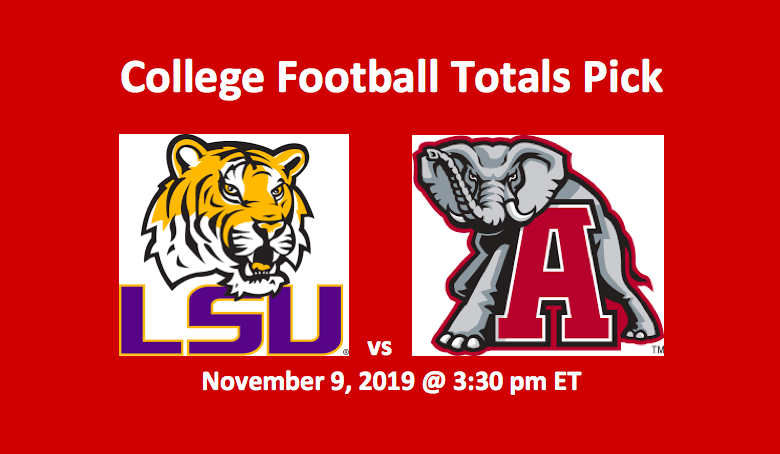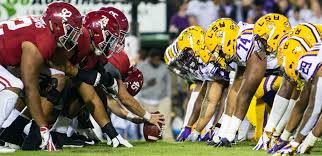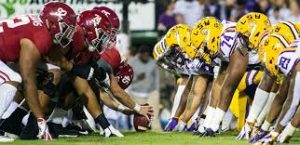 Our LSU vs Alabama totals pick features the two top-ranked teams in the SEC. The LSU vs Alabama totals are at 63.5. Also for this game, the #2 Alabama Crimson Tide (8-0 Overall, 5-0 SEC) are favored over the #1 LSU Tigers (8-0 Overall, 4-0 SEC) by six points. Alabama is first in the SEC South and LSU is second in that division. It's probably a good bet with only a few weeks and games to go in the regular season that today's game will decide who takes the SEC South this season.
The contest will be played today, Saturday, November 9, 2019, at Bryant-Denny Stadium in Tuscaloosa, AL. Kickoff will be at 3:30 pm ET. The weather, which will feature temperatures in the mid-50s around game-time, is not expected to be a factor. This is a big game and along with the over/under pick, we're offering a point spread pick too. Read our LSU vs Alabama point point spread pick here.
LSU vs Alabama Totals Pick – Stats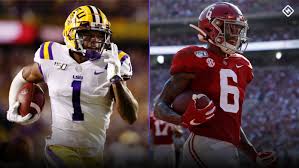 This will be a battle between two highly productive offenses and two very tough defenses. The LSU Tigers are averaging 46.8 PPG and allowing opponents just 20.0 PPG. The Alabama Crimson Tide have been averaging 48.6 PPG while giving up only 15.3 PPG. Both teams are averaging 500-plus YPG in offense while defensive yards for each come in at just over 300 YPG.
On offense, LSU is averaging 377.6 YPG in the air and 158.3 on the ground. Their D is keeping teams at 97.9 YPG, while they are giving up 217.5 YPG in the air. The Crimson Tide offense is putting up 338.6 YPG in passing and 168.0 YPG in rushing. The Tide's defense is allowing 127.4 YPG on the ground, which is a bit more then they'd probably like, and just 180.1 YPG in the air.
The big question is which wins in this one, defense or offense? A look at trends may help decide.
SEC South – Tigers vs Crimson Tide Trends and Questions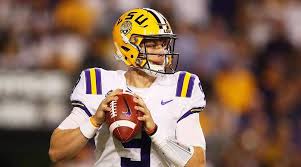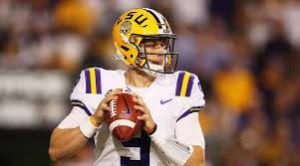 In our LSU vs Alabama totals pick, we note that in their last 10 meetings, these two teams combined have averaged 32.6 PPG. That is way under today's total. Also, in 13 of Louisiana's past 19 games played in November, the total has been under. However, in eight of their last 11 games played, the total has been over. Over could be the way to go. However, the Tide's record concerning the over/under pushes us in the other direction. In four of their last four games with LSU, the total has gone under and in their last dozen games played in November, eight have gone under.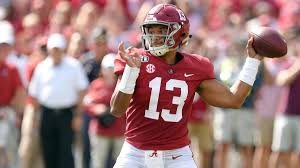 One major concern is Alabama quarterback Tua Tagovailoa, who had his right ankle surgically repaired and worked out with the team this week. Will he play? That will be a game-time decision. We're going to say that he will play, but will be compromised. That could affect scoring.
LSU will be without LB Michael Divinity who posted 22 tackles and three sacks this season. That could affect this side of the ball for the Tigers. However, the LB unit is deep and the secondary is one of the best around.
Our LSU vs Alabama Totals Pick
By the way, in our LSU vs Alabama totals pick we've listed the Tigers as #1 and the Tide as #2 in the nation. That's according to the AP Top 25. The College Football Playoffs Ranking have Ohio State as number one in the nation with LSU ranked second and Alabama third. This is the first week for those rankings.
What is our pick concerning the over/under? We think LSU Joe Burrow, who is one of the top four most productive and efficient college quarterbacks in the nation, will create a lot of scoring opportunities. He has three major receivers who can deliver and the LSU rush attack is solid. Tagovailoa is not ranked as high as Burrow, he's seventh in the nation, but the guy has 27 TD passes. If he plays, even injured, he and his three primary pass catchers could do a lot of damage quickly. We're going with a 38 – 30 score and that puts us over.
LSU vs Alabama Totals Pick – Summary
LSU vs Alabama Totals – Over 63.5