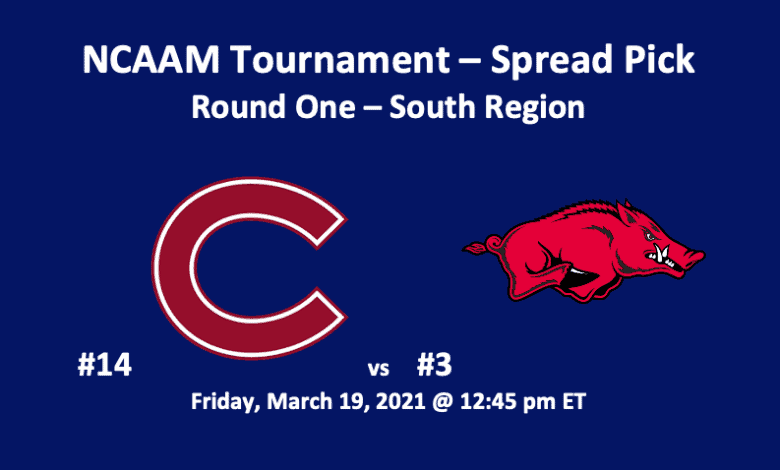 Our Colgate vs Arkansas pick offers two teams in the South Region that appear to be mismatched. In this second game of the Round of 64 in the NCAA Men's Tournament, the 'Backs are favored and at -8.5 (-105), while the Raiders are +8.5 (-102). Colgate topped their division in the Patriot League and beat to the Loyola Greyhounds 85-71 in the finals of the conference tourney. Over their last five games, they've gone 5-0. The Arkansas Razorbacks, who've won four of their last five matchups, were second in the SEC. The Razorbacks lost to the LSU Tigers in the SEC Semifinals 71-78. The Raiders and Razorbacks will meet on Friday, March 19 at 12:45 pm ET. The game will be held at Bankers Life Fieldhouse in Indianapolis, IN.
Colgate vs Arkansas Pick – Stats
The Raiders are solid shooting team, completing 49.8% of their field goals and 40.0% of their threes. Also, Colgate is good on 73.1% of their free throws. Although the Razorbacks match Colgate when it comes for free-throw percentage, the team's field goal and three-point completion rates are considerably lower. Arkansas is hitting 45.5% of their shots and 33.9% of their attempts from the charity stripe.
In terms of points per game, Colgate is better 86.3 to 82.4. The Raiders are averaging 39.7 RPG 17.7 APG, 7.2 SPG, and 3.5 BPG. On the other hand, the Razorbacks come in at 40 RPG/15.0 APG/8.1 SPG/5.2 BPG. Turnovers come in at 13.1 for Arkansas and 10.1 for Colgate.
Key Players
The Raiders have four guards who are averaging double-digits in point production. Jordan Burns leads the team with 17.0 PPG and 5.4 RPG. He's a 41% shooter from anywhere on the court and knocks in 90% of his frees. Also, in the backcourt, Jack Ferguson and Nelly Cummings are each averaging about 12.5 PPG. Ferguson is good on 51% of his shots from virtually anywhere on the court. Guard Tucker Richardson, who's averaging 11.7 PPG, is bringing in 5.9 RPG. Forward Keegan Records and center Jeff Woodward, who are both 60%-plus shooters from the floor, combine for 17.1 PPG and 11.4 RPG. This is a solid starting five.
For the Razorbacks, in the backcourt, Moses Moody leads the team with 17.4 PPG. He's also grabbing 5.9 RPG and 1.1 SPG. Additionally, guard JD Notae is averaging 13.2 PPG, while counterpart Lalen Tate is solid in the back and front. He's hitting for 10.4 PPG while taking down 3.8 RPG and making 3.9 APG. In front, forward Justin Smith, a 54.1% field goal shooter, is good for 13.0 PPG and 6.9 RPG. There's plenty of depth on this team.
Colgate vs Arkansas Pick – Final Thoughts
Our Colgate vs Arkansas pick finds that the Riders have a very fine backcourt and frontcourt. They've got excellent shooters, many of whom can shoot from just about anywhere. As noted, Arkansas has fine depth. Although their shooters aren't as accurate as Colgate's, they have size and strength. The Razorbacks should win. However, we find that the Raiders will cover at +8.5 (-102). She our Virginia Tech vs Florida pick for Round One.
#14 Colgate Raiders vs #3 Arkansas Razorbacks
Colgate Raiders at +8.5 (-102)