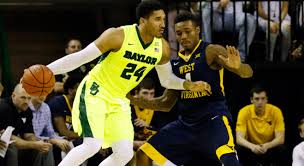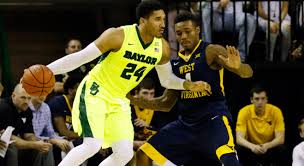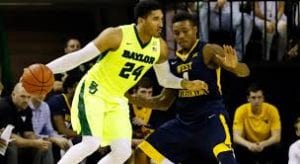 The first of two East Region games to be played on Friday has the #7 South Carolina Gamecocks at the #3 Baylor Bears. The game will be played starting at 7:29 p.m. ET. Also today in the East will be the #8 Wisconsin at #4 Florida. That game tips off at 9:59 p.m. The winner of these two games will play one another on Sunday to see who represents the East in the Elite Eight. Our South Carolina plays Baylor 2017 Sweet 16 free pick offers the Bears at -3.0 and an over/under of 135.0.
In the 2017 NCAA Tournament, the Gamecocks beat Marquette by 20 points in round one. The final in that contest was 93-73. In the second round, they completely surprised #2 Duke, beating them 88-81. That one win suddenly made South Carolina a lot more dangerous than anyone had previously thought. Can these giant killers do it again, this time against Baylor?
In the first round, the Bears met the #14 New Mexico State Aggies. Baylor handled them easily, taking them down 91-73. Round two offered a game with #11 USC Trojans. The Trojans certainly tested them. The Bears held up, beating USC 82-78. The Bears can score points, and that may carry them to victory in this game.
South Carolina Gamecocks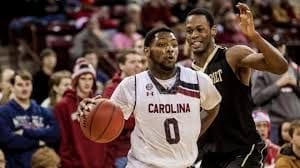 Sindarius Thornwell leads this team in many ways, including points, averaging 21.4 per game. He's also tops in rebounds with 7.4 per game and is hitting threes at a 40% rate. PJ Dozier, Duane Notice and Chris Silva are all essential parts of this team's offense. Dozier is good for 13.8 PPG and 4.7 RPG. He and Thornwell both offer fine defensive chops. Notice also has good hands and, at the same time, is averaging better than 10 PPG. Silva, a 56% shooter, is hitting 55% from the field.
Baylor Bears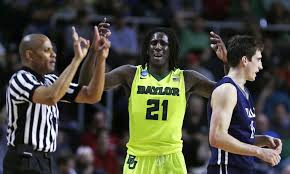 In all aspects, Baylor is a much better shooting team than the Gamecocks. The Bears are hitting 48% from the field to South Carolina's 42%, 73% from the free throw line to their opponent's 70% and 36% of their threes to the Gamecocks 34%.
Johnathan Motley is a 52% shooter who's capable of a double-double. He's averaging 17.3 PPG and 9.9 RPG. Manu Lecomte, with 3.9 APG, sets the table while scoring 12.3 PPG. Al Freeman is good for about 10 PPG and Jo Lual-Acuil Jr. for nine. Lual-Acuil is pulling down 6.8 RPG.
South Carolina Plays Baylor 2017 Sweet 16 Free Pick
South Carolina must find a way to score against two of Baylor's best defensive players, 6-foot-10 forward Johnathan Motley and 7-footer Jo Lual-Acuil. Plus, they will have to try to neutralize Motley, which won't be easy, he's one of the best shooters around, averaging 17 points and 10 rebounds in the tournament. Those match his regular season marks.
For Baylor, it's about making sure they can control South Carolina guard Thornwell who scored 24 to lead the Gamecocks against Duke. They must also pay attention to Notice at guard and Silva in the frontcourt. Each added 17 against Duke.
Our South Carolina plays Baylor 2017 Sweet 16 free pick likes the Bears at -3.0 and the over at 135.0.
South Carolina Plays Baylor 2017 Sweet 16 Free Pick: Baylor at -3.0 and over 135