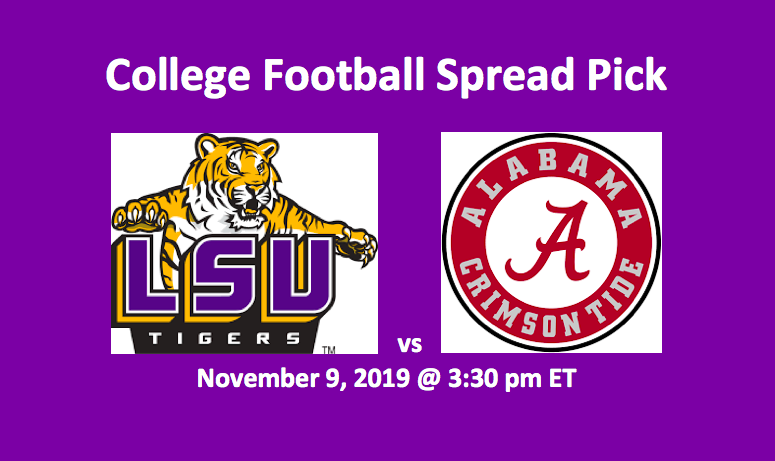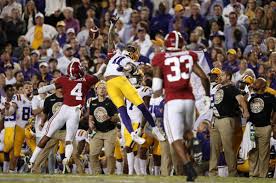 Our LSU vs Alabama spread pick has the top-two teams in the nation meeting. Our LSU vs Alabama pick offers the Crimson Tide at -6.0. The #2 Alabama Crimson Tide (8-0 Overall, 5-0 SEC) are certainly favored, and they top the SEC South, however, at this point the LSU Tigers (8-0 Overall, 4-0 SEC) are ranked first on the nation. Might today's matchup end up in an upset, or, at least, will the Tigers benefit from the spread?
This huge game will be played today, Saturday, November 9, 2019. The start time is 3:30 pm ET. It will be played at Bryant-Denny Stadium in Tuscaloosa, AL, giving the Tide a major home field advantage. How big is this game? Betting Brain also has a spread totals pick. You can access that o/o pick right here. The weather, which will feature cool temperatures in the mid-50s around game-time, is not expected to be a major factor.
LSU vs Alabama Spread Pick – Stats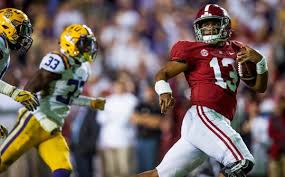 Both LSU and Alabama have high-scoring offenses and tough defenses. 'Bama is averaging 48.6 PPG on offense, while the defense is allowing 15.3 PPG. The Tigers are holding teams to 20.0 PPG and scoring 46.8 PPG. The yardage totals on offense are extreme with LSU averaging 535.9 YPG and Alabama 506.6 YPG. On offense, LSU is putting up a hefty 377.6 YPG in passing and a solid 158.3 in rushing. Alabama's offense has been good for 338.6 YPG in the air and 168.0 YPG on the ground.
The LSU defense is holding opponents to 97.9 YPG, while they are allowing 217.5 YPG in passing. On defense, the Crimson Tide is giving up 127.4 ground YPG. That is a number they would like to see reduced. They are tough on passing, giving up only 180.1 YPG.
Tigers vs Crimson Tide Offense and Defense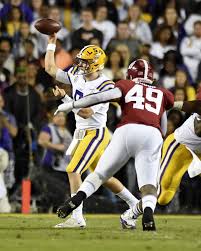 Tiger QB Joe Burrow versus Alabama QB Tua Tagovailoa. Burrow has a 78.8% completion rate and 30 TD passes. He's tossed just four picks. He's in the top four in the nation for quarterback efficiency. He is healthy. Tagovailoa is trying to come back quickly from ankle surgery. His completion rate is 74.4%. Tagovailoa has tossed 27 touchdown passes and just two picks. Both QBs have a solid trio of receivers to toss to. Both clubs bring deep rushing units to the field today.
On defense, the Tigers have grabbed nine picks and defended 43 passes. They have 20 sacks and 50 TFL. This is a seasoned and skilled group. To today's game, the Tide brings 19 sacks and 10 picks. They've posted 33 PD and 49 TFL. They are deep and determined.
Key Factors in Today's Big Game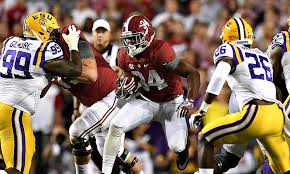 Our LSU vs Alabama spread pick sees these five key factors as playing a major role in today's game.
Alabama QB Tua Tagovailoa – is he healthy enough to play and be effective
LSU QB Joe Burrow – Can he play at his highest level, which would be impressive
Rush Attack and D – Which team controls the turf could determine effectiveness of air game and more
Secondary – LSU has the edge here
Home field – Give Alabama a big edge here
Our LSU vs Alabama Spread Pick
The LSU Tigers have met and beaten three top 10 teams, while the Alabama Crimson Tide have met and beaten one top 25 team, #24 Texas A&M. The Tigers have definitely had a much tougher schedule than the Tide. If the Tide does win today, they will have definitely beaten the top team in the nation. Although that is according to the AP Top 25. According to the College Football Playoffs Ranking, Ohio State is number one in the nation with LSU ranked second and Alabama third. However, note that this is the first week those rankings have been released.
What is our LSU vs Alabama spread pick? Taking everything into consideration, we like the Tigers at +6.0. We do think that Tigers' QB Burrow will at least keep it close. Consequently, take LSU at +6.0.
LSU vs Alabama Spread Pick – Summary
Spread Pick – LSU Tigers at +6.0