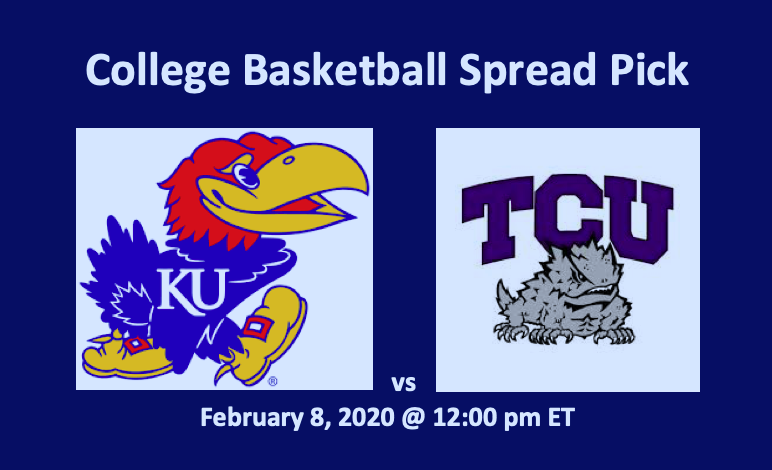 Our Kansas vs TCU pick offers the #3 Jayhawks at –8.5. This Kansas vs TCU prediction observes that the Kansas Jayhawks (19-3 Overall, 8-1 Big 12) are second in the Big 12. They are one game behind the #1 Baylor Bears. The TCU Horned Frogs (13-9 Overall, 4-5 Big 12) are tied for first in the Pac-12. The TCU Horned Frogs (8-6 Overall, 2-1 Big 12) are tied with the for fifth place in the conference. The Oklahoma Sooners and Texas Longhorns also occupy fifth. This Big 12 contest will be played Saturday, February 8, 2020 at 12:00 pm ET. The Jayhawks and Horned Frogs will tip off on TCU's home court, Ed and Rae Schollmaier Arena, Fort Worth, Texas.
Kansas vs TCU Pick – Recent Performance
The last time the Jayhawks lost was on January 11 when they met the #4 Baylor Bears. Baylor easily took down Kansas 67-55. Since that loss, the Jayhawks have won seven games in a row. Prior to that streak, the Jayhawks lost to two of the four top-25 teams they faced. On November 5, in their first game of the season, the #4 Duke Blue Devils edged Kansas 68-66. The also lost a close one to the #18 Villanova Wildcats 56-55. The Jayhawks did beat the #20 Colorado Buffaloes 72-58 on December 7 and the #16 West Virginia Mountaineers 60-53. The Jayhawks last played on February 3 beating the Texas Longhorns for the second time this season. The final in that game was 69-58.
The Horned Frogs have struggled as of late losing six of their last 10 games and their last four. In that span of games, they did score a big 65-54 win over the #18 Texas Tech Red Raiders. However, TCU also lost big 81-49 to the #12 West Virginia Mountaineers. In addition, on February 1 they lost 68-52 to the #1 Baylor Bears. The Horned Frogs last played on February 5 losing to Oklahoma State 72-57.
Jayhawks at Horned Frogs – Stats
The Jayhawks are outperforming the Horned Frogs in just about every major statistical category. Our Kansas vs TCU pick finds that the Jayhawks are better in points scored (75.7 to 67.7) and points allowed (61.0 to 63.7). That gives the visiting Jayhawks an advantage of plus-10.7. They are also topping SMU when it comes to field goal percentage (49.0% to 42.8%), free-throw success (66.5 to 62.7), and rebounds (38.7 to 35.9).
Player and Roster Assessment
Sophomore guard Devon Dotson leads the Jayhawks with 18.0 PPG. Center Udoka Azubuike is grabbing 9.5 RPG while averaging 12.6 PPG. Azubuike is 76.3% field goal shooter. Guard Marcus Garrett, who's averaging 9.6 PPG, leads Kansas in assists with 4.5 per contest. Also at guard, Ocai Agbaji is good for 10.4 PPG. Both Agbaji and Garrett are taking down 4.3 RPG. Cumulatively, the three guards are hitting 45% of their shots.
TCU will use guards Desmond Bane and R.J. Nembhard to set the pace. Bane is averaging 16.2 PPG and 3.5 APG while Nembhard is recording 12.4 PPG 3.4 APG. Bane, who's completing 46.6% of his field goals and 44.2% of his threes, is also taking in 6.3 RPG. In the paint, center Kevin Samuel is completing 66.5% of his field goals. He's putting in 11.1 PPG while grabbing 8.7 RPG.
Our Kansas vs TCU Pick
This Kansas vs TCU pick notes that TCU has certainly been struggling. At the same time, the Jayhawks have been playing solid basketball and winning. Kansas is deeper and much stronger in most areas. We like the Jayhawks at -8.5. We're also offering a pick on the Nebraska vs Iowa grudge match.
Kansas Jayhawks vs TCU Horned Frogs Prediction – Summary
Kansas Jayhawks at -8.5