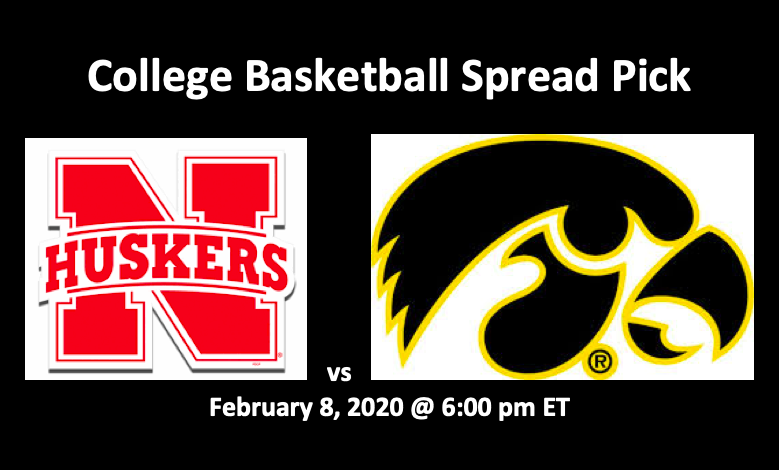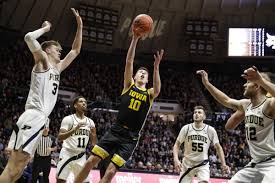 In our Nebraska vs Iowa pick the #17 Hawkeyes favored by 14. This Nebraska vs Iowa prediction notes that the Nebraska Cornhuskers (7-15 Overall, 2-9 Big Ten) are 13th in the Big Ten. That's next to last. The Iowa Hawkeyes (16-7 Overall, 7-5 Big Ten) are tied with the for fifth place with the Rutgers Scarlet Knights. The game will be played Saturday, February 8, 2020 at 6:00 pm ET. This Big Ten game will be played at the Carver-Hawkeye Arena in Iowa City, Iowa. In the first meeting this season between these two teams, the Cornhuskers upset the Hawkeyes 76-70.
Nebraska vs Iowa Pick – Recent Performance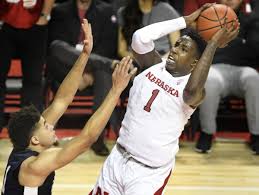 Since that big upset win, the Cornhuskers have lost seven straight games. Included were losses to #21 Ohio State, #24 Rutgers, and #24 Penn State. The biggest margin in those losses was 12 points. This season, Nebraska has put together one winning streak. That was from November 15 – 25 and it was three games long. In that streak, they beat South Dakota State, Southern, and Washington State.
At the start of the season, the Hawkeyes won seven of their first ten games. During the season, Iowa put together a four-game winning streak and a five-game winning streak. They are 1-2 for their last three games. One loss was to #15 Maryland 82-72 while the win was against #19 Illinois 72-65. They last played on February 15. In that game, the Purdue Boilermakers destroyed the Hawkeyes 104-68.
Cornhuskers at Hawkeyes – Stats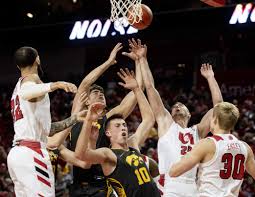 According to statistics, the Hawkeyes should certainly be favored in this game. Our Nebraska vs Iowa pick observes that the Hawkeyes are outscoring the Huskers 78.4 to 71.7. In points allowed, they're stingier by 3.7 points. They're also hitting 4.3% more of their field goals than Nebraska.
In rebounding, the Hawkeyes are bringing down 38.0 RPG and the Cornhuskers 35.3. The home team is also 3.3 APG better than their opponents. Finally, Iowa outdistances Nebraska in foul shooting, 74.2% to 59.2%.
Player and Roster Assessment
Nebraska has a solid core of four guards while their front men are less effective and not as deep. In the backcourt, Cam Mack, Haanif Cheatham, and Dachon Burke Jr. are each averaging double-digits in scoring. Mack tops the team in both points and assists per game with 13.0 and 6.6 respectively. Cheatham, a 49% shooter, is putting up 12.4 PPG, while Burke is good for 11.4. Also at guard, Thorir Thorbjarnarson is completing over 50% of his field goals while averaging 8.9 PPG. In front, freshman Yvan Ouedraogo is averaging 6.0 RPG and 5.4 PPG. Forward Kevin Cross, also a first-year, is recording 7.7 PPG and 4.1 RPG.
For Iowa, junior center Luka Garza is a major force. Garza is averaging 23.2 PPG and 10.0 RPG. He's good on 54.8% of his field goals. He assisted by forward Ryan Kriener who's scoring 7.4 PPG while connecting on 57.4% of his shots. In the backcourt, Joe Wieskamp is scoring 14.8 PPG and grabbing 6.1 RPG. Freshman guard C.J. Fredrick, who's scoring 11.5 PPG, is a deadeye shooter. His success rate on field goals stands at 51.7% and on threes it's 48.2%.
Our Nebraska vs Iowa Pick
We do believe Iowa will win this game. They should dominate in the paint and at the foul line. But in their seven conference wins, they've beaten just two Big Ten teams by more than 14 points. Two of Nebraska's conference losses have been by 14 points and one was by more than 14. Our Nebraska vs Iowa pick is the Huskers at +14.0. Also see our Jayhawks vs Horned Frogs pick for today.
Nebraska Cornhuskers vs #17 Iowa Hawkeyes Prediction – Summary
Nebraska Cornhuskers at +14.0