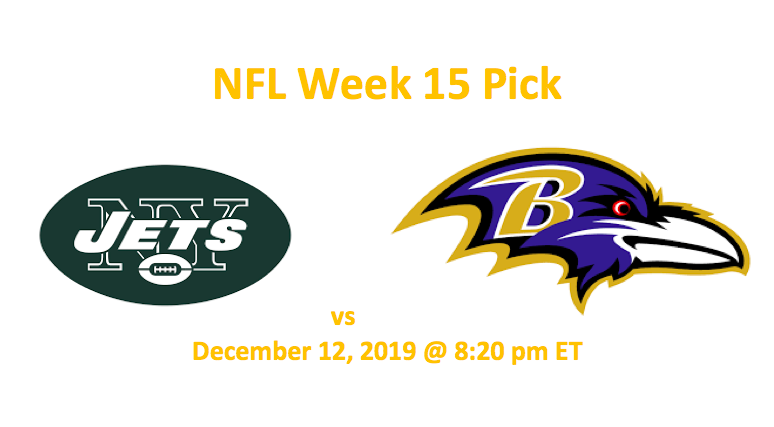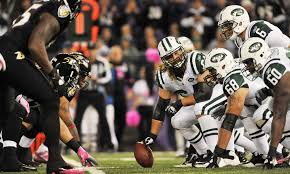 This NFL Jets vs Ravens pick has Baltimore at -15.5. Our New York Jets vs Baltimore Ravens prediction notes that Baltimore quarterback Lamar Jackson is listed as questionable. However, Jackson has been fully participating in practices this week and has said that he will play. The game will kick off on Thursday, December 12, 2020 at 8:20 PM ET. The contest will be played at M&T Stadium in Baltimore, MD. Weather should be fairly uneventful. Temperatures will be around 30 ° F. No precipitation and low winds are in the forecast.
The AFC East New York Jets (5-8 Overall, 1-5 Away) have won four of their last five games. Their last loss was on December 1 at Cincinnati (22-6). They last played on December 8, beating Miami 22-21. The Jets are third in their division. They sit five games behind the AFC-leading Patriots. The Baltimore Ravens (11-2 Overall, 5-1 Home), who are first in the AFC North and have already clinched a playoff berth, have won eight straight games. Their two losses occurred on September 22 when Kansas City beat them 33-28 and on September 29 when Cleveland destroyed them 40-25. After that, the Ravens have been perfect.
Jets vs Ravens Pick – Stats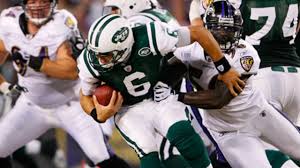 The differential between the offensive and defensive stats of these two teams is especially wide. The Jets are averaging 17.4 PPG while the Ravens are putting up 33.1. Conversely, New York is allowing opponents 23.2 PPG. Baltimore is holding clubs to 18.2. Our Jets vs Ravens pick notes that the PF/PA differential for the Jets comes in at -5.8, while the differential for this game's home team is +14.9. The combined PF/PA difference, which is in favor of the Ravens, totals +20.7.
Total defensive yards for these two teams are close. The Ravens are allowing opponents 335.7 YPG with 256.8 YPG in the air and 78.8 YPG on the ground. Baltimore is giving up 332.4 YPG. Of those defensive yards, 95.6 are rushing yards and 236.8 passing. Although these two teams are close when it comes to defensive yards, they are miles apart on offensive yardage. New York is averaging 294.3 YPG with 218.7 in passing and 75.6 in rushing. Although Baltimore's air yards are similar to NY's at 215.7 per game, their ground yards set them apart from the Jets. The Ravens are rushing for 200.9 YPG. That's 124.4 more YPG than New York.
New York at Baltimore – Players
The Jets offense will have to produce through the air. That won't be easy against a tough Raven secondary and relentless pass rush. At the same time, NY must do what it does best on defense. That's take away the run. But with Baltimore they'll be facing various offensive dual-threats. That makes stopping the run a very difficult task.
NY Jets – Offense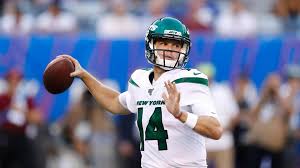 We expert QB Sam Darnold, who this season has tossed 15 TD passes and 11 picks while being sacked 28 times, to start. Our Jets vs Ravens pick notes that those totals are over the course of 10 games. WRs Robbie Anderson and Jamison Crowder have 43 and 60 catches and four and three TD receptions respectively. RB Le'Veon Bell, who's averaging 3.2 YPA and has three rushing TDs, has also made 55 catches with one being for a score. His total offensive yards come in at 992.
NY Jets Defense
On D, standout safety Jamal Adams, who leads the team with 64 tackles, 6.5 sacks, and 11.5 TFL, is doubtful. Adams also has a pick-six, two forced fumbles, and six passes defended. If he does not play, that will be a major blow for the Jet defense. The Jets have forced nine fumbles, recovering eight and made eight INTs. The defense has scored three times. They've also recorded 29 sacks, 95 TFL, and 53 PD.
Baltimore Ravens Offense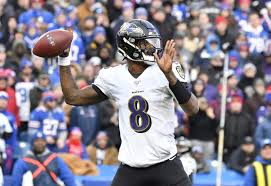 The Raven offense is run by dual-threat Lamar Jackson. Jackson's recorded 2,677 passing yards and 1,017 rushing yards. He's tossed 28 TD passes and rushed for seven more scores. Jackson, who's averaging 6.7 yards per rush, has been sacked 22 times, tossed a half-dozen picks, and fumbled five times, losing one. RB Mark Ingram II has been tough to stop. Ingram, who's scored nine times, is averaging 4.9 YPA. Ingram, also a dual-threat, has 23 catches and three TD receptions. TE Mark Andrews, who is questionable, leads the team with 54 receptions and seven scoring catches. WRs Marquise Brown and Willie Snead IV, who have 39 and 27 receptions respectively, have combined for 11 TDs.
Baltimore Ravens Defense
The Raven defense has record 33 sacks, 11 picks, and 12 forced fumbles of which they have recovered nine. This side of the ball has scored five times. They've also recorded 61 PD and 74 TFL. CB Marlon Humphrey has notched two INTs, two FF, and 11 PD. LB Matthew Judon, who's made 44 tackles, has recorded 8.5 sacks and 16.0 TFL. He's key to this defense's success.
Our Jets vs Ravens Pick
Our Jets vs Ravens pick comes with a big spread. But we do think that the Ravens have the offense and defense to beat this NY team by a good 20 points. That means we are taking the Baltimore Ravens at -15.5. This is based on Jackson playing the entire or most of the game. Make sure you check out our NCAAM Michigan vs Illinois prediction for December 11. Here's our Philadelphia 76ers vs Boston Celtics pick for December 12, 2019.
Jets vs Ravens Prediction – Summary
Baltimore Ravens at -15.5