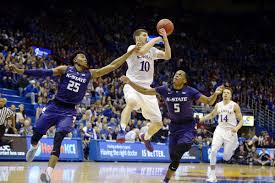 Our NCAAM Jayhawks vs Wildcats totals pick for Monday, February 25 has the over/under at 134.0. Earlier this season, the #15 Kansas Jayhawks (21-6 Overall, 11-3 Big 12) lost to #16 Kansas State Wildcats (20-7 Overall, 9-5 Big 12) on the Wildcats' home court. The final in that game was 74-67 with the totals coming in at 141. In the Big 12, the Jayhawks are two games ahead of the Wildcats with Texas Tech sitting in between the two teams and one game out of first place. Will there be a lot of points scored tonight? We think there will be and here's why.
Essential Stats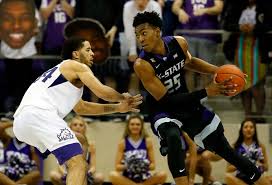 Looking at scoring stats for this Jayhawks vs Wildcats totals pick pushes us towards the over. KSU is averaging 66.5 PPG while KU has been good for 76.4 PPG. We're not quite at the over with those figures. That's true. Plus, there's concern regarding the over as you've got the Wildcats holding teams to 59.3 PPG. At the same time, the Jayhawks are allowing opponents 70.6 PPG. Again, that pushes us towards the under, but we're not there yet.
But consider the score the last time these two teams met, and, at the same time, both offenses. Yes, the Cats kept the Hawks' point total under their average, but they could not shut them down. On the other end of the court, Kansas State, which has a problematic defense, may keep point totals a bit lower at home, but we still anticipate KSU putting a decent number of points up. We think that the Wildcats have a good chance of scoring 67 points up. At the same time, we expect Kansas to hit for around 68-to-70. That puts the total over.
Edge: Over
Trends for KSU and KU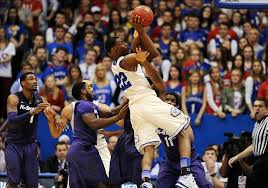 In creating our Jayhawks vs Wildcats totals pick, we've considered how these teams have been performing as of late. The total has gone over in six of KSU's last seven games and four of their last six on the road. Kansas has gone over in five of their last six contests and four of their last five home games. In their last five games since they beat the Jayhawks, KSU has averaged 71 PPG. In their past four games since losing to their rivals, the Jayhawks have averaged 76.5 PPG. In their last four home games, Kansas is averaging over 80 PPG. In their past four games on the road, the Cats have been good for 70.25 PPG. All of those stats indicate a trend towards the over.
Edge: Over
Five Keys to Jayhawks vs Wildcats Totals
Pace- a fast pace, which will expect, will result in more scoring chances
If Kansas forward Dedrick Lawson (50 FG%, 10.1 RPG, 37.1 3PT%) has a big game in the paint and outside, points will be numerous
For KSU, point totals will rise if forward Dean Wade is sharp shooting from the outside (44%) and also hitting from the inside (51%)
If Jayhawk guards Vick and Dotson are putting in 45% of their threes, the over looks good
To hit the over, we expect these teams to come out of the gate looking to score early and often
Edge: Over
Our Over/Under Pick
It is clear that we do like the over at 134.0. Both of these clubs are capable of putting lots of points on the scoreboard. If it's a runaway for one team, we still expect the over to be hit. Our NCAAM Jayhawks vs Wildcats totals pick is the over at 134.0.
Summary Jayhawks vs Wildcats Totals: Over 134.0