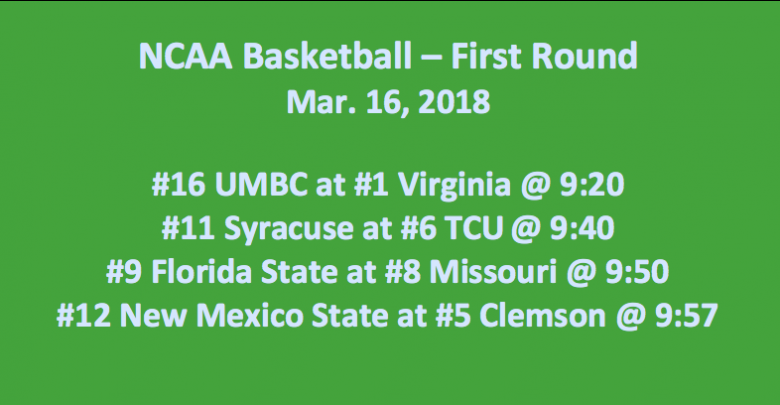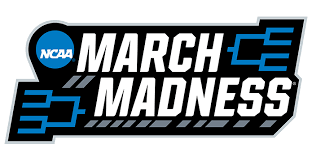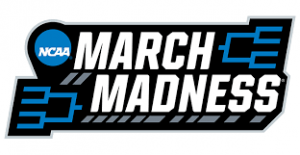 These are the final picks for the first round of the 2018 NCAA Tournament, which tipped off yesterday at noon. The last four games of this round will start tonight at 9:20 p.m. E.T. when #16 UMBC plays #1 Virginia. The final game of this grouping will start at 9:57 p.m. E.T. as #12 New Mexico State takes on #5 Clemson. We will have more picks for you tomorrow as we offer the spread and over/under on the eight NCAA Tournament contests for Saturday. We'll finish up round two on Sunday with eight more games and 16 picks overall. Here are our day two Round One 2018 NCAA Tournament late evening picks. Once again, we are providing the spread and over/under for each game.
#16 UMBC at #1 Virginia
South Region at 9:20 p.m.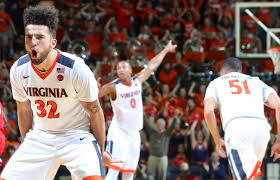 The UMBC Retrievers (24-10) finished second to Vermont in the America East Conference and then beat the Catamounts 65-62 for the championship. The Retrievers are averaging 74 PPG and are good on 46% of their shots. However, the team is just 65% from the charity line. That's cause for concern. Senior guard Jairus Lyles tops the team in points, averaging 20.2 per game. He's second in rebounds, grabbing 5.6 per contest. Forward Arkel Lamar is taking down 5.8 RPG and scoring 10.5 PPG, while K.J. Maura is hitting for 11.5 PPG and dishing off 5.2 APG.
The Virginia Cavaliers (31-2) finished first in the ACC regular-season standings and also ended up winning the conference tournament, beating Louisville, Clemson, and UNC. The team is loaded with talent and is especially strong in the backcourt. Three guards lead the way, Kyle Guy (14.1 PPG, 40 3-PT%), Devon Hall (12.0 PPG, 4.3 RPG, 3.2 APG), and Ty Jerome (10.9 PPG, 39 3-PT%). Forward Isaiah Wilkins commands the paint, grabbing 6.3 RPG. The Cavs are averaging 68 PPG.
The Cavaliers are favored by 20.5 points while the over/under is at 120.0. The low over/under begs us to take the over. We do think the Cavaliers will cover in this game.
Our Picks: Virginia at -20.5 and over 120.0
#11 Syracuse at #6 TCU
Midwest Region at 9:40 p.m.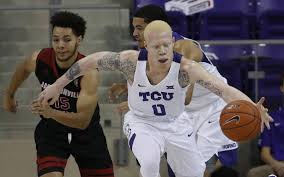 The Syracuse Orange (21-13) are coming off a 60-56 win over Arizona State on Wednesday. For sure, the Orange want to prove something. They are averaging 74 PPG. The Syracuse shooting percentages are a few points lowee than they'd like them be.
Look for the TCU Horned Frogs (21-11) struggled this season, especially versus ranked teams. They finished a lackluster fifth in the Big 12. TCU is averaging 81 PPG, and their shooting percentages, which includes a 40% success rate from downtown, are solid. Six guys have the potential to put up double-digit scoring numbers, including forward Vladimir Brodziansky (15.1 PPG, 5.1 RPG). Senior guard Kenrich Williams (13.1 PPG, 9.3 RPG, 4.0 APG) can hit from inside and out. He's a dynamite rebounder.
The TCU Horned frogs look to be an overwhelming team. Their accuracy and depth will be huge in this game. We're going with TCU at -5.0. We like the over at 136.5 in this game.
Our Picks: TCU at -5.0 and over 136.5
#9 Florida State at #8 Missouri
West Region at 9:50 p.m.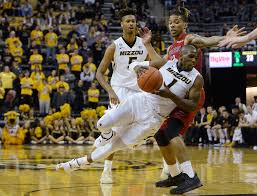 The Florida State Seminoles (20-11) dumped out of their tournament early, as the Louisville Cardinals beat them 82-74. They finished eighth in the ACC. They're averaging 82 PPG, but are lacking in every category of shooting percentage when compared to Missouri. Junior guard Terrance Mann, senior guard Braian Angola, and senior forward Phil Cofer are each good for 13 PPG. The three average 13 RPG.
The Missouri Tigers (20-12) were sixth in the SEC and in the conference tournament were eliminated early 62-60 by UGA. The Tigers will play tonight without senior forward Jordan Barnett (13.7 PPG, 5.9 RPG). He's second in points and rebbies. Senior guard Kassius Robertson (16.2 PPG, 43 3-PT%), who's tops on the team in points, is ready to play, as is freshman forward and the team's leading rebounder Jontay Porter (10.1 PPG, 6.8 RPG). The Tigers are averaging 73 PPG and are good on 39% of their threes.
We're going with the Seminoles at -1.5. We're taking the under at 146.5.
Our Picks: FSU at -1.5 and under 146.5
#12 New Mexico State at #5 Clemson
Midwest Region at 9:57 p.m.
The New Mexico Stage Aggies (28-5) certainly went on a tear at the end of the season and into the playoffs, taking the WAC Tournament after finishing on top of the pack at the end of the regular season. The Aggies, who are hitting just 33% of their threes and only 64% of their frees. Neither is a quality stat.
The Clemson Tigers (23-9) come to this contest having finished fourth in the ACC. They managed one win in the tournament, which was against Boston College, 90-82. They were beat in their contest, which was against Virginia, 64-58. Guard Zach Lofton (19.8 PPG, 5.1 RPG) and forward Jemerrio Jones (11.0 PPG, 13.2 RPG) will both bring game tonight. Clemson is averaging 73 PPG and has an outstanding free throw success rate of 76%.
The Tigers are favored by either -3.5 or -4.0 points. The over/under for this game stands at 132.5. Take the over and go with Clemson at -3.5. They are much better shooters than this opponent.
Our Picks: Clemson at -3.5 and over 132.5
Day Two Round One 2018 NCAA Tournament Late Evening Picks: Final Word
That's it for day two Round One 2018 NCAA Tournament late evening picks, and that's also it for the entire first round. The second round, which is made up of 32 teams and 16 games, gets underway tomorrow. In this group we took Clemson, TCU, FSU and Virginia. We took the under in the FSU and Missouri contest.