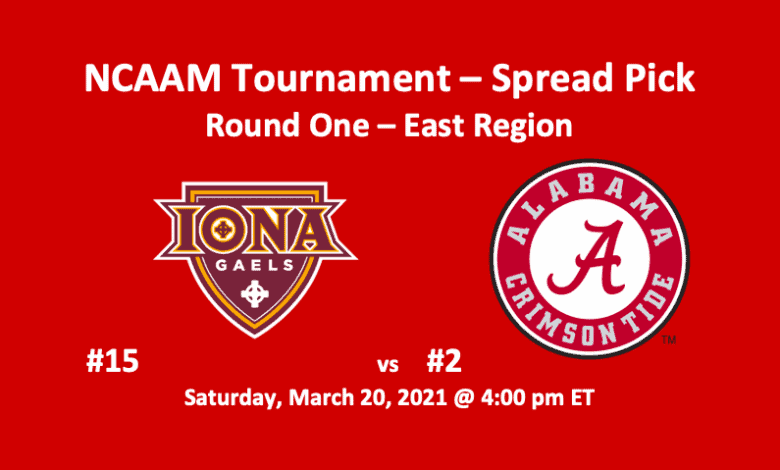 This Iona vs Alabama pick, which is for one of eight 2021 NCAA Tournament Round One East Region games being played on Saturday, has the Gaels at +17.0 (-110). The favored Crimson Tide is at -16.5 (-110). In the regular season, Iona finished third in the Metro Atlantic Athletic Conference. The Gaels beat Fairfield 60-51 to take the conference championship. Over their last five games, they've gone 5-0. The Alabama Crimson Tide, who've also won five straight games, finished first in the Southeastern Conference. In the SEC Tournament Final, the Crimson Tide the LSU Tigers 80-79. The Gaels and Crimson Tide will meet on Saturday, March 20 at 4:00 pm ET. The game will take place at Hinkle Fieldhouse in Indianapolis, IN. For another great East Region pick, see our UNC Greensboro vs Florida State analysis.
Iona vs Alabama Pick – Stats
Statistically, the Gaels and Crimson Tide are very close except when it comes to point production where the Alabama outpaces Iona 79.6 PPG to 72.2 PPG. 'Bama is also better on rebounds, 40.5 to 37.5, and steals per game 8.6 to 6.8. Also, Alabama is better on assists, 14.2 to 13.9. The Gaels are a bit better in shooting percentages, 44.5 to 43.1 FG%, 35.5 to 35.1 3PT%, and 74.3 to 72.0 FT%.
Key Players
For the Gaels, guard Isaiah Ross tops the team in points per game with 18.4. He's hitting 45.5% from the field and 39.1% from downtown. Also, in the backcourt, Asante Gist offers 3.7 APG and 13.3 PPG. Guard Berrick JeanLouis is a fine player from both outside and inside, averaging 8.2 PPG and 5.6 RPG while completing 48.6% of his field goals. In front, forwards Nelly Junior Joseph and Dylan van Eyck offer points and rebounds. Joseph is good for 11.4 PPG and 7.6 RPG and van Eyck for 7.3 PPG and 6.5 RPG.
Alabama brings a solid team to the court, which includes guard Jaden Shackelford and his team-leading 14.2 PPG. Guard Jahvon Quinerly, who's shooting almost 47% from the field and 44% from downtown, is averaging 12.7 PPG and 3.0 APG. Also, in the backcourt, John Petty is good for 12.3 PPG and 5.1 RPG. In front, Herbert Jones is averaging healthy numbers, 11.2 PPG, 6.5 RPG, and 3.4 APG. He's also making 1.8 SPG and 1.1 BPG.
Iona vs Alabama Pick – Final Thoughts
Our Iona vs Alabama pick sees this game as being a skate for the Tide. Alabama could certainly go on a major run in this game. However, the Gaels are a sound team and are certainly capable of keeping it close. A 12-point win looks likely. With that in mind, in this East Region contest, we're taking the Gaels at +17.0.
#15 Iona Gaels vs #2 Alabama Crimson Tide
Iona Gaels at +17.0 (-110)