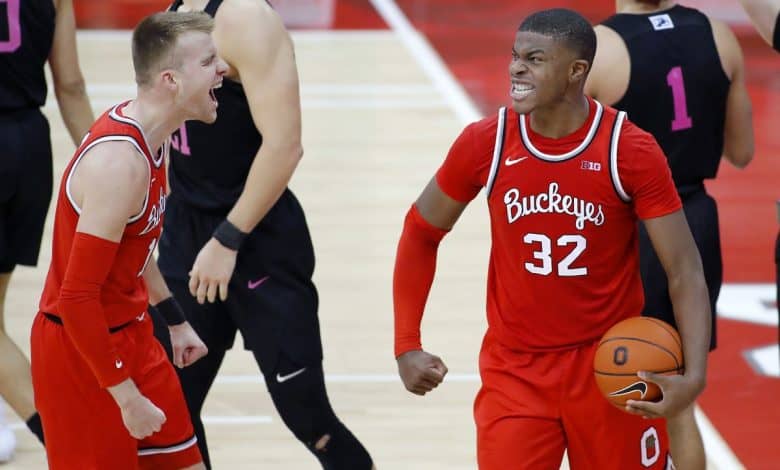 The Michigan State Spartans (8-5, 2-5 Big Ten) and #13 Ohio State Buckeyes (13-4, 7-4 Big Ten) get together on Sunday in a Big Ten Conference showdown. The Spartans and Buckeyes play the first of two contests this season, meeting up again toward the end of February. Sunday's tipoff starts at 1 p.m. EST inside Value City Arena in Columbus, OH. Ohio State is a 7.5-point favorite against the Spartans, according to oddsmakers.
What to Know – Michigan State Spartans
Michigan State faces their second of three-straight conference road games on Sunday after suffering a 30-point loss to Rutgers on Thursday in New Jersey. The loss was the first for the Spartans against Rutgers in 13 tries. Thursday's game was the first for the Spartans in 20 days after three consecutive games were postponed due to COVID-19 issues.
MSU enters the game Sunday, averaging 73.0 points per game while allowing 71.0 points per game on the defensive end. Leading the charge for the Spartans offense is forward Aaron Henry scoring 13.4 points per game. Henry has led the Spartans in scoring in seven contests this season.
Junior guard Joey Hauser is second on the team averaging 11.3 points per game. Hauser has logged four double-doubles this season for the Spartans.
The Spartans are 3-10 ATS this season with a 1-9 mark over their last ten games. Michigan State is 1-6 ATS in conference games and 1-4 on the road.
What to Know – Ohio State Buckeyes
The Buckeyes have won five of their last six games and find themselves tied for fourth in the conference standings. Ohio State has back-to-back wins over Wisconsin and Penn State as they close out the month of January. OSU plays their next three of four conference contests on the road following Sunday's tilt.
Ohio State sports a 76.9 scoring average while surrendering 68.0 points per game on the defensive end. Forward E.J. Liddell leads the Buckeyes offense averaging 15.0 points per game for the host. Liddell has scored 20 or more points in three of OSU's last four games.
The Buckeyes have five players averaging eight points or more, with Duane Washington Jr. (14.9 ppg) and Justice Sueing (10.5 ppg) averaging in double figures. Liddell and Washington Jr. have led the Buckeyes in scoring in 14 of their 17 games.
OSU is 9-7-1 ATS this year with a 5-4 record in Columbus. The Buckeyes are 4-2 as favorites and 6-4-1 ATS in conference play.
The Pick is In
The two teams met just once last night, with MSU rolling to an 11-point victory over the Buckeyes in a game before the shutdown. Michigan State's season has been historically bad for the Tom Izzo coached squad. The Spartans are playing just their fifth game in January and second since January 8th. Ohio State is playing high-level basketball and is led by a slew of veteran seniors. Michigan State has only won two of its four games against ranked teams this year. Ohio State takes care of business in this one and downs the Spartans.
The Pick: Ohio State -7.5