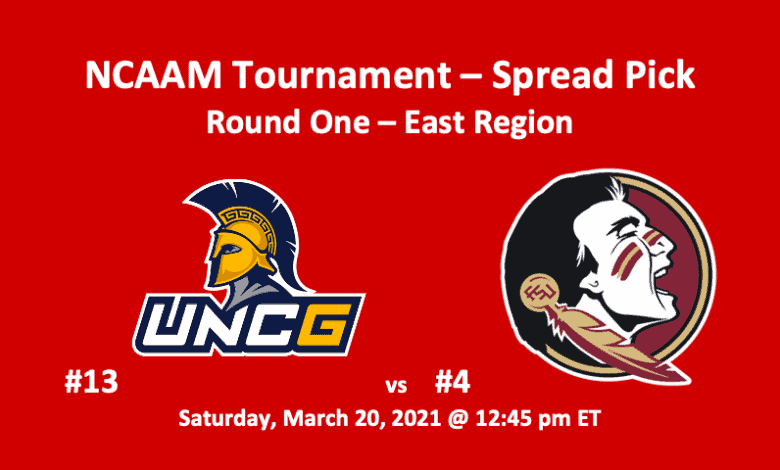 This UNC Greensboro vs Florida State pick is for the second 2021 NCAA Tournament Round One East Region game. In this contest, the Seminoles are favored and at -10.5 (-104), while the Spartans are +10.5 (-105). UNC Greensboro finished first in the Southern Conference and beat the Mercer Bears 69-61 to take the conference tournament. Over their last five games, they've gone 4-1, winning their last four games. The Florida State Seminoles, who've lost three of their last five games, finished second in the Atlantic Coast Conference. In the ACC Tournament Finals, the Seminoles lost to the Georgia Tech Yellow Jackets 75-80. The Spartans and Seminoles will meet on Saturday, March 20 at 12:45 pm ET. The game will take place at Bankers Life Fieldhouse in Indianapolis, IN. Check out all of our NCAA Tournament predictions, including our Georgetown vs Colorado free pick.
UNC Greensboro vs Florida State Pick – Stats
The Seminoles are shooting 47.4% from the court, 39.0% from the arc, and 73.8% from the free-throw line. On the other hand, the Spartans lag behind their opponents. UNC Greensboro's percentages come in at 42.4%/30.0%/68.3%. The Spartans are averaging 73.6 PPG, while the Seminoles are recording 78.9%.
On a positive note, for the Spartans, they are committing 3.4 fewer turnovers per game than FSU. They're also grabbing two more rebounds and making two more assists. Both teams are averaging 7.5 SPG, while the Seminoles are blocking 5.1 shots per game to the Spartans' 3.9.
Key Players
A lot of the Spartan offense comes from the backcourt play of Isaiah Miller. Miller, a versatile inside-out competitor, is averaging 19.3 PPG, 6.9 RPG, and 4.0 APG. He's also averaging 2.6 steals per contest. Miller tops the team in all of these areas. Six other players are averaging 6.1 to 9.8 PPG. Guard Keyshaun Langley is good for close to 10 PPG and is dishing off 3.4 APG, while Kaleb Hunter, who's also in the backcourt, is averaging 8.7 PPG and 3.8 RPG. In front, forward Angelo Allegri and center Hayden Koval are recording 7.9 and 7.1 PPG and 4.1 and 3.8 RPG respectively.
Three Seminoles are averaging double-digits in scoring, while two others are good for just over nine points per contest. Guard M.J. Walker is averaging 13.0 PPG. He's shooting 44% from virtually anywhere on the court. Also, in back, Scottie Barnes is good for 11.0 PPG, 4.3 RPG, and 4.2 APG. Barnes field-goal percentage comes in at 50.0. Anthony Polite is the third man in the backcourt. He's shooting 47.2% from the floor and 43.9% from three-point land. Barnes is averaging 9.4 PPG and 4.5 RPG. In the paint, RaiQuan Gray, who's averaging 12.0 PPG, is shooting 51.9%. He's taking in 6.5 RPG, while center Balsa Koprivica is good for 9.2 PPG and 5.9 RPG. He is a 59.2% shooter.
UNC Greensboro vs Florida State Pick – Final Thoughts
This UNC Greensboro vs Florida State pick finds that for the Spartans this game comes down to ball control and pace. The 'Noles should dominate UNC Greensboro. But if the Spartans can slow down the FSU attack while utilizing their solid passing and playmaking, they could stay in the game. However, that won't be easy. We think the Seminoles' top-notch shooting and tough rebounding will pay off. We're taking Florida State at -10.5 (-104).
#13 UNC Greensboro Spartans vs #4 Florida State Seminoles
Florida State Seminoles at -10.5 (-104)