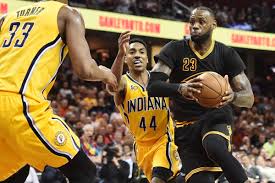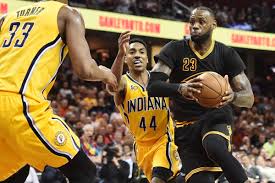 When the East's seventh seed Indian Pacers (42-40) meet the NBA's reigning champs, the Cleveland Cavaliers (51-31), on Saturday at 3:00 p.m. one of the teams on the court will bring a very hot streak with them and the other a very cold one. Surprisingly, it's the Pacers who have been on a roll winning their last five games of the regular season and going 6-4 for their last ten. The Bulls lost their last four games, went 4-6, and gave up the top spot in the East to the Boston Celtics in the final few games of the season. The Cavaliers won the season series 3-1, but still our Indiana plays Cleveland 2017 NBA playoff free pick sees this series as being close.
Indiana Pacers Keys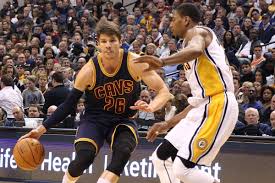 Indian center Al Jefferson is questionable and point guard Jeff Teague is day to day. If they don't play or aren't 100% that can certainly hurt the Pacers. Indiana is a 46.6% shooting team and hitting 37.6%from downtown. Their free throw percentage of 81% is the best in the NBA.
Look to small forward Paul George (23..7 PPG, 6.6 RPG, 1.59 SPG) to mix it up with LeBron James. If he can neutralize James or slow him down, that would be big. George is hitting 39% from downtown and 46% of his shots from the field. PG Teague (15.3 PPG, 7.8 APG, 36 3PT%) is a major factor as in center Myles Turner (14.5 PPG, 7.3 RPG, 51 FG%). Teague is making 1.23 SPG and Myles 2.14 BPG.
Cleveland Cavaliers Keys
Cavs point guard Kyrie Irving is day-to-day. He did not play a few days ago against the Raptors. The Cavaliers are a 47% shooting team and hitting 38.4% of their three point attempts. Their free throw mark of 74.8% is one of the worst in the NBA. On defense, Indiana outpaces them in just about every area.
If it's all up to James, as many say, then it is all up to James. His stats include 26.4 PPG, 8.6 RPG, and 8.7 APG. Those assists make him very dangerous. James is putting in 55% of his shots and 36% of his three-point tries. Irving (25.2, 5.8 APG, 47 FG%) just about matches James in points and his three-point mark is 40%. He's also another playmaker. Also essential to the Cavaliers are PF Kevin Love (19.0 PPG, 11.1 RPG, 43 FG%) and SG Kyle Korver (10.7 PPG, 47 FG%, 47 3PT%) who came over this season in a trade with Atlanta. Both are top three-point shooters.
Top Series Factors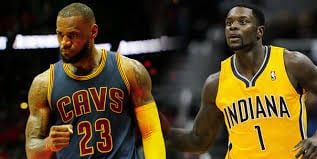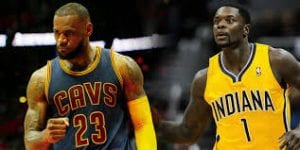 Here are some important factors to consider:
Cavaliers have dominated the Pacers this year and taken them down in the playoffs in prior years
If the Pacers can take the first game, this series could go south for the Cavs quickly
James cannot do it all and the Cavs have played poorly for most of the second half
Cavalier defense is weak and can be exploited
Cavs are allowing 107.2 PPG, Pacers 105.3
Indiana is more than six percentage points better on free throws
Indiana Plays Cleveland 2017 NBA Playoff Free Pick
Overall, Indiana matches up well in most statistical categories and they are better in all defensive areas. However with Jefferson and Teague, they don't quite have the punch they could with them. Then again, the Cavs will be missing so e major setup and three-point chops with Irving out. Our Indiana plays Cleveland 2017 NBA playoff free pick is Indian, a true dark horse, in six. We feel this series will be the big surprise of the 2017 NBA playoffs.
Indiana Plays Cleveland 2017 NBA Playoff Free Pick: Pacers in six