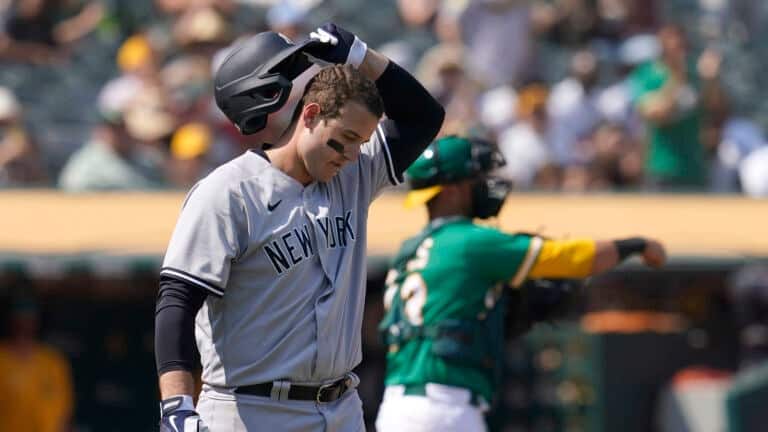 New York looks to start up another winning streak coming into the August 29th Yankees at Athletics matchup. Aaron Boone's squad had their 13-game win streak snapped thanks to Oakland's 3-2 win on Saturday, and now the Athletics go for a split of the 4-game weekend series.
The Yankees are -141 favorites in ESPN's Sunday Night Baseball. That's good value considering New York has won 7 in a row following a loss, have won 6 of their last 7 road games, and are 22-4 their last 26 as a favorite. Oakland once again gave up 2 runs in the 9th inning on Saturday, and their anemic bullpen is a big reason the A's had dropped six straight.
New York Offense Had a Dud
The Yankees offense was stuck in neutral on Saturday, something very rare for this team as they had scored at least 5 runs in eight games prior. New York managed just 2 hits and a walk over 7.0 innings against Oakland's Frankie Montas, but on the bright side Aaron Judge did stay hot.
Judge had a 2-run HR in the 9th to pull the Yankees within one on Saturday, and also added a double and a single. Judge is 6 for 9 the last two games, with 2 HR and 6 RBI. Giancarlo Stanton did have a 4-game HR streak snapped going 0-4 with 2 K's on Saturday,
New York has won four straight Jordan Montgomery (5-5, 3.69 ERA) starts and will look to make it five in a row in the August 29th Yankees at Athletics matchup. Montgomery has allowed an ER or less in three of those, and his home/away splits are very similar so location shouldn't be much of a big deal.
Has Oakland Conquered Their Demons
The A's were venturing into 'must-win' territory as their 6-game losing streak has put a huge dent on their wild card chances. Thanks to a 3-7 run over their last 10, Oakland has dropped to 3.5 back from the Red Sox for the #2 spot in the AL and are also 5.5 back from these Yankees.
Oakland did hang on for Saturday's win thanks to a sparkling performance from Montas. Sergio Romo also gave up 2 runs in the 9th on the Judge HR. Previous closer Lou Trivino has taken the loss in three straight appearances.
It appears the only way Oakland can get the W is with elite starting pitching since their bullpen is so atrocious. Paul Blackburn (0-1, 4.09 ERA) knows his mission on Sunday night in just 3rd start of the season. The A's have lost both Blackburn starts after his callup, but Rougned Odor is the only Yankee batter to ever face the right-hander.
August 29th Yankees at Athletics
Can Oakland get the series split? It really doesn't seem likely since Judge and Stanton are on a miraculous tear and are up against a pitcher making just his 3rd start of 2021 on Sunday. At the same time, Montgomery has been very good for New York recently. The Yankees in the marquee of Sunday Night Baseball doesn't hurt either.
Yankees 6- Athletics 3
Free Pick: Yankees -141