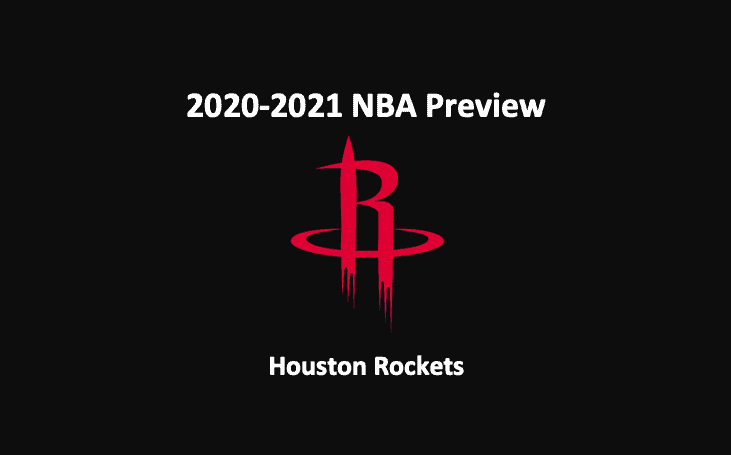 Our Houston Rockets preview 2020 – 2021 observes that in the last 14 years, this team has been to the NBA playoffs 11 times. That includes an eight-year run starting with the 2012-2013 season and going through to 2019-2020. In those eight postseason appearances, the deepest they have gone in the playoffs are the Conference Finals. Both times, the Rockets lost to the Golden State Warriors.
The last time they met the Warriors in the Western Conference Finals was in the 2017-2018 playoffs. That series went seven games. It was a back-and-forth series until Houston went ahead three games to two. However, Golden State took the final two games to go onto the league championship series, beating the Cleveland Cavaliers in four games.
Last season, the Rockets finished first in the Southwest Division with a record of 44-28. They were fourth in the West. In the initial round, Houston beat Oklahoma City in seven games. In the semis, the Rockets lost to the Lakers four games to one. We do expect this Houston Rockets team to be in the playoffs once again. But how deep will they go? That is always the question with this team.
Houston Rockets Preview 2020 – 2021 – Stats
This team certainly could score. Last season, there were second in the league and first in the West as they averaged 117.8 PPG. Although this team put a lot of points on the scoreboard, their shooting percentage was low, as the Rockets ranked 22nd in field-goal success at 45.1% and 24th in three-point completions at 34.5%. One positive was Houston's free-throw percentage of 79.1 (8th). The Rockets averaged 44.3 RPG (18th), 21.6 APG (29th), and 14.2 TO (17th). On the positive side, the Rockets were third in the NBA and first in the West in steals with 8.7 PG, and they posted 5.2 BPG (10th).
Unfortunately, on defense, the Rockets allowed opponents 114.8 PPG (23rd). Although they ranked seventh in PF/PA differential (+2.9), with a better defense that differential could have been massive. Opponents posted a 46.2 FG% (14th) and 34.9 3PT% (8th), Both of these stats gave the Rockets a slight negative differential in both areas. Opponents averaged 47.9 RPG, which placed the Rockets last in the league and put them at -4.6 in rebounds. Also, Houston's opponents averaged 25.3 APG (23rd), which, once again, placed the Rockets in the negative by 3.7 APG.
Houston Roster
The backcourt could be exceptional. That is if James Harden stays. He's asking for a trade. Point guard John Wall joins the Rockets. These two guys can be a dynamic duo. The frontcourt is questionable. There's talent, but there are certainly issues to contend with. The bench is thin and could be this team's undoing.
Houston Rockets Preview – Backcourt
Prior to the start of this season, Rocket Russell Westbrook went to the Wizards and point guard John Wall came to Houston. Wall missed the entire 2019-2020 season. He was knocked out of the 2018-2019 season when he ruptured his Achilles tendon in December 2018. Wall is said to be healthy and ready to play. This will mark his 10th NBA season. His career stats are 19.6 PPG, 9.2 APG, and 1.7 SPG. Wall is a workhorse who's capable of putting in 35-plus MPG. Wall's shooting stats include a 43.4 FG%, 32.4 3PT%, and 78.1 FT%. He's a fine playmaker, court general, and shot. Wall joins discontent shooting guard James Harden.
Harden, a 12-year vet who played his first three seasons with Oklahoma City, starts his ninth season with Houston. Last season was another great one for the shooting guard, as he averaged 34.3 PPG, 7.5 APG, 6.6 RPG, and 1.8 SPG. His shooting success rates include an 86.5 FT%, 44.4 FG%, and 35.5 3PT%. Harden wants a trade, but if he sticks around, this Rocket backcourt will be a powerhouse.
Rockets Preview – Frontcourt
Small forward Eric Gordon, who's played 12 NBA seasons with three different teams, returns to Houston for his fifth year. Last season, due to knee issues and a rolled ankle, Gordon played in just 36 games, and his stats took a hit. Normally a 42% field goal and 37% three-point shooter, last season he shot 36.9% and 31.7% respectively. He's capable of 16 to 17 PPG, 2.7 RPG, and 2.0 SPG. If he can get back up to speed, he'll be a solid point-maker and defender.
Power forward P.J. Tucker is in his fourth season with the Rockets. Prior to coming to the Rockets, Tucker played part of one season with the Raptors and was cut. From 2007-2012, he played in Europe. In 2012, Tucker came back to the NBA and played with the Suns for a little over four seasons and Toronto for part of a year. After the 2016-2017 season, he came to the Rockets. Tucker is good for about seven points per game and an equal number of rebounds. He is solid on the steal. Tucker is a 41% field-goal and 36% three-point shooter.
Over the past five years, center Christian Wood has played with five different NBA teams and in the G-League. He is very talented but his off-court life and lack of professionalism have harmed his career. Wood is capable of putting up double-double stats and shooting the lights out of the scoreboard from virtually anywhere on the court. But can he stay in the game? Also, Wood is having shoulder issues and has not been playing in the preseason.
Rockets Bench
Our Houston Rockets preview 2020 – 2021 notes that the Rockets are a bit thin when it comes to the bench. Starting shooting guard James Harden subs at point. He's certainly a fine point guard, but he's needed in the two-spot. Chris Clemons, the other primary sub at point, is out with an Achilles injury. At this point, the Rockets have no one else designated to back up the point.
Ben McLemore and Sterling Brown come in to cover shooting guard and small forward. An NBA veteran, McLemore came to Houston last year, averaging 10.1 PPG and 2.2 RPG over 22.8 MPG. He shot 44.4% from the field and 40% from downtown. Brown, who put in three seasons with the Bucks, joins the Rockets. His field-goal and three-point percentages suffered last season, while his free-throw percentage came in at 80%. Starting center Wood is designated to back up in the power spot, while starting power forward P.J. Tucker subs at center.
Other guys coming off the bench include power forward Kenyon Martin Jr. and center DeMarcus Cousins. Martin, who played high school and prep basketball, comes to the Rockets as a rookie. He's very athletic and has a huge upside. Longtime NBA player Cousins is a solid field-goal and three-point shooter. He's capable of posting double-double numbers. However, over a year ago, Martin, who was playing with the Warriors, missed more than half of the season due to a torn ACL. He missed the entire 2019-2020 season.
Houston Rockets Preview 2020 – 2021 – Coaching
Stephen Silas started his NBA coaching career as an assistant with Charlotte in 2000. Over the next 20 years, he was either an assistant or scout with five other NBA teams. A few months ago, Silas was hired by the Rockets as head coach. It's his first gig as a helmsman. Our Houston Rockets preview 2020 – 2021 observes that Silas is noted for being low-key, affable, even-keeled, and smart. However, although he's an Ivy Leaguer, there's no pretention about him. As an assistant with the Mavericks, he's noted for being an integral part of their success. Silas is an exceptional offensive strategist and tactician.
Houston – Pluses and Minuses
Wall is exceptional
Harden is top-notch
Wood can be amazing
Frontcourt is worrisome
Can they muster a defense?
Coach Silas must step up immediately
Houston Rockets Preview 2020 – 2021 – Final Word
Our Houston Rockets preview 2020 – 2021 does find that this team has the potential to be competitive and, once again, make it to the postseason. But there are a lot of challenges that lie ahead for this Rocket team. If they can make up for their shortcomings in terms of depth, stay healthy, and play defense, the Rockets will do better than one might expect. However, those are a lot of ifs.
Houston Rockets Projection – 42-30 Second-Place, Southwest Division