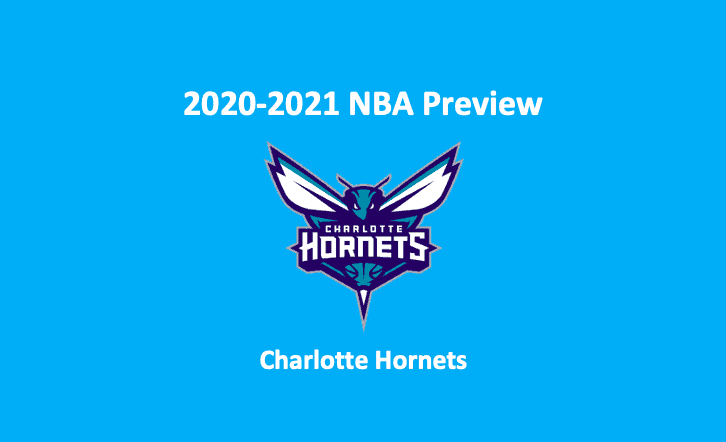 Our Charlotte Hornets preview 2020 – 2021 observes that at one point last year this team went 2-14, losing six in a row, winning two, and losing eight more. In their final 10 games, they went 4-6. The Charlotte Hornets (23-42) finished fifth in the Southeast Division and 17 games out of first place. In the Eastern Conference, they were 29 games behind the Milwaukee Bucks and finished 21.5 games out of the postseason. The Hornets were 2-7 in the Southeast and 16-24 in the East. There is no way for a team to make the playoffs with records like that in their division or conference. The Hornets had the honor of possessing the worst record in the Eastern Conference and the second-worst in the NBA. You have to think that there's only one way for this team to go in 2020-2021, and that is up.
Charlotte Hornets Preview 2020 – 2021 – Stats
The Hornets averaged merely 102.9 PPG. That was the worst point production in the league. Charlotte ranked 12th in points allowed, as they gave up 109.6 PPG. That defensive stat is not bad. However, due to their low point output, the Hornets were -6.7 in PF/PA differential. They were also last in field-goal percentage at 43.4%, 19th in three-pointers at 35.2%, and 24th in frees at 74.8%. This team had major issues in the paint, grabbing just 42.8 RPG (26th). Other stats, all of which were middling to exceptionally weak, include 4.1 BPG (25th), 13.9 TO (13th), 6.6 SPG (26th,), and 23.8 APG (19th).
On defense, opponents hit field goals at a rate of 47.6% (23rd) and threes at 35.2% (11th). Opponents brought down 46.0 RPG (23rd), leaving the Hornets with a differential of -3.2. Defense was lacking for this team, as they allowed 26.6 APG, ranking 30th. Also, opponents recorded 8.0 SPG (23rd) and 5.0 BPG (20th). On both ends of the court, Charlotte struggled.
Charlotte Roster
The Hornets have a top-notch duo in the backcourt with Devonte' Graham at point and Terry Rozier in the two-spot. In front, Gordon Hayward provides fine point production from anywhere on the court. In the power position, PJ Washington offers excellent inside/out shooting, while center Cody Zeller has double-double potential. Those coming off the bench have potential, but there are question marks concerning many of the backups.
Charlotte Hornets Preview – Backcourt
Charlotte has two workhorses in point guard Devonte' Graham and shooting guard Terry Rozier. After a breakout 2019-2020 season, Graham comes to his third year having averaged 18.2 PPG and 7.5 APG while completing 38.2% of his field goals and 37.3% of his threes. He averaged 35.1 MPG. Counterpart Rozier, who came to the Hornets last year after playing four seasons with Boston, shot 42.3% from the floor and 40.7% from downtown. Averaging 34.2 MPG, Rozier averaged 18.0 PPG, 4.4 RPG, and 1.0 SPG.
Hornets Preview – Frontcourt
Former Utah Jazz and Boston Celtic small forward Gordon Hayward recorded 17.5 PPG and 6.7 RPG. He was tough in the paint, averaging 50.0% on his field-goal attempts and 38.3% on his threes. He also sank 85.5% of his free throws. Last season, his first in the NBA, power forward PJ Washington was good for 30.2 MPG, 12.2 PPG, and 5.4 RPG. Like Hayward, he could hit from just about anywhere on the court as he recorded a 45.5 FG% and 37.4 3PT%. However, he could not connect from the free-throw line, as Hayward sank just 37.4% of his attempts. Center Cody Zeller, a 52.4% shooter, averaged 11.1 PPG and 7.1 RPG while averaging 23.1 MPG.
Hornets Bench
LaMelo Ball and Terry Rozier sub in the point guard spot, while Caleb Martin and Malik Monk (Day to Day) fill in at the shooting spot. Ball, who was a five-star recruit and originally committed to UCLA, decided to forego college. Instead, in 2019, he played in Australia for the Illawarra Hawks of the National Basketball League (NBL). That season, he proved that he could pretty much do it all and won the NBL Rookie of the Year. He was the third overall pick in this year's draft. As already noted in our Charlotte Hornets preview 2020 – 2021, Rozier starts at the shooting spot, but he's also a fine point man.
At SG, Martin played 18 games with the Hornets last season, averaging 6.2 PPG while shooting 44.0%. Monk is back for his fourth season with Charlotte. Last year, he averaged 21.3 MPG and 10.3 PPG. Monk has had some issues, including a suspension last season for violating the NBA drug policy and a positive result on his COVID-19 test a few weeks ago.
In the frontcourt Miles Bridges plays both small and power forward, while Cody Martin backs up at small forward and Jalen McDaniels at power forward. In his second NBA season last year, Bridges averaged 13.0 PPG and 5.6 RPG. PF McDaniels, now in his second season, averaged 5.6 PPG and 4.1 RPG. Last year, center Bismack Biyombo was good for 7.4 PPG and 5.8 RPG. He shot 54.3% from the floor. He's the first sub, while PJ Washington swings from the power spot to center when needed.
Charlotte Hornets Preview 2020 – 2021 – Coaching
Our Charlotte Hornets preview 2020 – 2021 observes that head coach James Borrego has served as an interim for Orlando from 2014-2015. Then in 2018 he became the top man at Charlotte. In his NBA head coaching career, he is 72-105. Each season, his team has missed the playoffs.
Borrego emphasizes playing a fast-paced, up-temp game that focuses on being efficient in transition and getting the ball to half-court quickly. He likes to toss up a lot of three-pointers. At the same time, Borrego considers defense as key to winning. In two seasons, his team has not yet been able to completely implement his vision.
Charlotte – Pluses and Minuses
Fine backcourt
Solid players in the frontcourt
Overall, good bench
They need more from D and O
Malik Monk is a concern
Assists are an issue on both sides of the court
Charlotte Hornets Preview 2020 – 2021 – Final Word
Our Charlotte Hornets preview 2020 – 2021 acknowledges that this team certainly has talent. But it is talent that has not reached its full potential. Additionally, the Hornets have underperformed on offense and defense. Basically, this team needs to score more points and ensure that opponents score fewer points. It's a simple idea. But in order to get to the postseason, the Hornets must implement it.
Charlotte Hornets Projection – 35-37 Third-Place, Southeast Division