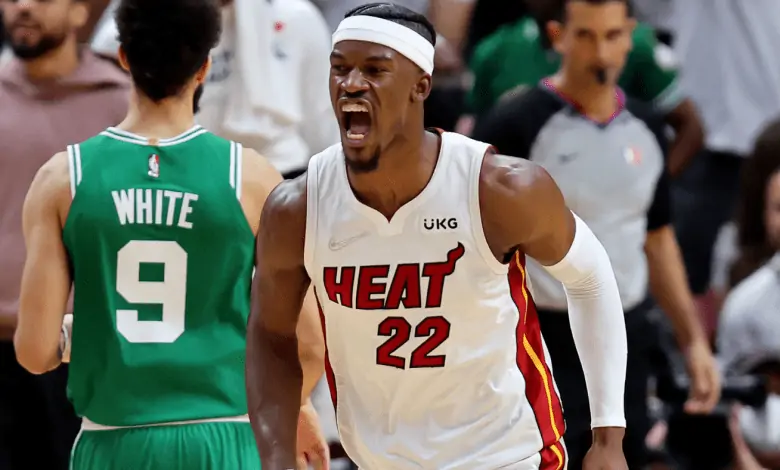 The flip-flop continues heading into the Celtics at Heat Game 5 betting preview. The teams have alternated wins and losses over the first four games of this series, leaving things up to Miami to come out on top after Boston's 20-point win on Monday put things at 2-2.
Even though Miami is headed back home and up for the win in the alternating trend, Boston is still a -2.5 favorite in Game 5. The big reason for that is the Heat playing without 6th Man of the Year Tyler Herro on Monday and him remaining questionable with a quad injury. It's still a strange line with the Celtics also banged up as Defensive Player of the Year Marcus Smart missed Game 4 with a sprained ankle.
Can Boston Break the Trend?
The Celtics handed Miami their first home loss of the postseason when they took Game 2 127-102 as +1.5 underdogs. Boston went back to TD Garden with home court advantage but gave that up with a 109-103 defeat in Game 3. The C's put out another dominating performance on Monday with a 102-82 win as -6.5 favorites.
When Boston has been good, they've been real good this postseason with wins of 23, 8, and 28 points last round vs. Milwaukee and having an average margin of victory of 22.5 points in the two W's over Miami this series. The good news is that Jayson Tatum has his one bad game of the series out of the way, going for 10 points in Game 3 just as he did vs. Milwaukee. Tatum had a game high 31 points in 33 minutes on Monday night.
Smart remains questionable for the Celtics at Heat Game 5 betting matchup but Boston played great team defense even without him on Monday night. Miami shot just 33% from the floor en route to the 20-point loss.
Is Butler Back?
It wasn't known if Jimmy Butler was going to play in Game 4 after sitting out the 2nd half following knee inflammation in Miami's 109-103 win in Game 3. Butler played 27 minutes on Monday, but was highly ineffective shooting 3-14 from the floor and finishing with just 6 points.
If he's healthy Butler should be better back at home on Wednesday considering he averaged 35 ppg in the first two at FTX Arena. Miami would definitely take other people stepping up as well in Game 5 though, something Victor Oladipo did on Monday with 23 points.
Aside from Butler's health, plenty of questions surround Herro's availability for Wednesday night as he deals with a groin strain. Herro hasn't had a good postseason though, reaching the 20 point barrier just once in the last 11 games after averaging 20.7 during the regular season.
Free Celtics at Heat Game 5 Betting Preview
It's interesting that Boston is favored on Wednesday night after being +4.5 and +1.5 underdogs in the first two games of the series in South Beach. The Heat lost Game 2 at home, but were undefeated at FTX Arena throughout the postseason prior to that and are now 36-13 on their own court this season.
It's a flip-flop series and with Boston taking the win on Monday, Miami goes up 3-2 in front of their own crowd setting up a showdown back at TD Garden on Friday night.
Free Pick: Heat +2.5