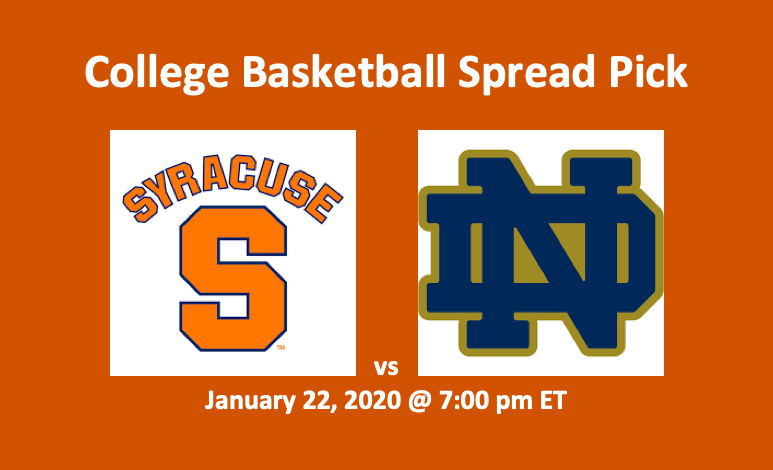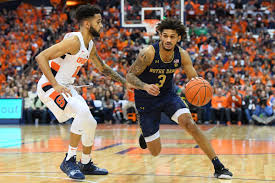 Our Syracuse vs Notre Dame pick offers the Fighting Irish at -4.0. This Syracuse vs Notre Dame prediction notes that the Syracuse Orange (11-7 Overall, 4-3 ACC) are fifth in the ACC. They are tied with the Virginia Tech Hokies. The Notre Dame Fighting Irish (11-6 Overall, 2-4 ACC) are 12th in the league. They sit between the 11th Georgia Tech Yellow Jackets and 13th Miami Hurricanes. This game will be played Wednesday, January 22, 2020 at 7:00 pm ET. The venue will be the Purcell Pavilion in South Bend, IN.
Syracuse vs Notre Dame Pick – Recent Performance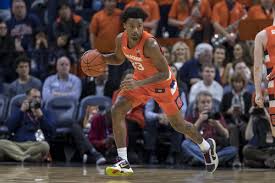 The Syracuse Orange have won their last three games while going 3-2 for their last five. One of those losses was to Notre Dame on January 4. The Fighting Irish edged the Orange 88-87. Syracuse last played on January 18 beating Virginia Tech 71-69. The Fighting Trish are also 3-2 for their last five games. They last played on January 15 taking down Georgia Tech 78-74.
Orange at Fighting Irish – Stats
Our Syracuse vs Notre Dame pick notes that the Orange are averaging 73.1 PPG and allowing 65.4 PPG. Their PF/PA differential comes to +7.7. The Fighting Irish are scoring 75.1 PPG and giving up 66.1. Their PF/PA comes to +9.0. Notre Dame is +3.8 over Syracuse in rebounding while the Orange have a shooting edge of 2.2%. Additionally, they are 2% better from downtown.
Player and Roster Assessment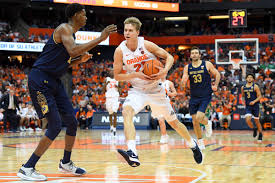 The Orange offer four top scorers. Two are in back and two in front. Forward Elijah
Hughes leads the team with 19.3 PPG. He's also averaging 5.1 RPG and 4.3 APG. Also in front, Marek Dolezaj is grabbing 7.4 RPG while averaging 9.8 PPG. He a 53.6% shooter. In the backcourt, Buddy Boeheim is recording 16.2 PPG while Joseph Girard III is putting up 12.0 PPG while dishing off 3.6 RPG. To add depth, the Orange have solid forwards coming off the bench.
The Irish put four double-digit scorers on the court with three being guards. Forward John Mooney is the leading point maker on the team. He's a double-double man averaging 13.9 RPG. Senior guard T.J. Gibbs is scoring 13.4 PPG, while sophomore guard Prentiss Hubb is recording 5.0 APG and 12.9 PPG. Dane Goodwin, also in the backcourt, is averaging 11.7 PPG. The Irish bench also goods good in the forward spot.
Our Syracuse vs Notre Dame Pick
Our Syracuse vs Notre Dame pick like the Orange at +4.0. Syracuse brings a team that has proven it can hold its own against the Irish. We think the four-point spread gives them a solid advantage in this one.
Syracuse Orange vs Notre Dame Fighting Irish Prediction – Summary
Syracuse Orange at +4.0