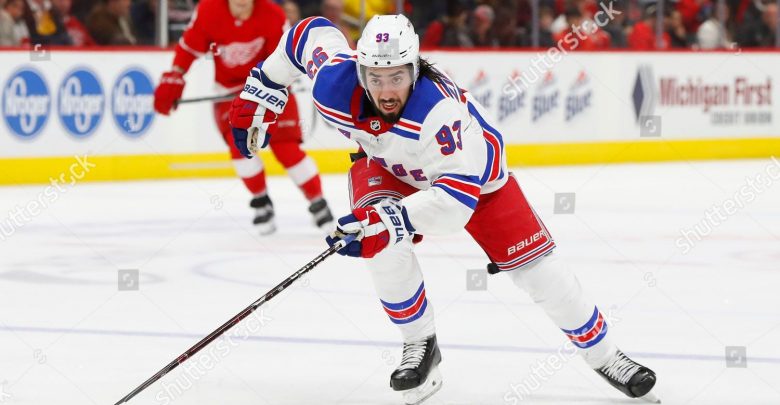 There's not a whole lot of playoff implications (none) in the March 7th NHL free pick between the Rangers and Red Wings. Thursday's game is a potentially interesting one from a gambling perspective however. New York has 65 points, 14 out of the wild card with 16 to play. Detroit has the 2nd fewest points in the league. The teams have also combined to lose 13 straight games so get the popcorn ready!
Are the Rangers the Team Playing Better Hockey Right Now?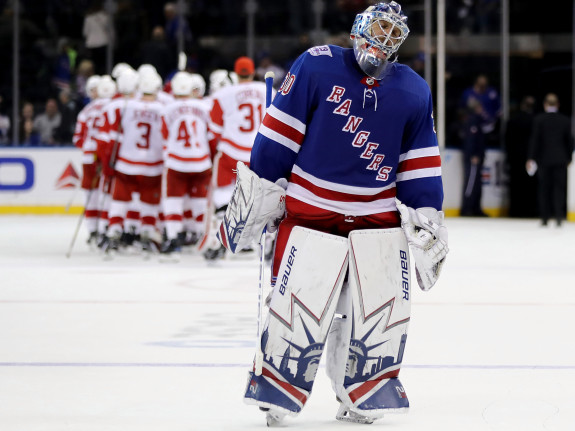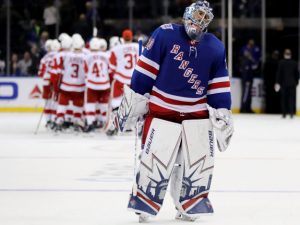 Neither of Thursday night's combatants have any real incentive beyond personal pride to win this game. That being said, even though the Rangers have just one win the last two weeks, they have gone to OT in 3 games over that span (1-2-3 last 6). Plus the extra time games have come vs. Tampa Bay and against Washington twice – two playoff bound teams. The Rangers were shut out 0-1 in Dallas on Tuesday, but that was also a close game with NYR being a +175 underdog. 
The shutout Monday was indicative of New York's inability to score the puck lately. The Rangers have been held to 2 goals or less in 5 of the last 8 games. The O/U is 5.5, but Detroit has been leaking goals lately. Ryan Strome has 7 points the last 10 games as does Mika Zibanejad and D Tony DeAngelo leads the way with 9 over that span so their is some potential. It will be up to Henrik Lundqvist to hold the Red Wings at bay then. The veteran is 1-4-1 his last six but has held two opponents to 1 goal over that span.
Red Wings Trying to Help Their Lottery Position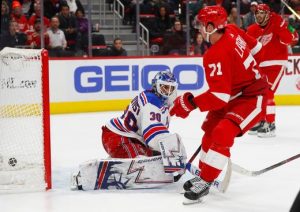 Both New York and Detroit have shifted to draft talk as they wind down the last 15+ games of the regular season. Detroit is in prime position for a top draft slot as they are just 4 points ahead of Ottawa, who is worst in the league (56 to 52). The Red Wings have been playing like they want the top slot too going 2-8-3 in their last 14 games. Detroit has allowed 20 goals in their last four games and ranks 24th or worse in defensively in goals allowed, SOG, and penalty kill.
The Red Wings are listed as a slight -115 favorite in the March 7th NHL free pick (New York -105) due largely in part to home ice. That being said, the Red Wings have dropped five straight at Little Caesars Arena. Believe it or not Detroit has actually been favored in two of those games (vs. Chicago, vs. Minnesota) but they were both defeats. Dylan Larkin tries to get a Wings offense going that has been held to 1 goal in 2 of the last 3. It will be Jimmy Howard in net, but he's been solid vs. the Rangers in his career with a .948 save percentage in 14 starts. Howard is struggling a bit right now though allowing 13 goals in his last three appearances.
March 7th NHL Free Pick Betting
This one's a toss-up and it will probably be an OT game just like the earlier meeting in November as well as all three contests did last season. The Rangers were shut out Monday, but they played well enough to win like they have in a number of games over the past two weeks. Detroit is ready to have the season done with and anxious for the lottery – and they want  to help their chances in that regard as much as possible with a 'reverse win' aka loss.
NHL Free Pick: New York Rangers -105