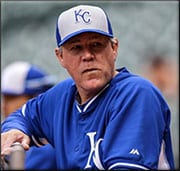 Overview
The Kansas City Royals head over to LA for a their playoff series with the Angels. The Royals had a crazy game Tuesday in their wild card match with the Athletics scoring 3 runs in the 8th, 1 run in the 9th to tie it up and then 2 runs in the bottom of the 12th inning to win the game 9-8.
LA Angels (-173)
Royals are 3-7 in the last 10 meetings.
Angels are 6-0 in Weavers last 6 starts vs. Royals.
The LA Angels were 1st in the American League West 10 games up on the 2nd place Oakland Athletics. The Angels also finished the season with the best record in baseball 34 games over .500 with a 98-64 record. The Angels had the highest scoring offense in the Majors averaging 4.77 runs per game. Their pitching wasn't all that bad either allowing just 3.89 runs per game. The Angels also had the best home record in baseball this season 23 games over. 500 with a 52 and 29 record. On the mound for the Angels today is Jared Weaver who was 18-9 with a 3.59 ERA on the season with most of his success coming at home where he was 10-4 with a 2.68 ERA.
LA Angels Trends
Angels are 41-17 in their last 58 home games.
Angels are 8-2 in Weavers last 10 starts with 5 days of rest.
Angels are 42-12 in Weavers last 54 home starts.
Kansas City Royals (+163)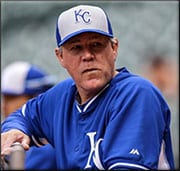 The Kansas City Royals finished 2nd in the American League Central 1 games back of the 1st place Detroit Tigers. The Royals were 26 games over .500 on the season with an 89-73 record. The Royals have a below average offense averaging 4.05 runs per game largely due to their lack of power as they were actually dead last in homeruns with just 95. The Royals real strength this season has been their pitching allowing 3.88 runs per game although they were shaky at times over the last month or so of the season. Speaking of shaky pitching on the hill for the Royals today is lefty Jason Vargas who really struggled in his last 4 starts allowing 18 earned runs in just 18 innings of work.
Kansas City Royals trends
Royals are 0-4 in Vargas' last 4 starts.
Royals are 4-1 in their last 5 overall.
Conclusion
I like the Angels to get it done today and handily beat the Royals. The Angles are the best team in baseball and are the frontrunners to win the World Series while the Royals who are a solid team but I just think this is kind of a let down situation after their big win against Oakland the other night plus Vargas has struggled lately so it might be a short night for him against the Angels high powered offense.
Free Pick: LA Angels -173