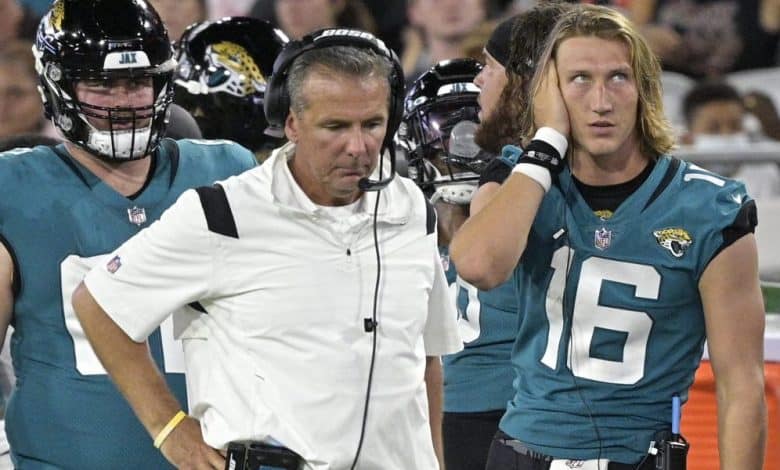 It's extremely hard to sell a Houston play coming into the Week 1 Jaguars at Texans matchup. Sure Jacksonville has a young QB in Trevor Lawrence – but Texans QB Tyrod Taylor has started one game in the last two years. It's true Urban Meyer may struggle in his NFL debut – but at least he has head coaching experience which Houston's David Culley cannot say. Jacksonville's defense was bad last year, yes – but Houston's may have been worse.
Putting all this together and Jacksonville is still just a -3 point road favorite in Sunday's NFL opener. This is the NFL so no team is going to be that bad – but on paper the Texans look pretty bad.
Jaguars Defense Their Downfall?
The Week 1 Jaguars at Texans total is just 45.5, so this may not be the atrocious defensive contest people are expecting – or it will just be a showing of two bad offenses. It's hard to see the Jaguars come out and lay an egg on offense though. Lawrence completed 70% of his passes in the preseason and has some solid targets on the outside.
Aside from Lawrence, Jacksonville has receiver DJ Chark who caught 700+ receiving yards last year despite being thrown to by Garner Minshew and Mike Glennon. Chark only played 12 games as well, as did Laviska Shenault, Jr. who had an impressive 58 catches for 600 yards in his rookie campaign. The team also brought in Marvin Jones after a couple of 900+ yard receiving seasons in Detroit, and has 1,000 yard rusher in James Robinson up against Houston's worst rush defense in the league last year (160.3 ypg).
The big question for 2021 is if Jacksonville has fixed their defense? They are switching to a 3-4 set this year, which can't hurt after ranking 2nd to last in yards and points allowed as well as 30th against the run. The Jags' acquired three new defensive linemen in free agency/trade, and also selected four defenders in the first four rounds of the draft.
Not a Lot to Be Optimistic About in Houston
While Jacksonville comes into this game with a coach with a lot of pedigree and some budding young talent, the Texans have gone the opposite way. David Culley has never even been an offensive coordinator let alone a head coach at any level, although he has served as assistant head coach with Baltimore and KC.
Houston's big offseason? They did bring in 36 veterans including Tyrod Taylor – who has been injured early the last two times he's been named a starter. Mark Ingram and Phillip Lindsay at RB – who had a combined 800 yards last season and may get disgruntled being in a committee with David Johnson and Rex Burkhead. Anthony Miller and Danny Amendola are the "big" names coming in while Will Fuller, Randal Cobb, and Tutu Coutee are out the door (three of Houston's top 5 receivers in 2020).
Houston also loses JJ Watt's leadership on defense and brings in Lovie Smith to coordinate that side of the ball which he hasn't done in a sole capacity since 2003. The team is hoping the switch to a 4-3 as well as adding 19 new faces to the defense helps improve the team against the run.
Week 1 Jaguars at Texans Pick
How can Meyer let this one get away? He's never had a losing season in 17 years at the collegiate level and Lawrence never lost a regular season game in college. There's a lot of unknowns with Culley (and Lovie Smith) taking over in Houston, but that should work both ways.
Jaguars 34 – Texans 20
Free Pick: Jaguars -3