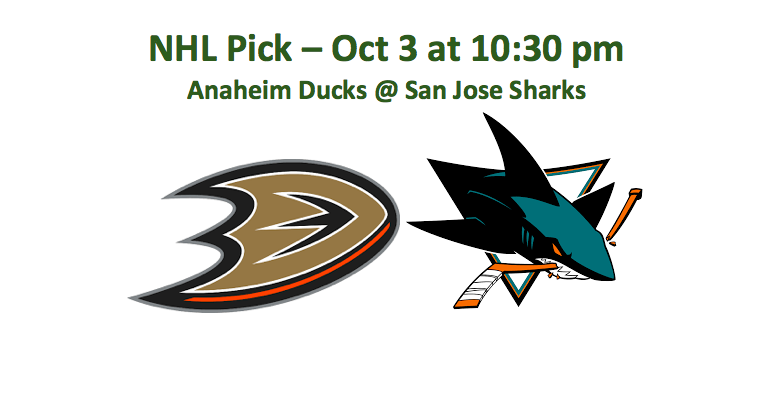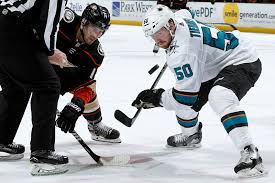 The Anaheim Ducks and San Jose Sharks both open up their season on October, 4 at 10:30 PM EST. Last season Anaheim finished second in the Pacific Division with 101 points while the Sharks were third with 100 points. The last meeting between these teams came in the first round of the 2018 playoffs where San Jose finished off a sweep of the Ducks. The Sharks open as the favorites for this opening night matchup. Our Ducks play Sharks free pick has the San Jose puckline at -1.5.
Goaltending Matchup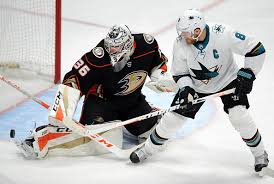 This opening night game features two very solid goaltenders in net. Anaheim's John Gibson is coming off of a season where he posted a .926 save percentage along with a 2.43 GAA. At the other end of the ice Martin Jones will man the Sharks' crease. Jones had a .915 save percentage and a 2.55 GAA. While the Ducks own the edge in net, Jones performed will against Anaheim last year. In three regular season contests he allowed only five goals and stopped .940 percent of the Ducks' shots. He looked even better against Anaheim in the playoffs allowing four goals in four games and stopping .970 percent of his shots against.
Strength on the Backend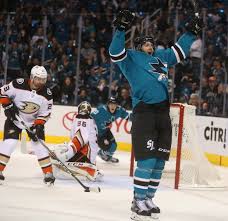 The big storyline going into this game is that this contest will be Erik Karlsson's first as a Shark. Karlsson was traded from Ottawa in September and will make an immediate impact for San Jose. He led the Senators in points last season with 62 in 71 games played and has been arguably the best offensive defenseman since joining the league. With Brent Burns (12-55-67) playing on a separate pairing from Karlsson, Anaheim is likely to see some mismatches during the game.
The Ducks' defense is solid as well, although it does not have the star power that San Jose's does. Hampus Lindholm (13-18-31), Josh Manson (7-30-37), and Cam Fowler (8-24-32) will all play important roles this season as well as on Wednesday. While Anaheim has some talent on the backend the edge here definitely goes to San Jose due to their ability to generate offense from the blueline.
Offensive Potential
Last season San Jose averaged 3.01 goals per game while Anaheim averaged 2.82. Going into the beginning of the season it looks like the advantage in this department goes to the Sharks. They return Joe Thornton (13-23-36) who was injured for part of last season, Along with Evander Kane (29-25-54), Joe Pavelski (22-44-66) and Logan Couture (34-27-61). All of them will be threats for San Jose.
The Ducks Offensive lines look thinner than the Sharks'. Ryan Getzlaf (11-50-61) and Rickard Rakell (34-35-69) are Anaheim's most important forwards. The club also recently found out that winger Corey Perry will be out for an extended period of time, hurting their scoring depth in this matchup.
Ducks Play Sharks Free Pick: Last Word
The Sharks look to own an edge over the Ducks in terms of both their defense and forwards. Anaheim will likely experience mismatches at some point while trying to defend against both Burns and Karlsson. John Gibson will have very little room for error if Anaheim is to fend off San Jose. With Martin Jones' past play against the Ducks' we think that the advantage Gibson would give his club will be nullified. Because of this, the San Jose Sharks have a good chance to win by at least two goals on opening night.
Ducks Play Sharks Free Pick: Prediction
San Jose Sharks Puckline (-1.5) over Anaheim Ducks